There are few things in this world I'm as protective towards as my Wordle streak. I've lost a streak once, purely because I missed a word one day. I survived the New York Times takeover and, today, have a streak of 55 games, 95% won and a current streak of 45. But my partner just changed her phone which left us with a dilemma, asking how do I transfer my Wordle stats to a new phone.
Transferring Wordle To A New Phone
You're more than likely aware that Wordle isn't an app, despite some clones appearing. To play the daily Wordle, you simply open the website in your mobile or desktop browser and play. The barrier is minimal, adding to the game's appeal. But by being simple, there's nothing to identify you or let you log in. The problem that brings is when you need to transfer to a new phone, browser or, for some other reason, after losing your stats.
Initially, it seemed that there was no solution here. Until I found a developer out there who has built a solution.
Seth Michael Larson, a US-based developer, and his partner had lost their Wordle stats in the past. They know the pain first hand. So he got to work and developed a tool to bring your stats into a fresh browser.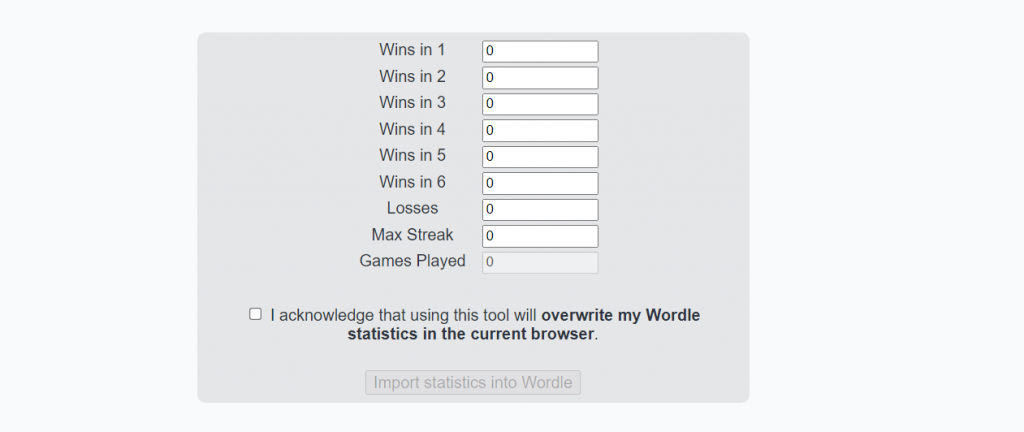 To use the tool, just open this website on your new device or fresh browser you want to use going forward. Enter the stats from your old device in the fields provided. Tick the box and tap "Import statistics into Wordle".
That's it. You're done. It worked absolutely seamlessly for my partner's phone.
How To Save Your Wordle Streak
This is great as long as you know your Wordle streak. If your phone was lost or stolen, you might have no idea what your stats are. So it's a really good idea to either take regular screenshots of your Wordle stats or store them somewhere so you can look them up again.
Naturally, you could just enter anything into the fields within the tool. You could give yourself a perfect streak if you really wanted to. Just like, today, you could play Wordle on your laptop, then get your first guess right every day on your phone. Basically, if you have no honour!
Realistically, it doesn't really matter if you lose your stats. The game is still a brilliant teaser to pass a few minutes with your morning coffee. Countless people around the world are enjoying it. But it's good to know that if your streak is important to you, changing your phone doesn't have to mean losing your streak.