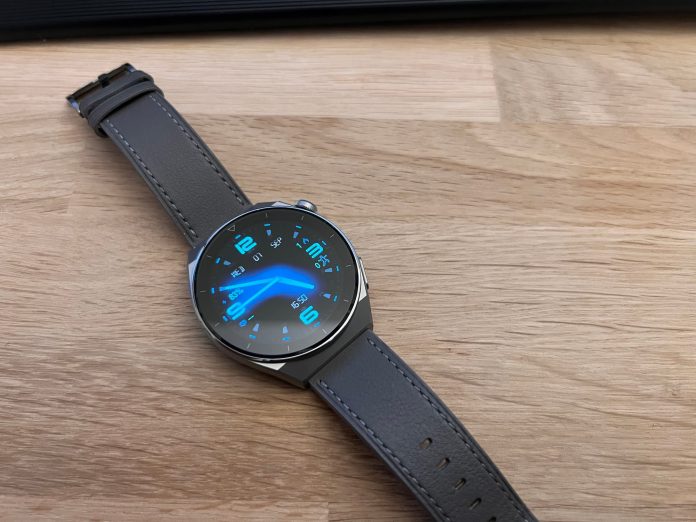 Disclaimer: See the orange links in this article? They're affiliate links to Amazon. When you use them, you're supporting Goosed.ie. You'll pay the exact same for anything you buy, but Amazon might pay us a small percentage for sending you over there. We really appreciate when you use these links, but also understand you might not like the idea of affiliate links. We don't let that affect our content, but we wanted to be transparent about it.
It might seem like there's a new Huawei Watch I'm talking about every month. But it may be for a very good reason. Huawei is ploughing innovation into its wearable division. Just look at the remarkable new Huawei Watch D announced at IFA 2022 that measures blood pressure. The latest addition to the Huawei family is the Huawei Watch GT3 Pro. It's my favourite so far.
What is the Huawei Watch GT3 Pro?
This new watch sits in the third family of Huawei Watch iterations. The GT range is a sub-category within the third family where you tend to get a little more value in exchange for a some less specs. This is no bad thing either. Many of those top specs include eSIM and other features which haven't landed here yet.
The reality is you're not paying more than you have to for specs you'll likely not be using.
Who is this watch for?
First of all, I'm going to reiterate something I've spotted in recent Huawei Watches. If you're an iPhone user, don't rule out Huawei. I've never seen the attraction of the rectangular watch face of Apple Watch. Huawei was the first smartwatch on the market I can remember that looked like a proper watch.
Huawei Works Well With iPhone
I'm an iPhone user. I've got the iPhone 13 Pro as my daily rider. My go-to watch is Huawei. When I tested the Huawei Watch GT Runner I was taken aback at how good the Health App had gotten on iOS. Sure enough, there are some features that just won't work across iOS and Huawei, but lots that do. Chuck me a DM and I'd be happy to check if something you want is there or not.
It's For Everyone
Whether you are in the market for a fitness watch, or a watch that'll let you glance at messages, the Watch GT3 Pro is excellent. One thing you should be wary of is that (my unit at least) shipped with a leather strap. I wouldn't personally work out wearing that one. Fortunately, I do have some old straps lying around here. They're generally easy to get and not too pricey. But just remember, you'll probably want to change up the straps between working out and going to work.
Similarly, you can get it with a metal strap. Same problem. Not great for working out, so keep that alternative in mind.
Big Sea People
Now, I'm no fan of deep water. So did I test this next bit? No. You'll have to take Huawei's word for it. The Huawei GT3 Pro has been through 200 rounds of water pressure testing. It's complied with a really high engineering standard and can be worn by free divers heading up to 30 meters deep. It's recommended you give it a rinse with some fresh water if you've been in salt water though. Also, don't go into saunas and the like. Deep is good. Heat is bad.
To coincide with this, there's even a new free diving mode built into the watch's software. This will give divers real-time diving information and includes apnea training. Don't know what all that means? Then, like myself, you're planning on staying dry. Let's move on.
Actually, before I move on. Many people ask if the Huawei Watch is waterproof. Indeed it is. Well, obviously.
Bluetooth Calls
One feature I love on the Huawei Watch GT3 Pro is Bluetooth calls. This might sound silly, but I find it so useful. Often, I'll pop downstairs and leave my phone upstairs. This is usually when the delivery person lurking outside decides to call. Instead of breaking my neck running to my phone, I just tap on my wrist and take the call there and then. It works really well while I look like a discount James Bond in sweatpants.
Design
I normally start with design, but it's a Huawei Watch. I think we're at the point now where we know it's going to look like a lovely watch and be built really well. The watch face is covered in an overflow curved glass that I've smacked off a few things. After a nervous glance, the watch always looked perfect. Thankfully. The leather strap edition, which is most readily available in Ireland from stores like Eir, has a titanium body. It's light. It's strong. It looks good.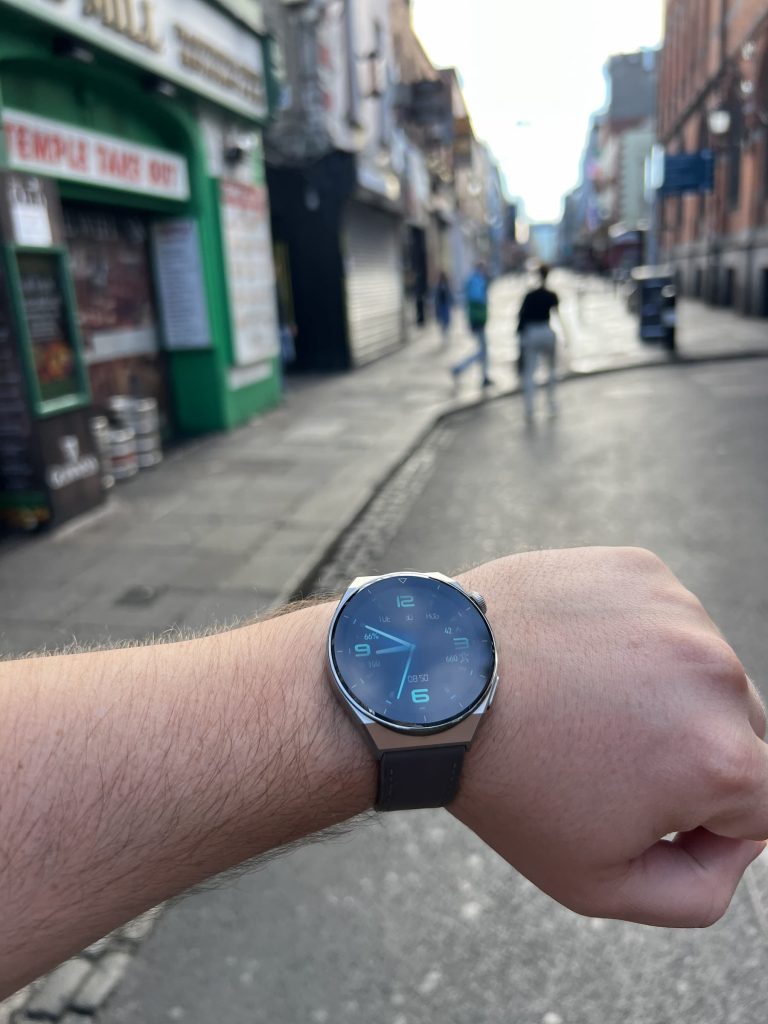 One final note on design. The crown knob on the side is beautifully responsive. Likewise, the customisable button below is a great way to quick-fire your most used wrist features.
Software
As I've mentioned, the Health App is going from strength to strength recently. At IFA Berlin, I was told that Huawei now officially integrates with Strava – no messing around. If you're running with iPhone, there are some oddities. There's a cards app and I'm not quite sure what it does. I can't see anything in Huawei Health to control it, so it may be a hangover from the Chinese version or just the Android version.
But overall the watch does what you want. Even though it's running Huawei's own Harmony OS, you'll get notifications, can set alarms, and check vitals like heart rate and even arterial stiffness; that's a new feature.
I couldn't get the remote camera shutter to with my iPhone. That's a pity. But as I've said at the outset, it works great with iPhone – not immaculately.
Battery
Just as I was about to say "I'm not giving battery its own section" I realised I have to. This is the Huawei Watch's most impressive feature. A two-week battery life. Now, that's if you tweak a few settings. If like me, you like to have some extra lights and bells and whistles, you'll get 7-days from your battery.
That's amazing. I'm glaring at you. Yes, you. The Apple Watch wearer. Charging daily? I couldn't live that way.
When it's time you charge, just pop the watch on any wireless charger. After an hour or two, you've got a full battery. No more worries for at least a week.
Huawei Watch GT3 Pro: The Verdict
I'm not looking forward to the next Huawei Watch review. I mean the one after the incoming Huawei Watch D. My reasoning is that the Huwaei Watch GT3 Pro is just brilliant. It's most things to most people. So how can Huawei improve on this? It's really the software that needs work. Strava is either here or on the way (depending on your location), but that's just one part. We need more apps. We need Spotify and the likes.
But for hardware, design and battery, this is arguably the best smartwatch on the market.
The Huawei Watch GT3 Pro is available from Eir for €309 and Harvey Norman for €299.