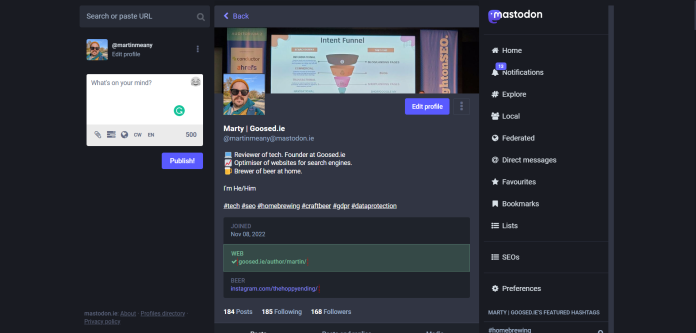 Well. This is all very interesting, isn't it? Overnight, Twitter employees rejected an ultimatum from Elon Musk and the platform has started seeing rolling outages. Whatever about Twitter users, if the engineers aren't there to keep the platform up – it will die. I've already had a very early chatter about Mastodon. It's fast becoming the go-to place for Irish Twitter people migrating. So, if you find yourself jumping into the Mastodon lifeboat, here are some tricks to get settled in and some of my own favourite accounts to follow.
Tips to Find People on Mastodon
#MastoDaoine
One of the first big trends to emerge from the people of Ireland jumping over to Mastodon is the MastoDaoine hashtag. It's a combination of Mastodon and the Irish word "daoine", meaning people. Brilliant, right?
Mastodon doesn't have an algorithm. That means there's no AI brain suggesting content to you based on your interests. Instead, you have to be a bit more proactive in finding accounts of interest. Using hashtags is incredibly important on Mastodon. If you're struggling to find some people to follow, visit #MastoDaoine to find other people in Ireland.
Find Masdoton Lists
Mastodon lets you export and import follow lists. That means you can also share these lists. For example, I'm on a list of SEO professionals. This means other people who work in the same space can download this list and follow all of the SEOs on Mastodon.
If you have a specific interest like this, it's worth doing some digging to see if there is a list of Mastodon users that interest you. With a few clicks you feed will be full of people with content your interested in.
Search on Twitter
While it's very possibly about to sink completely, you can still use Twitter to find people on Mastodon. You can even use search to filter down to people you follow. In preparation for migrating to another platform, Twitter users are putting their Mastodon profile details into their profile and username.
That makes finding the Mastodon account for people you follow on Twitter much easier.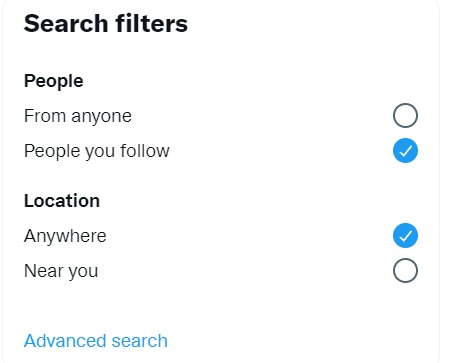 Search for "mastodon" on Twitter and use the "people you follow" filter. Scroll through the tweets that get returned and look for Mastodon user details. Bingo.
Search on Mastodon
The most obvious way to find people on Mastodon is using the search feature. It's manual and might be a bit time consuming if you followed lots of people, but it works.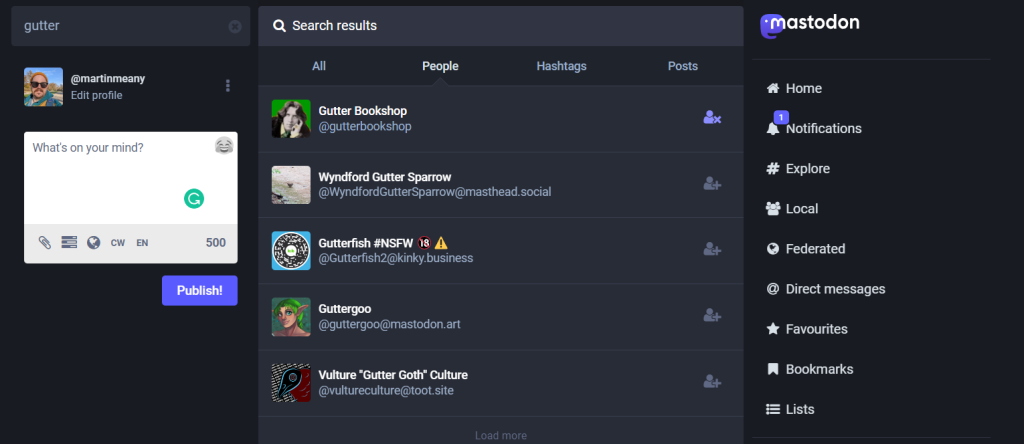 Just load up Mastodon and search for your friends and Twitter people. A lot of users are using the same username so while time-consuming, you should be able to find the important accounts quick enough.
Once you find someone you want to follow you can look through their followers and followings to find more like minded people.
You should also check out the Mastodon Profiles Directory. Here, you'll be able to find new arrivals and people who were recently active.
Use Fedifinder
I normally wouldn't condone giving anything access to your Twitter, but if you're burning it, meh. Fedifinder is a handy tool that scans your Twitter followings and followers. Then it spits out a list of buttons you can click and easily follow. It works on spotting Mastodon accounts so it won't be perfect, but it's helped me find loads of people.
Best Irish Accounts to Follow on Mastodon
Now, to make life even easier. We have this handy little list of people to follow on Mastodon to get things going.
I'm going to go in alphabetical order, but Bernard McKeever gets a particular call out. He's one of the main people behind the running of Mastodon.ie. Follow him to keep up to date with how things are going on the server.
Ballykilcaven is a lovely brewery in Laois. They'll be posting lost about beer and sustainability.
Beer Ladies Podcast is a a must-follow for beer fans, with a new episode every Friday.
Blindboy hardly needs an introduction, but he's on Mastodon too. A good account to have a peek at the followers and followings of.
Ciara O'Brien is one of Ireland's best tech journalists.
Eugene Rochko is the founder of Mastodon. I like following him to find out what's going on more broadly with the platform.
Imbibe Coffee Roasters are a Dublin-based coffee roaster that also leads some excellent projects to make the world better.
Gerry McBride is a writer for Waterford Whispers News. Needless to say, he's gas.
Greta Thunberg is our last hope for the future of the world.
Goosed. That's us. The Irish tech websites that helps you navigate wild stuff. You know, like Mastodon.
Kathy Griffin is the hiarlious comedian who Elon Musk kicked off Twitter recently.
Maria Delaney has created a fantastic list of journalists to follow on Mastodon. You can download this and import the whole lot.
Panty Bliss is the Queen of Ireland. Following her is mandatory.
Stephen Fry is already one of the biggest names to migrate to Mastodon. He's also a lovely man.
TG4 is Ireland's dedicated Irish language content producer. Their social media is usually good craic too.
Twisted Doodles will bring some giggles to your feed.
Úna-Minh Kavanagh is another excellent account to follow for the bit of Irish. Bonus, you also get gaming stuff and lots more.
Now, this is by no means a conclusive list of people to follow. However, it is a good list of people on Mastodon with lots of different interests. Take a look. Pop into their followers and followings and follow those that resonate with you. Between this and the other tips I provided above, you'll be right at home in no time at all.