Regular readers will know of my recent enough transition to the world of the Apple ecosystem. What started out with a MacBook grew into an iPad and now iPhone. While AirPods and Apple Watch still don't take my fancy, Apple AirTags did catch my eye. Stick them on anything you own and it becomes a lot harder to lose. The most logical use is your keys and your wallet, but the latter just isn't a straightforward solution. Or at least it wasn't until Chipolo entered the game with the Chipolo Card Spot.
The Chipolo Card Spot: A Card Shaped AirTag
The Chipolo Card Spot is a credit card sized piece of tech that slots into your wallet. You can then connect it to Apple's Find My app and make full use of the Find My network. That means if you lose your wallet finding it becomes a lot easier. Say you lose it in town. If someone with an iPhone walks past your wallet, their phone notifies the Find My network which then tells you where your wallet was last seen. It's a very clever system that works really well.
I've used Chipolo gadgets in the past, just like I've used Tile tech. The problem with these platforms until now is that they depend on people using the Chipolo and Tile apps. Chipolo getting into the Apple Find My network is a real coup for the Slovenian company.
Benefits of the Chipolo Card Spot
There are a lot of reasons I like the Chipolo Card Spot, so here are the best bits.
Fits In Traditional Minimalist Wallets
I love my Secrid RFID wallet. This real leather wallet is arguably one of my longest-serving gadgets. It was also a gift from my other half. This meant I had no interest in buying a new AirTag RFID wallet or any wallet with an AirTag slot. My first solution was just jamming an AirTag into the wallet. It stretched the leather and just left an unsightly bump. It worked, but it wasn't an elegant solution.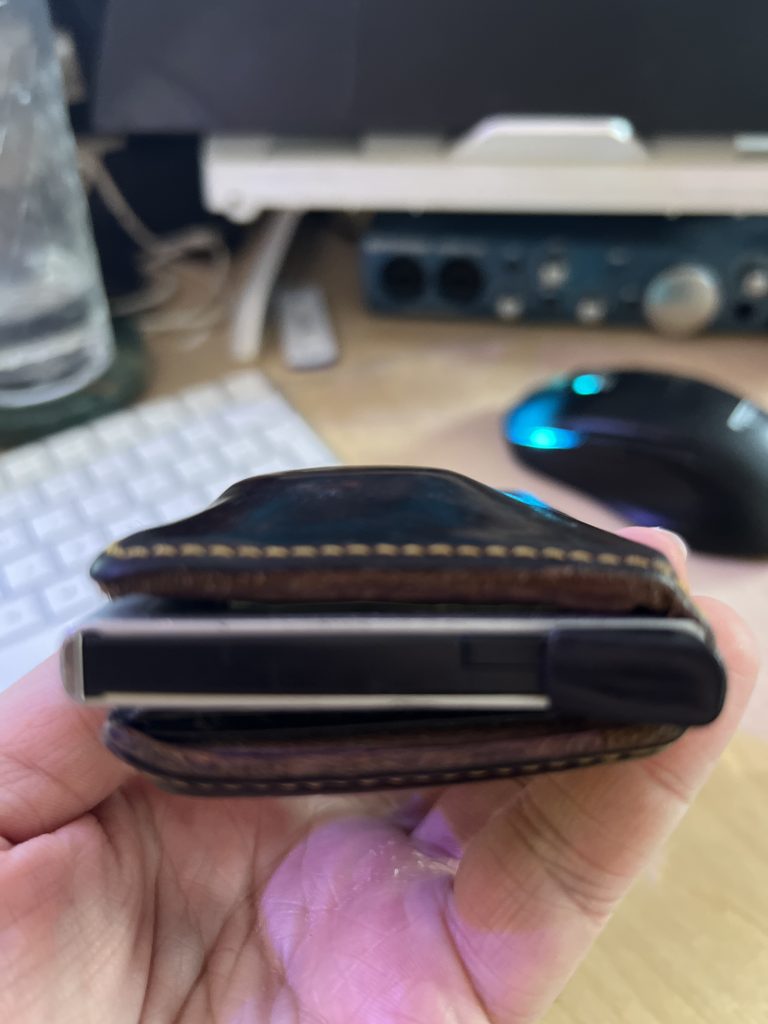 The Chipolo Spot just takes up a card slot in my wallet like another card and makes my traditional wallet smart, and it appears in the Find My app. Thankfully, because it's a genuine leather wallet, it's returned to being nice and smooth without a trace of that AirTag bump.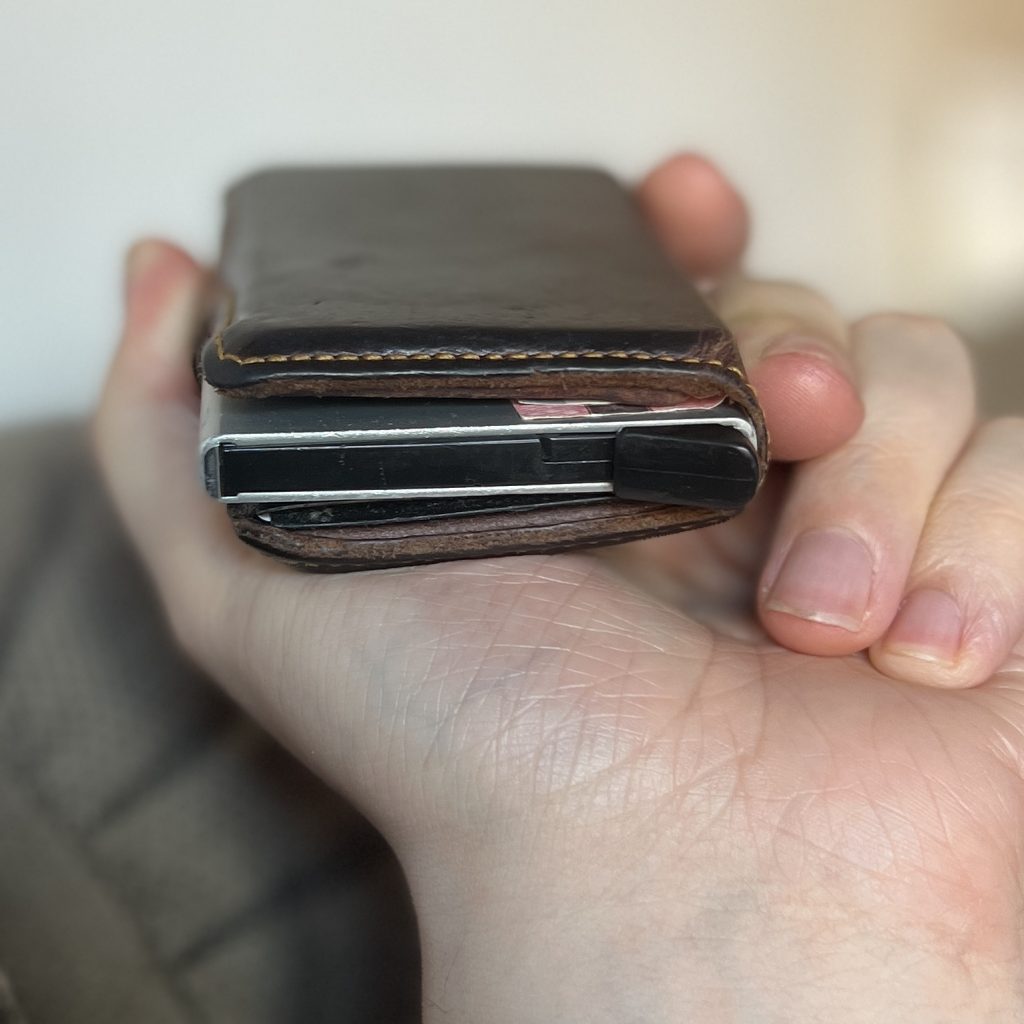 Now, thanks to the Chipolo Spot, I have all the benefits of finding my wallet with Find My but the RFID protection of my Secrid wallet.
It's Loud
On top of giving you the location of your wallet, the Chipolo Card Spot also makes noise. From the Find My app you can trigger the gadget to "Play Sound". One criticism I'd have of Apple AirTags is that they're not the loudest things in the world. The Chipolo Card Spot on the other hand is good and loud. This is good news because there's one Apple AirTag feature missing that this loudness makes up for.
One AirTag Feature Is Missing
I mentioned on Twitter that I was testing this out and was posed a great question.
Apple AirTags feature a U1 chip which allows for Precision Location for even easier finding. When close enough, within one meter or so, the Find My app will point towards where your AirTag actually is. Here's the tech working with the AirTag on my keys.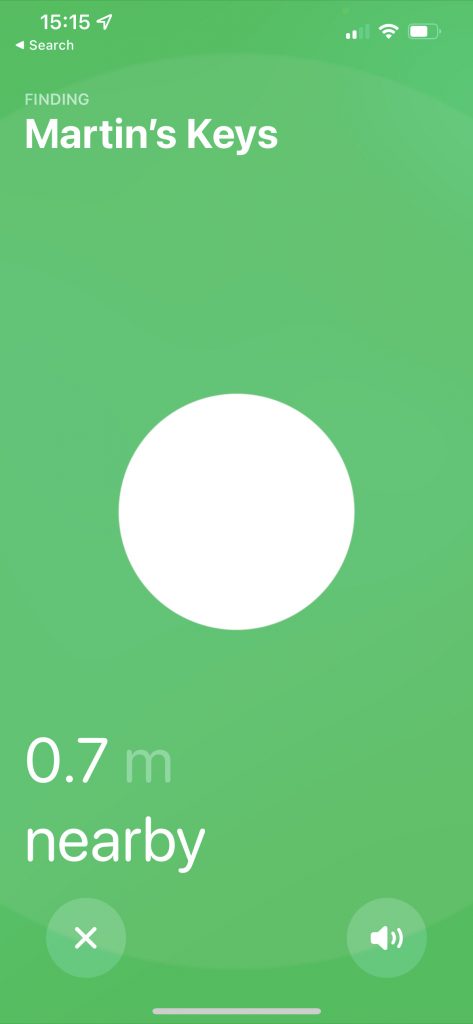 The Chipolo Card Spot doesn't have this U1 Chip and so it doesn't have the same Precision Location features.
When looking for your wallet in the Find My app, you'll just be able to see a map with the last known location, even when sitting beside your wallet with it stuck between the sofa cushions. Thankfully, as I've mentioned, the Chipolo being extra loud makes up for this.
In that video, it might be hard to make out that the Chipolo, which plays second, is significantly louder, even inside a wallet. AirTag makes about 60dB of noise while the Chipolo weighs in with a whopping 105dB.
Battery Life
There's one other thing that's important to mention. AirTags are easy to open and use a generic CR2032 coin-sized battery. When the battery dies, it's easy to swap it out. Chipolo doesn't give you such a luxury. When your Chipolo Card Spot finally dies, you'll need to buy a new one. Far from ideal in terms of cost efficiency or sustainability.
The good news is that Chipolo runs a return scheme. Register your Card Spot online and in two years, when the battery is low, you'll receive a 50% discount. You can also send Chipolo your old tracker and they'll recycle it.
Despite that being a decent workaround, it's not ideal.
Chipolo Card Spot: The Verdict
I'm very conscious that speaking about the battery last might well sour your opinion of the Chipolo Card Spot. Let me fix that. Despite this one little hiccup, I absolutely love this piece of kit. Being honest, I don't tend to lose stuff out and about. I lose it at home. The amount of times we're heading out and I can't find my wallet is ridiculous.
Having something like the Chipolo Card Spot in my Secrid wallet saves me so many times and also saves me from the "I told you to leave your wallet somewhere easy to find" arguments with my other half! You too can save yourself from these arguments for the low low price of just €35.
You can now pre-order the Chipolo Card Spot directly from Chipolo.
Updated 04/04/2022: This article was updated to reflect Chipolo being a Slovenian company, not a Slovakian country.