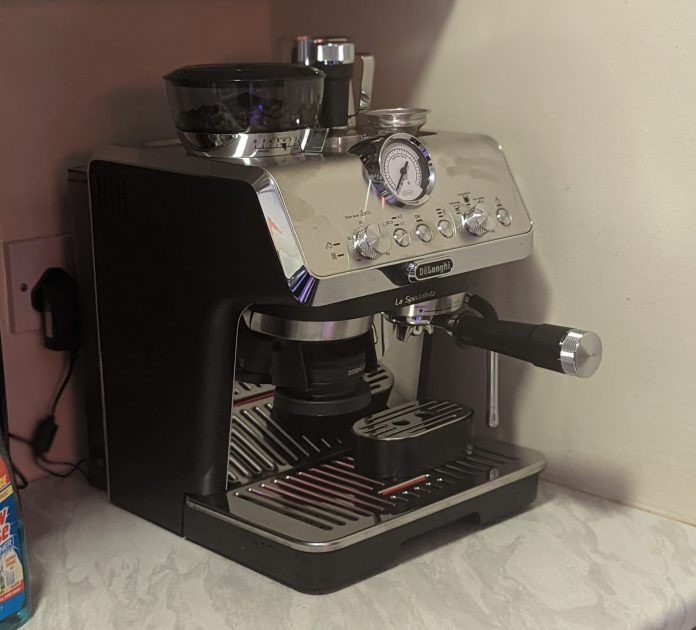 It turns out I love coffee. It's funny because I only started drinking it a few years ago. Today, I drink quite a lot and might even be falling into the category of "coffee nerd". I get the perfect beans from a roastery called Imbibe near my home in Dublin 8. Hardly all that surprising given Dublin 8 is one of the coolest places in the world now. But the perfect beans alone are worth nothing. You need a great coffee machine too. The De'Longhi La Specialista Arte Espresso Machine Review is the ultimate all-in-one machine for people who love a good cup of coffee.
Design
The De'Longhi La Specialista Arte Espresso Machine (model number EC9155.MB) might first appear to be a little bit intimidating. It's a big enough machine with enough knobs and dials to make you feel like it might just bring you to space. But after you've made your first cup or two, you realise that the machine is intuitively designed. While it looks big, it actually takes up less space on the counter than my Sage Bambino set-up did. That's because I needed a separate grinder and espresso machine.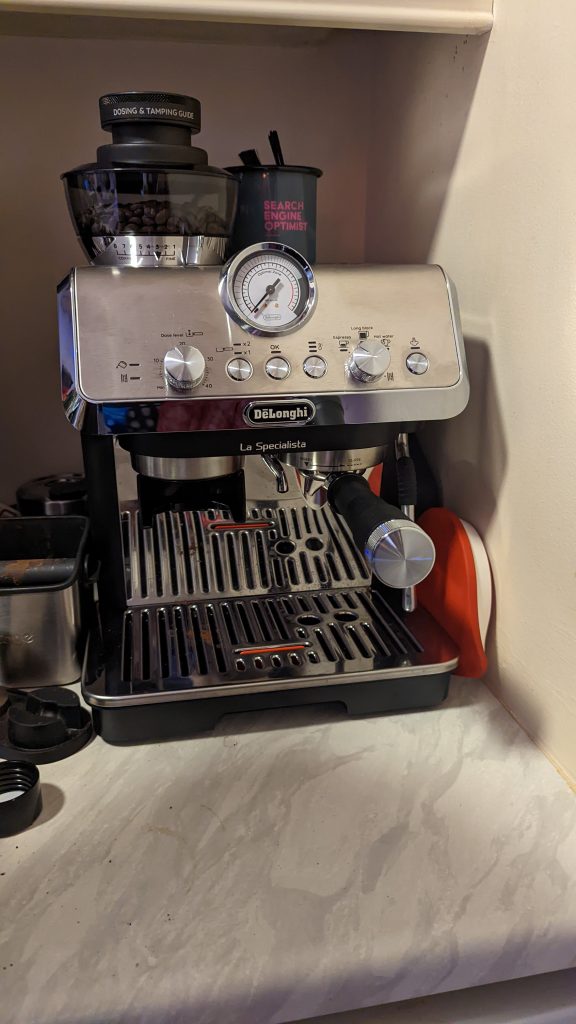 For this De'Longhi, everything is combined into one neat machine. In fact, I could even chuck out the kettle if I wanted to. This is because the machine can make a nice hot cup of water too, whether it be for an americano or just tea.
The drip tray is very generously sized. Handy if you forget to empty it for a few days. You're not punished with old coffee water and spoiled milk pouring onto your counter. There's also a nice little cubby hole in the top of the machine for your accessories and bits and bobs. One additional feature that I liked was an espresso shelf. This lets you sit your espresso cups closer to the spout of your portafilter (that's the thing with the handle on one end and where the coffee comes out on the other).
Generously sized features continue when it comes to the onboard water tank. One thing worth noting here is that the water tank doesn't include a built-in filter. Instead, De'Longhi opted for a filtering bag which they include in the box.
Features
The De'Longhi La Specialista Arte Espresso Machine is a so-called bean-to-cup coffee machine. That means the one machine does it alll As a result, the machine can be split up into a few areas. The grinder on top has eight different grind settings. This is important given different types of coffee require different coffee grounds. Espresso is typically finer while coarser grinds are better for filter coffee. You can also set the height of your grind based on whether you want stronger or weaker shots of espresso. I'm a double shot guy and barely function on just a single shot. Thankfully there's a button there that makes that double happen for me too.Next up is where the grinds come out. An unusual feature of the machine is a collar that fits onto your portafilter. This slides into a shelf. One firm press in and the machine starts grinding your coffee beans. The height of your grind along with whether you've picked a single or double decides how long the machine grinds for.
Once you've tamped your coffee (more on that later) you remove the collar and lock it into the machine. Choose between americano, espresso or just hot water based on what you want to make. If you need to froth some milk, the machine has a frother there too. It truly is everything you could need to make the perfect cup of coffee in the morning.
Using The De'Longhi La Specialista Arte Espresso Machine
Design is one thing. How that design works in day-to-day usage is quite another. I've been using the machine for a few months and love it. There are a few quirks, but the vast majority of the features on this machine are brilliant.
My favourite element is the three in one output. This machine can make americano, espresso or just hot water. Replacing the kettle is something I've sought for some time and this is just so practical. If you choose americano, placing your cup carefully under the portafilter and hot water spout means one button press gets the job done with no further action. It's genius.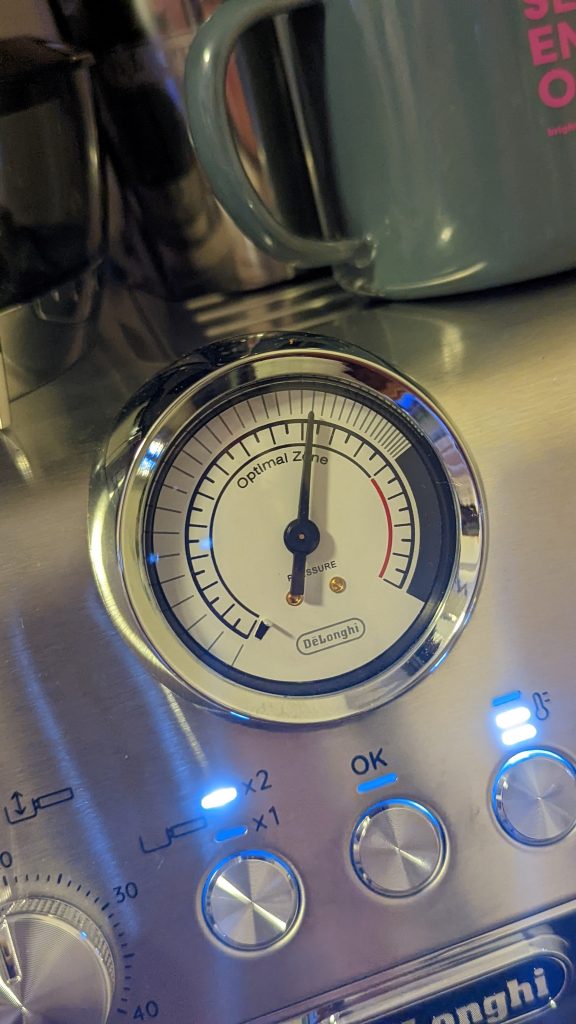 The pressure gauge is something that coffee nerds will like. There's a pressure sweet spot that means you've got your grind size and tamping done perfectly. Tamping is the pressing down of the coffee grinds and De'Longhi has one more nice inclusion here for you. A rubber stand, perfectly designed for your portafilter. This means you can sit your portafilter, spout and all, into the stand and press down with the included tamper without fear of breaking something.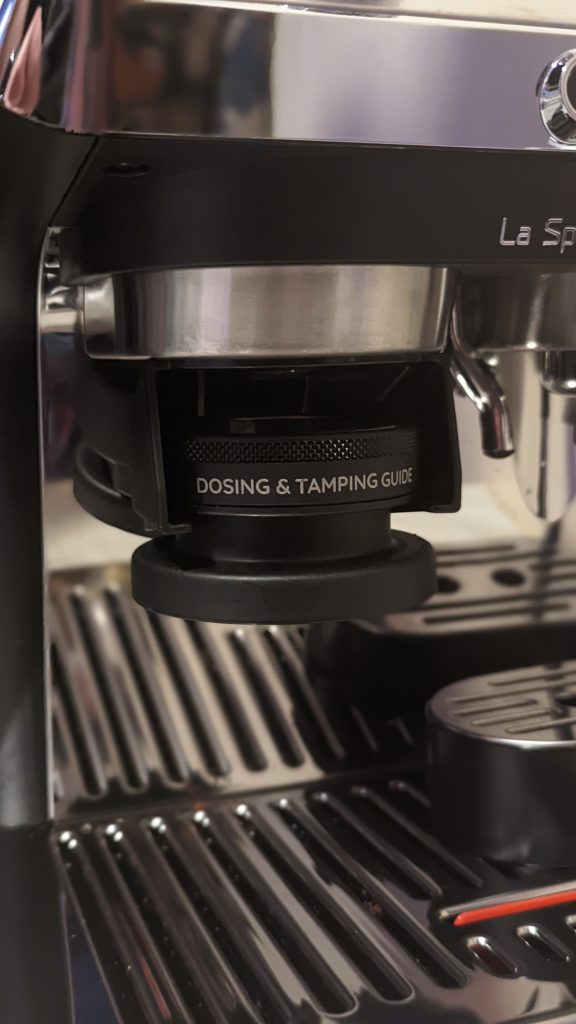 I do have to say the collar design is odd. I really don't get what the idea was behind that. It doesn't hinder the coffee making much, but it feels like another thing that could break or get lost. Also, the milk frother is incredibly loud. I do like the more automatic approach of the Sage Bambino, but not something that would make me recommend one machine over the other.
De'Longhi La Specialista Arte Espresso Machine Review Verdict
Is the De'Longhi La Specialista Arte Espresso Machine worth buying? It might sound obvious, but a coffee machine like this is only worth buying if you're going to use it. That means you quite like coffee and are ready to nerd out a bit. If that sounds like you, this is a fantastic machine to offer an all-in-one coffee-making experience. You're given a fair bit of control but not so much that there's a steep learning curve to make a great cup of wake up juice.
The De'Longhi La Specialista Arte Espresso Machine is available from outlets in Ireland including DID Electrical, Harvey Norman and Currys for around €500.