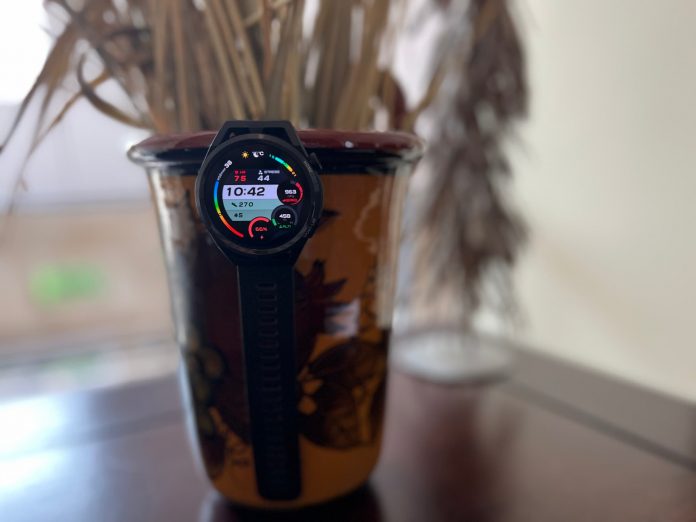 So, you've decided to buy a smartwatch? You might feel somewhat tied to Apple's ecosystem if you're an iPhone user. After my somewhat surprising migration to Apple, I know I felt that was inevitable for me. But after years of loving Huawei wearables, I stuck with them. The latest smartwatch Huawei has sent over to test is the Huawei Watch GT Runner. I've been putting it through its paces.
Huawei Watch GT Runner
I had a couple of Huawei watches sent over to test in quick succession. The Watch 3 landed in and was mega premium. However, it was suffering from extremely limited availability. The Huawei Watch GT 3 landed in next. It lived up to past iterations but didn't do much to ignite my curiosity. A great watch, but I expected that much.
The Huawei Watch GT Runner is a different story.
For everyday users, the Huawei Watch GT Runner might still be a tough sell. However, some features compare brilliantly versus Apple Watch. Even for more dedicated athletes, the Huawei Watch GT Runner offers some features that measure up versus Garmin and other high-end workout watches
Design
The Huawei Watch GT Runner feels lighter than most Huawei smartwatches I've tested. It's odd given that it is about 3g heavier than the Huawei Watch GT 3, weighing in at 38.5g. Overall, it's a fairly premium vibe you get from the watch. Huawei has forever held onto designing their smartwatches around traditional round faces. This bucks the trend from big fitness competitors Apple and Fitbit.
But for me it's crucial.
In terms of input, beyond the touchscreen, you can also control the watch using the crown (spinning button) or the button below.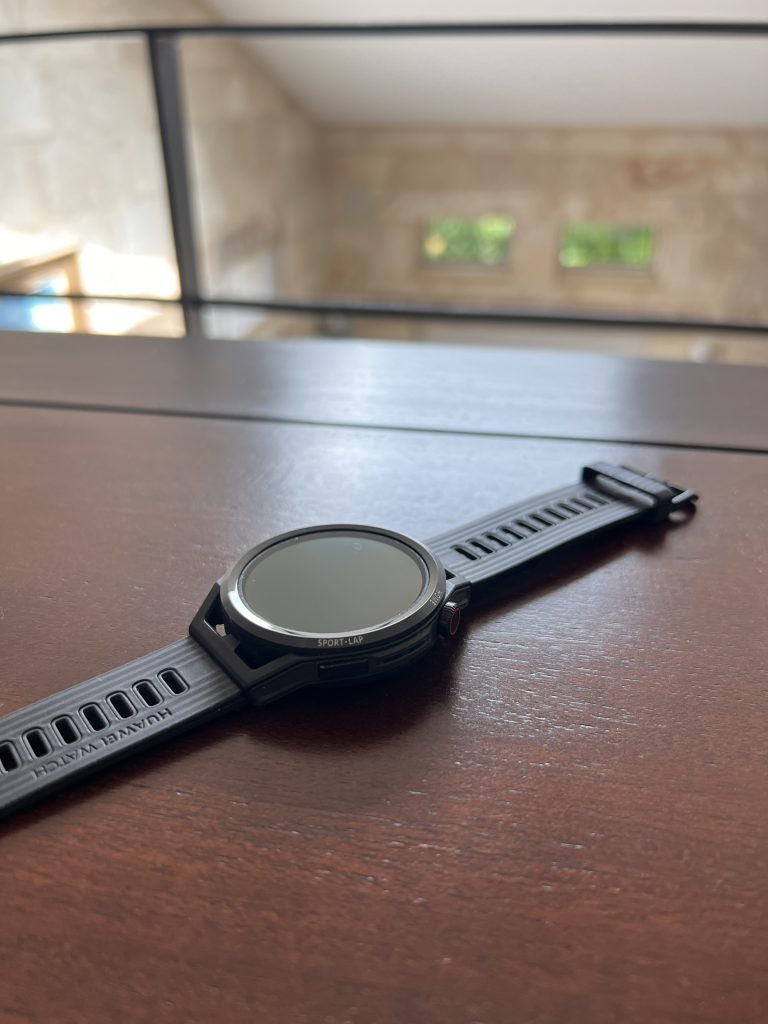 The watch itself remains light with a clever body featuring cutout sections. The lightness mission is further supported by the body being made from a polymer-fibre case.In short, that means light and strong. And that's what this watch is all about. It's supposed to be on your arm, unnoticeable, until you need it.
When you do need it, it's packed full of smarts to give you your workout insights. It makes that data more readily available than ever before. I feel that the improved sensors is where the weight and price got a little inflated. So let's look at what you get.
Fitness Tracking
I've mainly tested the Huawei Watch GT Runner hiking, cycling, lifting weights and even with a bit of swimming. Sorry, I'm just not into running (I understand the irony given the watch's name).
There's a long list of vitals that the watch can measure:
Heart rate
Sp02
Lactate Threshold
Sleep
Stress
Heart rate is one of the areas Huawei has invested heavily in. They've made a bold claim that the Huawei Watch GT Runner is able to take on chest strap monitors with 97% accuracy. This is all down to upgraded modules in the rear of the watch which keep contact with your skin to measure heart rate.
In the interest of transparency, I can only say this is what Huawei claims. I don't have a chest strap for comparison. I can tell you that when I was hiking up a hill and felt like I could die at any moment, my watch said my heart rate was very high. To be fair, looking at me probably could have told you similar information.
Huawei also launched TruSport with this watch. This lets you measure your performance against other runners in your cohort. TruSport even gives you predicted performance insights and helps you train to the right level for your ability.
Even I, a guy not into running, think that's pretty awesome.
But, the best part of the fitness tracking for me is a combination of the onboard GPS tracking and my realisation that the Huawei Health App is after getting very good.
Huawei Health App
One of the biggest issues through the years has been the Huawei Health app. Until now, it was just ok, missing lots of features from the competition. When heading out for a hike, I was surprised with just how much information I was getting. Next, it was how well the app was processing everything.
Huawei now even supports Strava. It's been a long time coming and held a lot of people back from making the move towards Huawei as a genuine option for serious fitness tracking. But it's still not perfect – more on that later.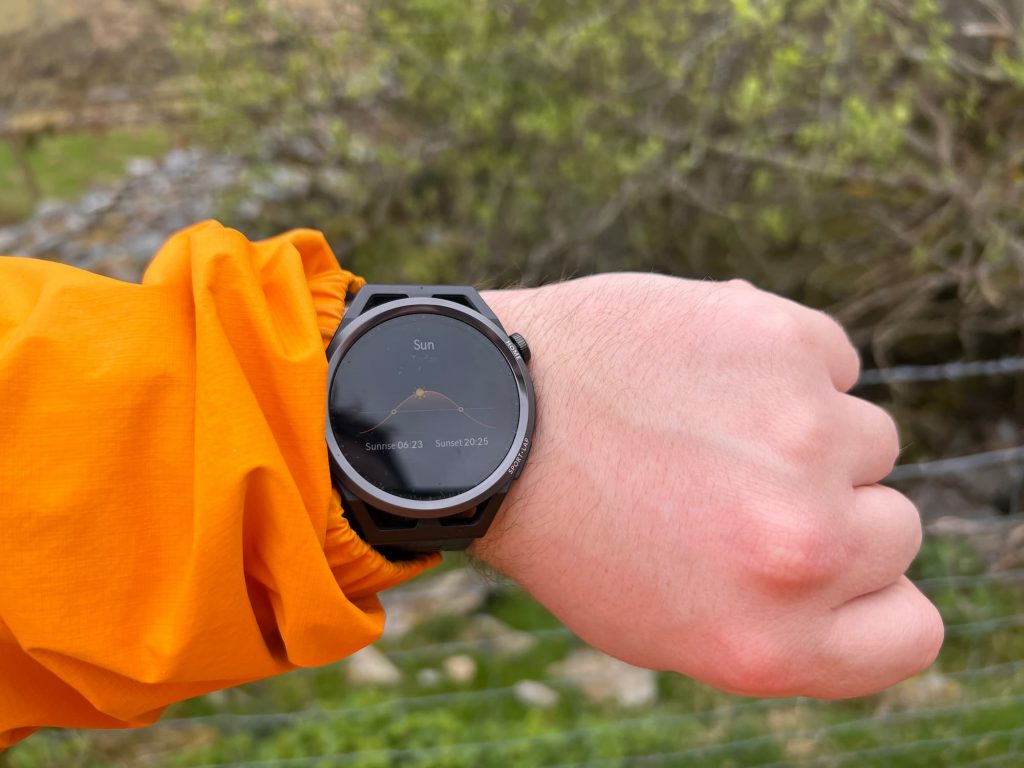 Hiking through Kerry, the watch was able to send me back the way I came if I ever got lost. I actually used the on-board compass given I'd no internet. I also appreciated the sunset feature, knowing we'd plenty of time to get back to our AirBnB. It tracked the whole hike too. My favourite thing of all was the video of the hike the app generates. It shows all your elevation changes, your pace at milestones and peak heart rate. It's a nice clip to be able to share on your favourite social media platform. Did the workout even happen if you don't share it?
Battery Life
The main highlight of Huawei watches for me is the design. Second is the battery. The two big wins for Huawei in my eyes. The battery of the Huawei Watch GT Runner is whopper. You'll likely get the bones of two weeks from your watch if you're a fairly casual exerciser. If you're a bit more intense in your workouts, you can still expect a fairly impressive week-long battery.
This is all remarkable given Apple still celebrates an all-day battery life for their Watch. I honestly couldn't imagine wearing a watch I need to charge daily.
The Missing Links
While reviewing Huawei watches, I've learned that they are brilliant. But, while brilliant, there are plenty of shortcomings that many will consider deal-breakers. That's why I recommend Huawei Watches, including the GT Runner only if you don't want the following.
Music Support
Huawei doesn't support the likes of Spotify. You can't load up or sync music to your watch and head out. The on-board GPS tracking means you can get all the fitness data without your watch, but you'll have to run in silence.
It's a shame given the watch supports Bluetooth 5.2 connections and you can connect buds to it. Of course, if you have MP3s you can upload them to the watch. I couldn't work out how to do it and let's be honest; music syncing is a deal-breaker for many.
Payments
A few weeks ago I spent a €50 note that had been in my wallet for two years. Yup. Between Google Pay, Apple Pay and Fitbit Pay, through various gadget testing stints, I just never needed to open my wallet.
Huawei offers nothing in terms of payments through the watch. Just before the pandemic, I asked Huawei's CEO if payments would be a priority, but nothing has happened since. There could be progress here in the future given Huawei has teamed up with Curve for their phones. Perhaps that could feature on their watches in the near future too. Still, it feels like a workaround and if payments are crucial, it's another deal-breaker.
Linking to Apps
What apps you can link to and use with your Huawei Watch GT Runner is still somewhat hit and miss. If you're on the fence, feel free to drop me a DM and I'll see if I can link your platform of choice to the Huawei ecosystem. As I mentioned, many will welcome Strava integration, but even that's not consistent.
I don't use Strava much, but for this review, I wanted to test this integration. Strava doesn't list Huawei as a supported device and I couldn't find Strava within the Huawei Health App.
This is a common theme if third party integration is a crucial part of your workout. While the Huawei Health App is vastly improved, integration has not.
Huawei Watch GT Runner: The Verdict
The Huawei Watch GT Runner is an excellent smartwatch and a fantastic fitness tracker. At €299, it's not a cheap purchase. The integrations also make it a risky purchase if you're looking to use anything beyond the Huawei Health App.
If you're not already in bed with the likes of Strava, then you've nothing to worry about. Just check the other missing links I've mentioned above. If they don't apply to you, this is the smartwatch you've been looking for. As I said, I'm an iPhone user and that didn't produce any unique snags for me.
The Huawei Watch GT Runner is available from Eir, Harvey Norman, DID and Euronics.