I've said it before and I'll say it again, with so much negativity going about the place these days we'll be taking any chance to show the positive stuff that's happening around the country in a time like this. PPE is a major issue for the whole healthcare system right now and amazingly it's not giant corporations or the government stepping in to cover the need, it's people like you and me that have a little bit of talent and the right tools. What I'm talking about is 3D printing. Up and down the country, people, small business, colleges and more have been sharing open-source designs and all these people are using their newfound time and skillset to 3D print PPE to help front-line staff through the COVID-19 crisis.
Doing the good work
Following the shortage of PPE to fight the current COVID-19 Pandemic many Irish people, companies and institutions have offered their skills to help the cause.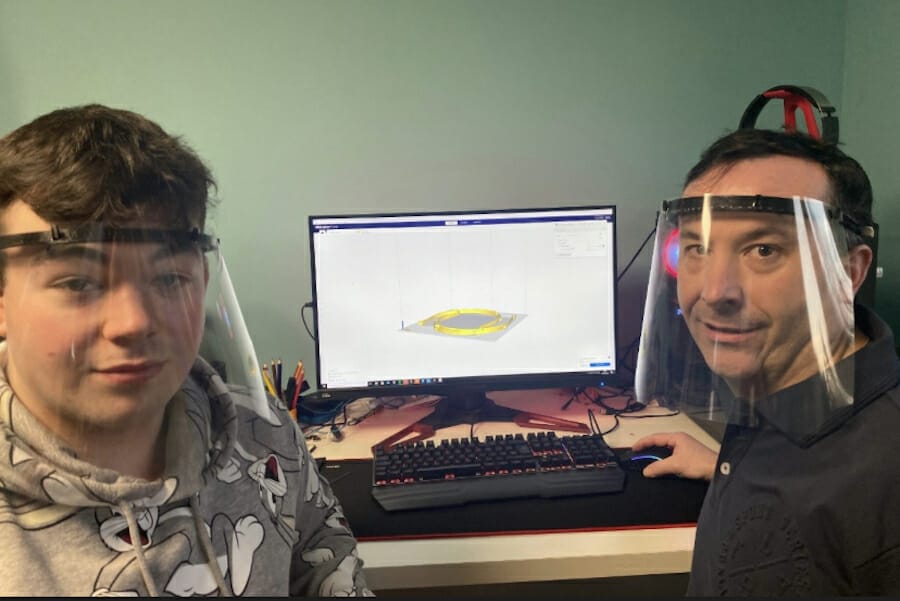 One of these techy heroes is Wexford native Cedric Aucher who plans on producing 100 face shields a week. Cedric will be working alongside his father and sister to create the 3D printed PPE and will be donating these shields to local organisations in need such as nursing homes and other public services.
We also have e-NABLE Volunteers in Dublin have been working around the clock to help supply their health heroes and first responders with much-needed face shields this past week.
"Here in 3DAssist Dublin, we've printed and delivered over 150 face masks to our local hospital. We've also sent over all our colleges PPE. Our local police force delivered our stock to the hospital, a real community effort. Be safe."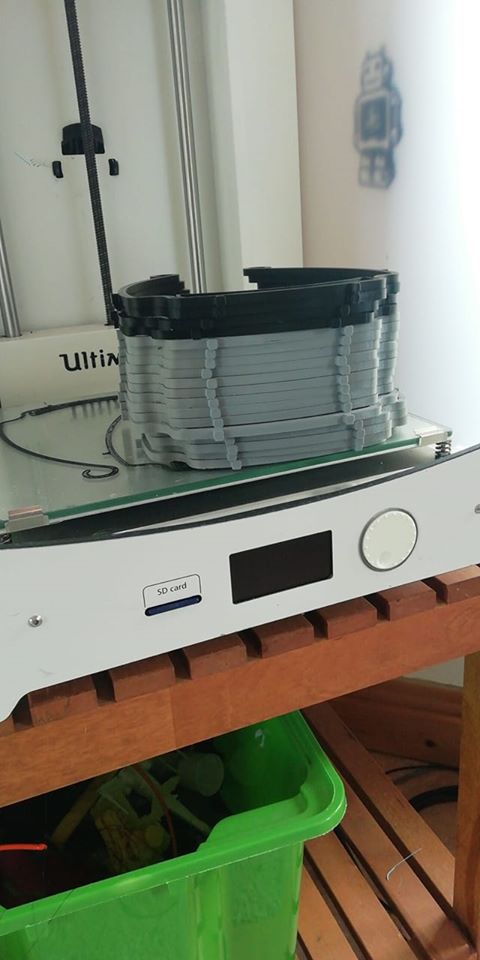 3D printing is not the only way to make PPE! A good old mate of mine from back in the college days and is a bespoke furniture maker and owner of Studio Luden in Ennis has shelved all current projects and has been putting his handy skills to use, laser printing face shields using lightweight plastic which has been donated to the local nursing home and other public services.
An advanced manufacturing research facility based in University College Dublin has designed a face shield for medical staff working on the COVID-19 frontline in the space of a week and is already scaling up production. Using its expertise in 3D printing, known as additive manufacturing, I-Form is aiming to provide much-needed PPE to Tallaght Hospital.
Nigel Burke, an owner of 3D Printing Dublin, declared: "We want to get the message out that there are Irish businesses producing PPE. We're here at home – use us." His 3D Printing workshop in Rathmines is currently producing 120 PPE face shields per day.
Jacqui O'Connor from Med Scan 3 D, who usually make models of body parts, has six 3D printers on the go as nursing homes across the country cannot access the personal protective equipment they need during the health crisis. Jacqui is now 3D printing face shields and set up an online funding page to raise money for the project. She's raised about €4,500 so far, and each face shield costs €15 to make.
Two students at Kinsale Community School (KCS) in West Cork have started making 3D printed face shields in order to protect front line staff as they go about their duties. Fifth-year student Oisin Coyle and Transition year pupil Shane Collins contacted their principal in recent days about the possibility of making Personal Protective Equipment (PPE) for medics in hospitals. An assembly line was set up and the shields will be distributed to doctors, nurses, pharmacists and healthcare workers in the coming days.
So proud of our Students and teachers coming together (never closer than 2 metres though!!) to make PPE for our health care workers. #kcs4life pic.twitter.com/toVLvySMs3

— Aaron BowenKCS (@kcs_mr) March 31, 2020
Back in the good old days I went to UL and did Product Design and Technology, at the time it was a small course hidden in the basement of the concert hall for us to go all mad scientist….things have changed and now the Rapid Innovation Unit at the University of Limerick is living up to its name by designing solutions to three critical challenges facing hospital doctors fighting COVID-19 in less than two weeks! They are currently pumping out intubation boxes for the University Hospital Limerick as well as the face shields.
A collaboration between UL & @ULHospitals Group has seen the design and capacity created to manufacture 100,000 face visors for HSE front-line staff. #MidWestTogether

The first batch of visors were delivered to UHL today. They say 'The Limerick Visor: Front Line Heroes' on them. pic.twitter.com/Mot4miT6oq

— University Of Limerick (@UL) April 9, 2020
Affordable printers
3D printers have become more affordable, for what a couple of years ago would be north of €1000 you can now get an entry-level machine for about €200. Like these:
XYZprinting da Vinci Mini+
A small 3D printer that costs about €350 and is purchasable on Amazon. It remains one of the most affordable ways to get into 3D printing, and also the easiest, thanks to an easy-to-use interface. Just because it's a budget model, doesn't mean it doesn't produce good results, and the 3D printed objects it creates are very impressive considering the price – and size – of this 3D printer.
AnyCubic Photon
MSLA printers are coming thick and fast but none so far have achieved as low a price as the AnyCubic Photon which is about €300. Photon puts SLA technology into the hands of anyone who wants to give it a go on a budget. The included software is solid enough as is the user interface if all a bit simplistic, but you can't argue with the quality of the resulting prints. You do however need to ensure everything is kept clean and resin is filtered and the resin bath washed between each print.
TEVO® Tarantula Pro 3D Printer Kit
Another simple and cheap printer that comes in at about €200 that prints 235*235*250. Perfect for home use and it's upgraded special designed cooling fan shroud for efficient print cooling.
How you can help
If you want to help any of these good folks, luckily there are ways. Cedric Aucher is looking to raise the funds to be able to produce over 100 face shields per week to make the best use of his recently acquired 3D printer. You can reach out to the e-nable team in Dublin or any of the crews mentioned above to see what resources they need. Of course, if you happen to have a 3D printer just laying about at home you can always get the plans and get involved.
You might also be interested in The Galway System which can double the capacity of ventilators in an emergency.