Right now we are living in the golden age of tech. Somehow, even though it doesn't make sense, we're living in a world, surrounded by futuristic tech. There are new and crazy inventions appearing on a regular basis.  We though we would have an aul gander at some bits that we all may recognise from the movies which are not too far from reality. Having scoured the internet for the weirdest and most wonderful bits we could find here are 4 tech innovations we can actually expect to see a lot sooner than you think.
Alternative realities
The tech world is a funny place. Little over a month ago, Facebook Spaces was supposed to be the next big thing. It was a virtual environment unveiled by Mark Zuckerberg which just last week was shut down. Still, it's a sign of things to come as this was some crazy advanced stuff. The tech is developing ridiculously fast so just think in a few years we all may be spending a considerable amount of time in a virtual reality. Perfect for the Irish Mammy who wants to keep in touch with her son down under. We are looking at you here Deano.
To be honest with you, most of the VR the gadgetry stupidly expensive at the moment, and some people (namely myself) can suffer awful headaches from VR. But if we use our imagination for a moment we can all see where this kind of virtual reality can take us.
Not exactly sure whether this is good or bad myself, but hey that Tony Starkesque mansion on the coast could be yours. But that false sense of life which we can see in The Matrix and Wall-E is not far from happening. As long as we can all agree to not use this kind of technology as an escape from reality then we will be grand.
Companies like Google and Facebook are already pushing forward with this futuristic tech. While spaces fell apart, the potential is there. Movie studios are also adopting these new immersive ways of entertaining. Go on, drop me right into any horror universe, I swear I won't cry, again.
Flying cars
Just like the cartoons and movies of old, the dream of the flying car has been around for an age. According to all the old flicks we should actually be floating around long by now, but are we any closer?
One such company thinks so, AeroMobil have recently opened preorders for it's first flying car so it's possible. But before you go trading in your trusty Micra or Escort bear in mind the cost is an eye watering  €1.2 million and delivery isn't expected until 2020, at best.
Then there's the fact you'll need a pilot's license. With a top speed of 99 mph on the road, a 161 mph cruise speed in the air, and a one-button conversion process that takes just three minutes, it is fair to say the AeroMobil is a beaut. Wonder if the Credit Union will give me a loan.
Flexible phones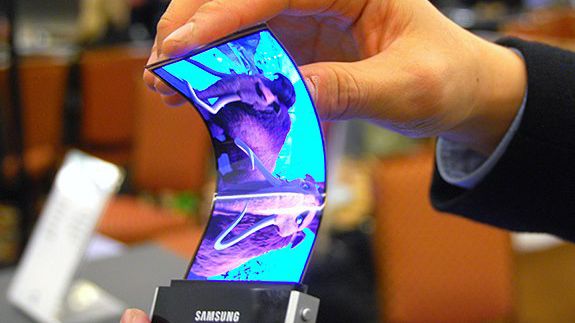 Rumours have long been circulating about a fully flexible phone from Samsung called the Galaxy X. Apparently a prototype model, visible above, is apparently very close indeed. Curiously the model could hit the shelves in 2019. Surprised? Dont be.
Phone design has not been changing much over the last number of years. Samsung, however, with the latest S8 and the infinity screen has attempted to buck that trend. A mobile that could fold up and stick in your pocket would certainly be a huge change. For that to happen though, all of the various components and bits of circuitry inside a phone, from the screen to the battery, would have to be flexible.
As far as screens go, both Samsung and LG are known to be working on displays that can be rolled up, at least partially. This is something we want, no need to happen.
Personal jetpacks
James Bond tech in the real world. It's happened before and god bless your cotton socks it's happening again. Remember Connery in Thunderball? Well the most futuristic mode of personal travel is almost upon us. Over the last few years more and more jetpack-style contraptions have been hitting the headlines, from the JB10 from Jetpack Aviation to the Flyboard Air. In fact, the JB10 is already on sale to a select few. It's going to take a while before jetpacks are actually legal to use and affordable – but in terms of the actual tech, they're almost ready.
They're also an incredible way of nabbing a pint:
Have we missed anything you think should be included on our list?