Alcatel owned TCL are historically known for making good products at great prices. They have been a brand that know exactly what they are all about, finding that sweet spot between specs and spend. Lately I've been reviewing the Alcatel 3T 10 tablet and like most products from these budget busters it's got a great spec sheet at a price that won't break the bank. The version I was using came with the speaker stand but there are two other models on the market, one with a bluetooth keyboard and the standalone model.
Design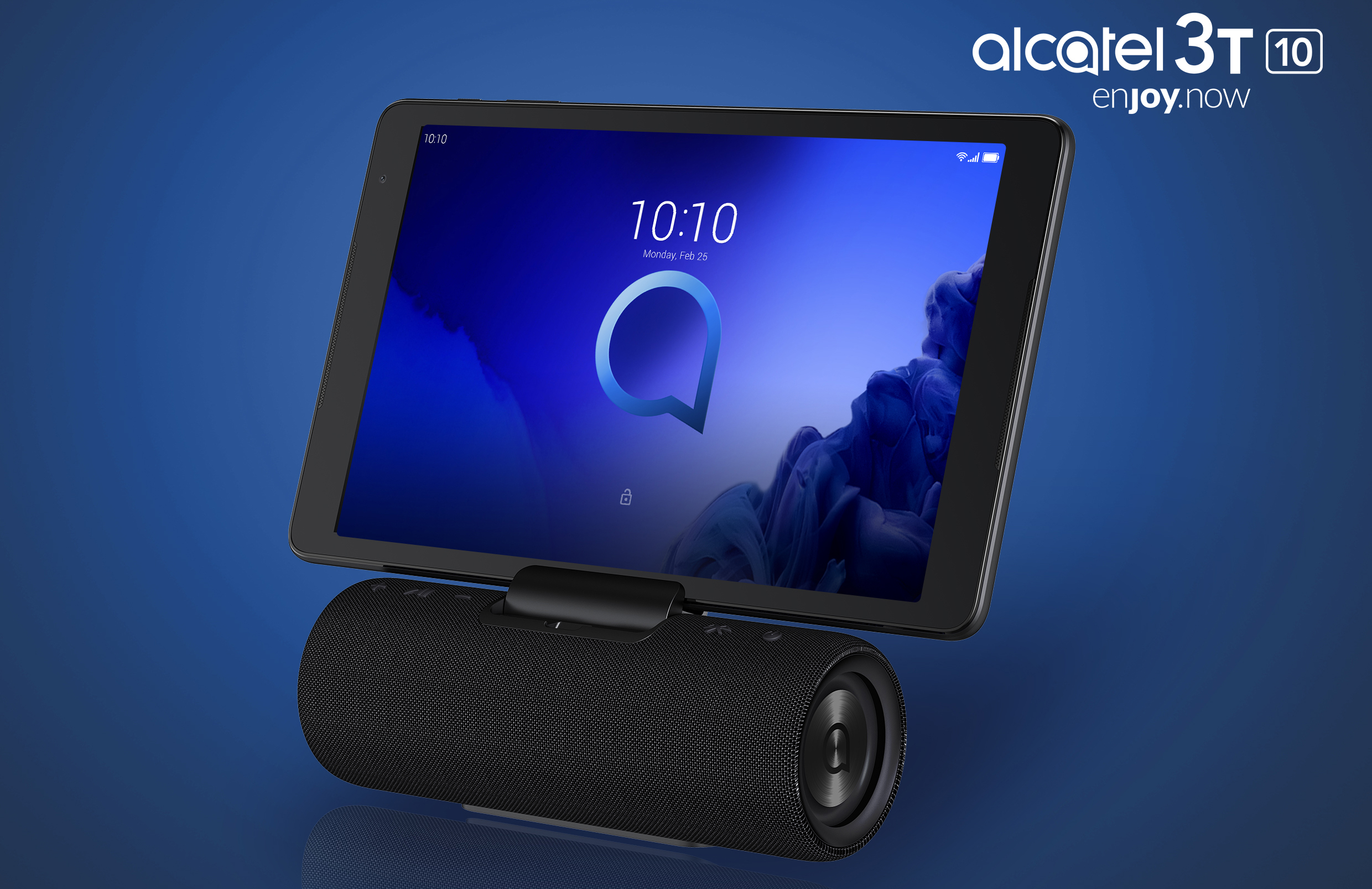 When it comes to design the 10″ Alcatel 3T 10 looks like…well a tablet. Design when it comes to tablets that aren't Apple is pretty bog standard if we're being totally honest. When it comes to the Alcatel we have a front facing "selfie" camera, volume controls, power buttons and a slot for a SIM and Micro SD car, oh and a 3.5m headphone jack. Which actually gave me a surprise and I wen't to pull out an old pair of headphones to check it out but low and behold no longer do I even own a set of 3.5's…madness!
On the back of the Alcatel 3T10 we have the standard camera, a standard 2MP but tablets aren't for selfies are they?
Anyway where the Alcatel 3T 10 stands out from the crowd is the integrated audio dock. On the base of the tablet there is a connection point that matches up with the dock and these are only for power sharing and giving the tablet a place to stay because the dock connects to the tablet via Bluetooth.
Audio Station
To be honest the model of the Alcatel 3T 10 I got was all about the audio dock. When it comes to the tablets built in speakers, they are grand but the audio dock really makes up for it. It's loud and the quality is clear. For me this was ideal to have playing my podcasts, radio or Spotify on during the work day.
On the design of the dock, the Alcatel 3T 10 is a simple black plastic tube with a flip out arm to help stabilize the dock when the tablet is mounted so that it doesn't topple over.
Alcatel 3T 10 Performance
When it comes to performance the Alcatel 3T 10 is rocking 2GB of RAM, which is fine but it's a tad laggy for running Android 9.0. Also with this amount of RAM having a pile of apps and tabs open isn't the best move in the world, it does hamper performance but if you make sure you're only running one or two things at a time then you're flying it. Again we have to take price into consideration we have to say it's perfectly acceptable and the screen quality is grand. My set up was audio dock, tablet, Spurs All Or Nothing….job!
On the screen, the display is a 720p so you will have to stick to the lower quality videos instead of looking at 1080p but again for the price this is the quality to expect. Literally no complaints about the quality of the screen for what most of us would be using it for.
Battery
The Alcatel 3T 10 boasts a nice 4080 mAh battery and the audio station ads another 2000 mAh or so. This means you get plenty of life juice with about 6 hours use without the docking station and 8 hours with it. So no complaints here from me, like Ronseal the Alcatel 3T 10 does exactly what it says on the tin.
Spec Sheet
Connectivity
OS
RAM
Display Resolution Type
Processor Type

MediaTek Quad Core (MT8765B)

Additional Features

Face Unlock, FM Radio, Dual Speakers, Far Field AI Voice Control, Wi-Fi Display

Display Size
Display Resolution
Camera

2 Megapixels
5 Megapixels

Internal Storage
ROM
Expandable Storage Capacity
Battery Capacity
In fairness to Alcatel, these guys know how to build a good product. I'm actually currently using the TCL 10 Pro phone which will have a review up shortly and in both cases I'm pleasantly surprised of the quality versus the price. It's not perfect but for €250ish it's better than I expected. The speaker is brilliant and I find that in my new work from home life having this as a small desktop screen to watch the news (and if my boss is reading I totally mean the news and not Netflix). I've also hooked it up to the Alexa in my room so it's become an almost reluctant smart home hub, which if you ask me is fairly handy.
There are better tablets on the market. But if you want to spend between €200-300 then this is perfect.