In just a few short years, how we pay for goods and services have changed dramatically. We all know it, really how often are people carrying cash let alone loose change these days? More and more people, like me use mobile payments. It's really convenient until you think about how charities are losing out on the donation of till-side loose change.
Think about it, when you buy stuff in the shop you'd happily throw the loose 5-10-20cent into the bucket. But that's now a thing of the past. In the not so distant past though the church began trialing contactless payments for donations.
They did this because dodging charity boxes has become easier in modern times and charities are loosing thousands worth of donations. Well, thankfully and more desevingly than the church, St Vincent de Paul (SVP) are set to become the 1st Irish charity to introduce digital collection boxes. These e-buckets called CollecTin were developed by SumUp and Visa and are basic enough electronic card readers which will allow donors to contribute with their debit or credit cards if they have no cash. Boom, no excuse to not toss that change to a good cause during holiday season. Plus i'm almost certain the theory is you miss a euro less when you don't see it- hence tap and go with you good cause.
'We're starting with 80 buckets and it's a strategic roll-out to facilitate donors in every way.'
Using these e-buckets is also really simple, just choose the amount you want to donate on the card reader, tap and go. That's it. SVP hope this new technology will remove barriers and encourage people to donate without the issues that may have prevented them in the past. Oh and before we forget, the card reader sits inside the bucket, so it will still act as a normal collection point but needs to be charged up on occasion.
There are other ways to donate!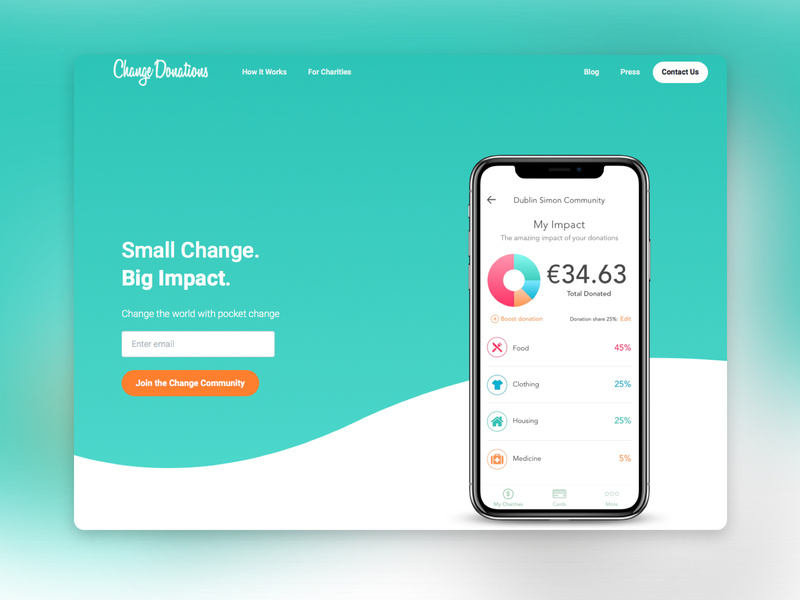 Change donations is an Irish donations service and the modern answer to popping your twenty cent change from your grocery shop into the charity box beside the till. Say you buy a few bits and bobs worth €19.60. Back in the day, you'd get two twenty cent pieces back and you might have been tempted to pop them into the charity box for a worthy cause. These micro-donations generally make little or no impact on your own pocket, but with thousands of them taking place around Ireland daily, they added up to a significant bit of cash for charities.
Today, you're much more likely to tap your card and pay the exact amount for your transaction. Sure enough, you're back up forty cents, but you likely won't even notice that few cents. Charities, on the other hand, do miss the thousands of these transactions taking place daily and this is the gap Change Donations is trying to close.
Change Donations is a service where you connect your bank account and your bank card. The Change Donations service then looks at your card transactions, rounds up to the nearest euro and donates your digital loose change to a charity of your choice.
Effectively, it's the exact same as donating the loose change that the shop keeper would have handed back to you.
Essentially here's the deal, right now we know Ireland has it's issues with homelessness and poverty, with these two options alone there are ways and means to donate to worthy charities without needing a pocketful of coin on the high street. Seems as its December why not try one of these nifty tech solutions while doing a good deed for those in need or If you wish to donate, visit www.svp.ie/donate or call 01 8848200.