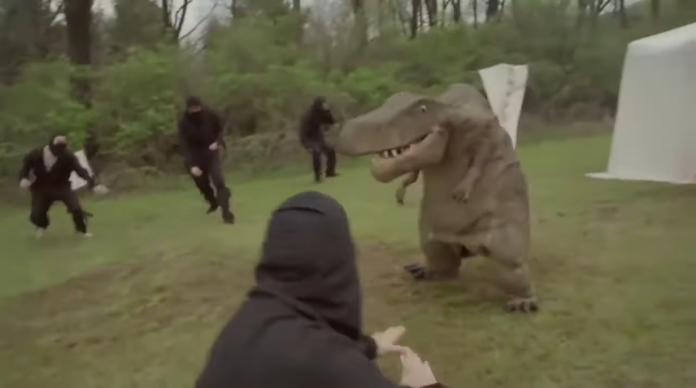 There are a few cult classics I've watched over the years. A lot of them are interesting, to say the least, but still garner sizeable budgets. Take The Room for example. That movie is rumoured to have cost $6 million but reached cult status after initially flopping. Then there are movies like Sharknado and the likes. They're all so bad, they're good, but they still cost a small fortune. And this is why I adored a little film I stumbled upon on TikTok called VelociPastor.
What Is VelociPastor?
Where do I begin? VelociPastor is a horror comedy that cost just €36,000 to make. The movie is all about a priest who sets off travelling after the deaths of his parents. On his travels, he ventures to China, though I'd guess the film crew didn't leave the United States. While in "China" he is infected by an ancient artefact. Basically, when angry the priest, or pastor, turns into a dinosaur. Yep, he's a VelociPastor.
The film surrounds the VelociPastor cleaning up his hometown and eventually avenging his parents.
It's really interesting to see VelociPastor getting a second wind in the public eye. It's happening mainly because of TikTok. Here, actors from the film are engaging with the movie's cult following, the pastor usually doing so in character.
Where Can You Watch VelociPastor?
The movie has been officially picked up by Amazon Prime US. Well, I say picked up but anyone can upload movies to Prime – it's fairly easy. So it's not really clear if the creators of VelociPastor are making money. I have watched the full movie on YouTube and I'm somewhat sure it's a legitimate distribution of the movie.
You can watch it right here!
Watch The Full VelociPastor Movie
Best Scenes From VelociPastor
I have two scenes I absolutely loved. You don't have to wait long for the first one.
Opening Explosion VFX Scene
This is just my type of comedy. Low budget movies often leave the heavier lifting of some video effects until the very end. They even test the movie with some audiences before the finishing touches are added. During one test, the audience laughed so hard at the "VFX Car on fire" that they decided to keep it in. It was the first laugh the movie got and boy does it set the tone.
The creators sent the movie to one film festival. They called them back asking for the final version, thinking this was all a mistake. Really, it was just brilliance.
The Laughing Scene
This is brilliant because I'm not sure how much of it is acting, utter stupidity and genuine actors just losing their composure on camera. There are at least two moments I feel like I can see both actors genuinely break and smirk or give a full belly laugh. But it also looks like they don't. The result is weird laughing leading to what might be the best laugh acting you've ever seen.
From here on out, I can't do the movie real justice. The final fight scene deserves a massive mention, but there are so many excellent parts to it I can't break it down. Go watch it. It'll pass over an hour for you.
VelociPastor FAQs
When was VelociPastor made?
VelociPastor was filmed in 2017.
Where was VelociPastor filmed?
VelociPastor was filmed in North America. Despite a scene taking place in China, it's not believed that production left the United States.
How Did VelociPastor Get Made?
VelociPastor started out as a college project. After two failed crowdfunding attempts, the movie was made with the backing of a private investor.
How long is VelociPastor?
Velociraptors were about 2 meters long. This movie is about 75 minutes long.
Can I watch VelociPastor in Ireland?
VelociPastor isn't on any of the Irish streaming services, with Amazon US holding onto it right now. There's a copy of it on YouTube that seems fairly full length.
Will there be a VelociPastor 2?
Yes. It's rumoured there's going to be a sequel. Thank Christ.