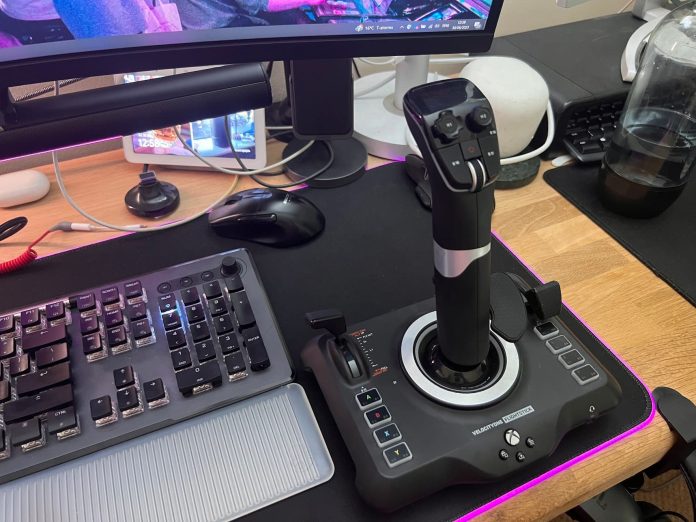 I recently built a gaming PC. It wasn't cheap, but I've wanted to do it for years. The main reason was Microsoft Flight Simulator. I'm a sucker for a flight sim. Over the years, I've dabbled in Flight Simulator, but the latest one needed a more powerful machine. I was also going to finally have to upgrade my flight controller too. As I pour one out for my mid-nineties SideWinder Joystick, I opened the package kindly sent over by Turtle Beach, and started testing out the VelocityOne Flightstick.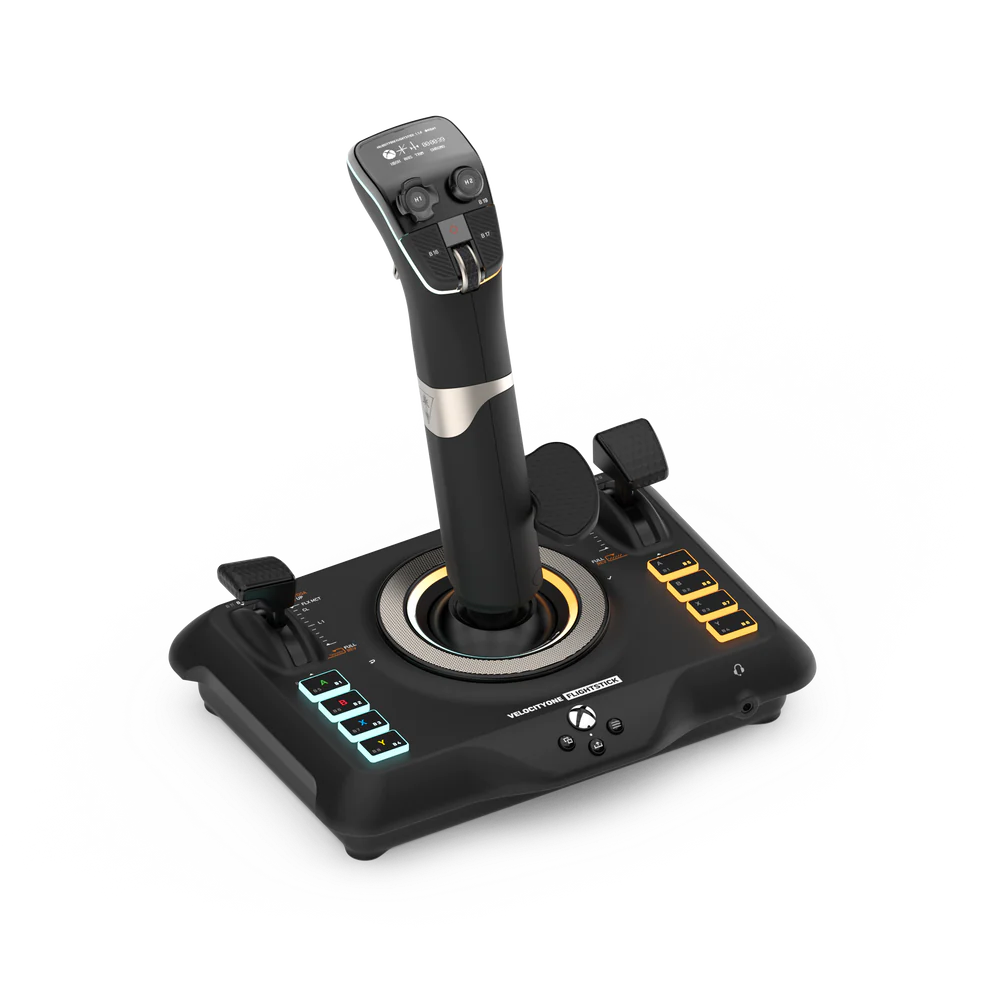 This is a massive upgrade on my Sidewinder, aimed at putting the perfect controller with a wide range of buttons and motion control in the hands of flight sim fans and even space flight games like Star Citizen.
Design and Build Quality
Out of the box, the VelocityOne Flightstick looks great. The Xbox controller-style button in the middle immediately makes me feel this is more aimed at console than PC, but in reality, that isn't the case – I'll discuss that later.
In the hand, the stick feels good. While the base is a little plasticky to look at, the stick itself feels premium and almost soft to the touch offering a lot of comfort. Turtle Beach were clever in their design here. The stick itself is quite long, and would be too long only for they've included a rest for your hand to lay on. This is both adjustable in height and can be moved to the left or the right of the stick. The beauty here means this stick is perfect for both lefties and righties.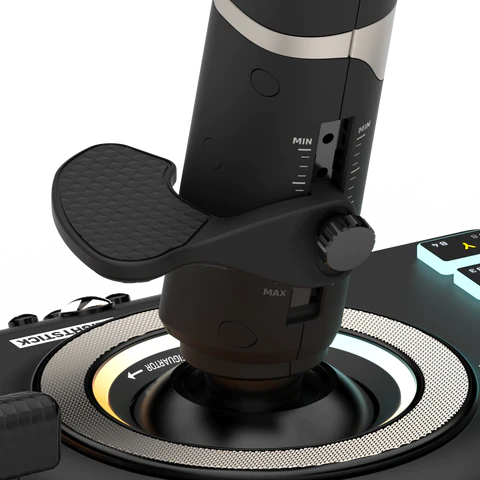 From the base of the controller, you can plug in your wired headset. A surprisingly handy feature for cable management but not surprising that Turtle Beach, famous for gaming headsets, would think of this. There are also some additional USB-C ports on the rear for add ons like the rudder pedals which I've not tested out.
One disappointing feature of the design is the controller's stability on my desk. You can mount this controller, and I recommend you look into it if you're buying this. At the extremes of the axis, the controller does tend to tip over. Mounting solves this, but it will come at the extra cost of a flight simulator controller mounting solution.
Overall though, this is a minor hiccup. The VelocityOne Flightstick is ultimately, a nice addition to my desk and comfortable to use for fairly extended periods of time.
Performance and Precision
The spring-loaded resistance in the stick feels great to me. Control inputs feel deliberate which probably exacerbates the tendency of the controller to tip over, as I've mentioned. For flight sims, a great controller will support just how immersive your experience is. Airbus flights, which fly a sidestick, feel most immersive. But I didn't feel that immersive experience was broken when flying the likes of Boeing or Cessna plans which are yolk based.
To get the absolute most from your experience, I recommend you spend a lot of time mapping surfaces to your sim of choice. Little things like understanding how to lock the rudder so you can control the nose tiller give you even greater control over your aircraft.
Button Layout and Functionality
Here, the stick absolutely excels.
There is an abundance of buttons on this stick. An almost overwhelming number of buttons, 27 in total. In addition to these buttons, the stick has two "throttle" controls, suitable for throttle and flap settings, a POV hat button and a control wheel. The stick even has a screen on it where you can change settings and get in-game data to display, though I never managed to get this to work on my PC for some reason.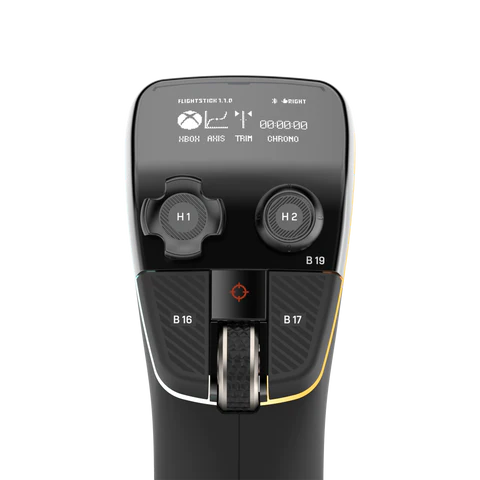 Everything is laid out perfectly for comfort and functionality. The slider controls have great range and support reverse thrust too. By that I mean you can pull back to zero, feel some resistance on the throttle and then lock into reverse.
As I've mentioned, you'll benefit from some time spent on mappings. The default mapping between the VelocityOne Flightstick and Microsoft Flight Simulator was good, but not perfect. Every sim pilot will have preferences for controls they want on the stick versus the keyboard too, so make it your own.
The biggest win for me with this controller is the rudder control. You can buy rudder pedals, but you can also control rudder surfaces by twisting the stick. This was an awesome upgrade for me.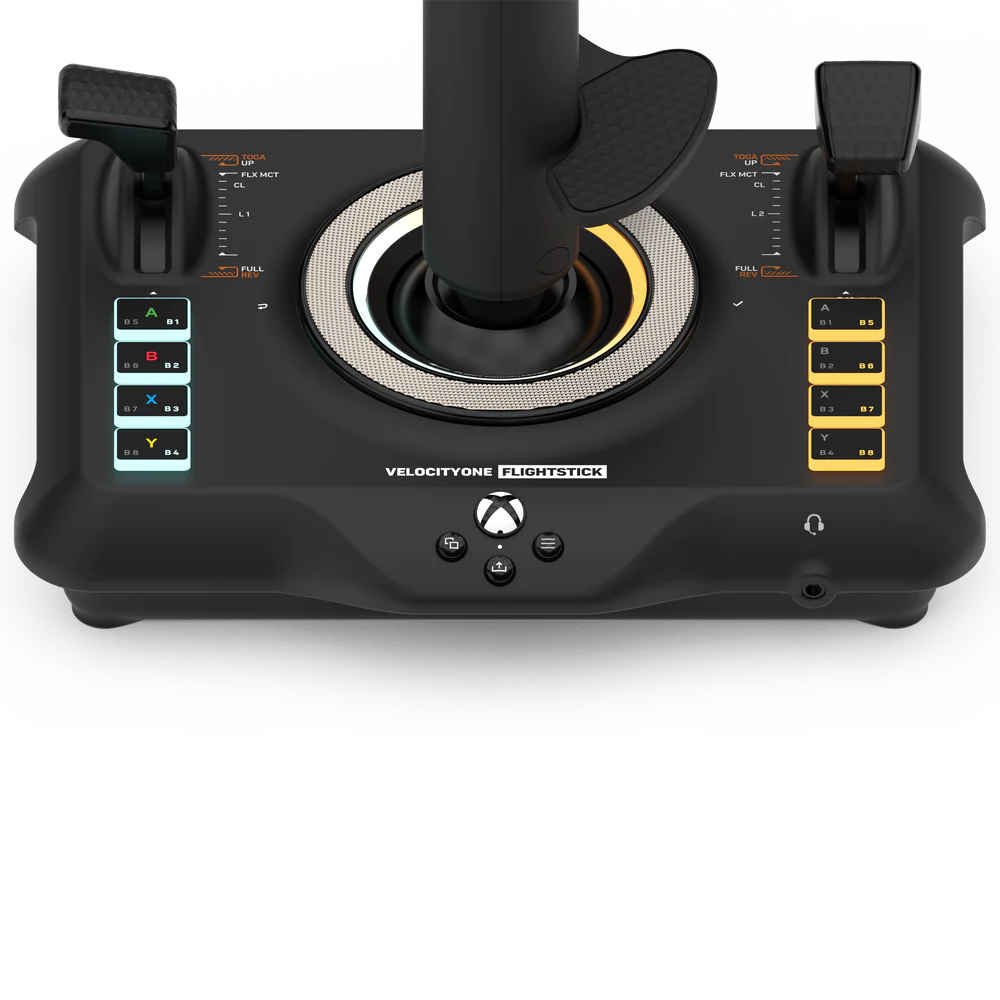 To be honest, the control surfaces were a real treat for me. I came from 8 buttons and a single throttle. Having a quick look hat, pitch control and even rudders completely changed my flying experience.
Compatibility and Connectivity
I mentioned the Xbox logo earlier. I'm not sure there's anything on PS5 you'd wanted a stick for, but it's not officially supported anyway. The VelocityOne Flightstick is specifically made for Xbox Series X|S, Xbox One and Windows 10/11 PCs.
I've also used my Meta Quest 2 VR headset for flight simming. I couldn't really come to terms with trying to use the stick while in the headset. I'm sure it's possible and delivers an even more immersive experience, but it's not straightforward.
There are some other accessories you might be interested in using alongside this stick. The most obvious is the rudder pedals or the mount I mentioned earlier.
Additional Software
Turtle Beach offer an app that connects to your stick. It's a bit underwhelming to be honest. You can control light profiles and a few other things, but I found myself using the app once and then forgetting about it. That's about it for this section.
VelocityOne Flightstick: The Verdict
At around €130, the VelocityOne Flightstick is still a considered purchase. But, let's be honest here. If you're into flight simulators or the likes of Star Citizen, you're going to be investing in a flight stick unless you already have one. I bought my Sidewinder back in the nineties and used it until this year. Controllers like this have staying power, and that's to be considered when you're buying.
Sure, we'd all love to have the Warthog HOTAS but that's a pro-level controller. Also, it doesn't have rudder control. Which is a massive plus for the VelocityOne Flightstick.
I can wholeheartedly recommend this stick. It's plastic where it needs to be, but offers enough of a premium feel for me to know I'll get many years out of this stick.