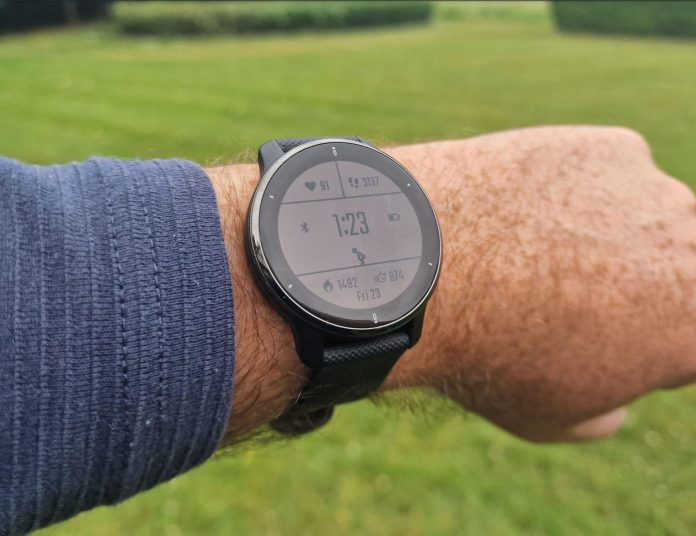 I had a voucher from Christmas burning a hole in my pocket earlier this year and decided to spend it on a watch. I wanted something that would help me keep a record of the exercise I was doing and also encourage me to be more active. As an Android user, the Apple Watch was out and as someone who goes on multi-day trips where charging isn't guaranteed, I needed something that would track for days on end, which ruled out most of the Android-based Wear OS options. That left me with one stand-out brand to go for – Garmin.
The Garmin Venu 2 Plus strikes a balance between smartwatch and fitness wearable so it ticked lots of my boxes, it was also in budget at  €449 but you can find it now for €399 from Harvey Norman. Garmin has a huge choice of watches with many specialising in specific sports like running, golf, and swimming with extremely detailed data, but the Venu 2 Plus is more of a generalist. I don't focus on one particular sport, I ride bikes, run, swim in the sea, and kayak, so this is a good fit for me.
Design
The design of the Venu 2 Plus is fine. It's not going to win any awards or be very memorable, but it does the job and looks well when you're out on the trail or walking about town. I went for the 43mm model, a middle-of-the-road choice, it doesn't look too small on my wrist nor is it too bulky. The AMOLED screen blends nicely into the back bezel and stainless steel body–overall I don't think anyone will hate how this looks. The build quality is brilliant though, I've put it through its paces and had a fair share of tumbles and it's still looking brand new.
| | |
| --- | --- |
| Specs | Garmin Venu 2 Plus |
| Materials | Gorilla Glass 3 & Stainless Steel |
| Display Size | 1.3" |
| Weight | 51g |
| Screen | AMOLED |
Smartwatch Features
The Venu 2 Plus is what I like to think of as a leave-your-phone-at-home watch because I can head off to the shops, pay for things through Garmin Pay and listen to music through Spotify without needing my phone nearby. And when I do have my phone connected by Bluetooth, I can take calls and use my voice assistant. Personally, this isn't my cup of tea, but it's good to have the option there thanks to the built-in speaker and microphone.
I've never been much of a watch wearer and expected to wear my Garmin when exercising and not too often outside of this, but the daily tracking of my steps, sleep, and body battery has me hooked and I've now got the dreaded watch tan. Garmin's Step Goal is adaptive, if you exceed your target, it adjusts so your target is higher, and vice-versa if you don't walk too much. Seeing my step counter a few hundred short of hitting my goal gives me the little nudge needed to walk instead of hopping on the bus.
The sleep tracking and body battery monitoring have been a surprise hit for me. I thought they were gimmicky when I first found out about them, but with five months of data, I can see patterns and how lifestyle changes (and a few pints) can impact both.
Fitness Features
Just three button presses are all that's needed to start recording your activity and you're ready to go. During the activity, you can set custom data fields so you get the info you need at a glance. I'm not too fussed with pace or heart rate as I'm not training for anything, so mine are set to show distance, elevation, and time. Once you've stopped recording, the watch displays a breakdown of the activity, syncs up automatically with your phone, and then goes back to monitoring your health in the background.
If you're looking for a more regimented approach to your exercise and training, the Garmin Coach helps you train for a 5k, 10k, or marathon. The feature is pretty useful as it breaks down your goals and gives you a custom training plan of long and short runs, and the coach is with you during the runs alerting you to upcoming targets. All in, there are 25 preloaded apps for specific sports and on-screen workouts for the likes of HIIT and yoga.
Battery
The battery has blown me away. I don't want to worry about charging my watch every night and I don't want battery anxiety when I'm heading out on a long cycle or hike. Using it as a smartwatch where you're not tracking any activities expect up to 9 days of battery life and 24 hours of GPS tracking when you're recording. Compared to the Apple Watch Ultra which is over twice the price, it would be easy to be disappointed with its 36 hours of regular use. One caveat though is that Garmin devices use a proprietary charger, USB-C would be a great upgrade.
Garmin App
Connect, the companion app for Garmin devices is a bit of a love-hate affair. It's got buckets of data, but not many insights. All the stats and numbers are there, but it can be hard to interpret what exactly they mean and how they're linked to one another. The design of the app isn't great either, it feels very dated and miles behind the glanceability and slickness of Apple. I tend to use Strava or Komoot to look back on my past activities.
There's also the option of downloading additional apps and watch faces through Connect IQ. This is another aspect where Garmn falls behind Apple and watches using Wear OS. There are very few extra apps to download, there's no WhatsApp, Headspace, or Audible here, instead the offering is more focused on mapping and music apps.
Think of watches as a spectrum. On one end there's the hardcore activity user that needs weeks on end of tracking and navigation, on the other end is the person who wants a device on their wrist that's got the same capabilities as their phone. Garmin devices tend to lean towards the former and this is clear once you look through the Connect IQ apps.
Verdict
The Garmin Venu 2 Plus has been a great purchase for me as it strikes the perfect balance between a smartwatch and a fitness tracker for my personal needs. I'd love it if the Connect app was fully redesigned, it feels so dated compared to the watch and is fairly uninviting to use. All the data is great to have, but improvements could be made to make it more useful with insights. The battery is brilliant and more than enough for the vast majority of people and it makes it feel like a useful tool rather than yet another device that you have to worry about charging.