Earlier today Vodafone announced that 5G has officially gone live in Ireland, making them the 1st Irish network to offer the new high-speed internet access. Initially, only Dublin, Galway, Cork, Waterford and Limerick will have access to the new 900mb network. Sure it's only a start but we should expect a nationwide rollout over the next two years, with Three and Eir expected to pick up the pace to at least enter the market before 2020.
We're delighted to be the first mobile operator in Ireland to launch its next generation 5G network #ThisIsVodafone5G pic.twitter.com/4lTrfaoMc1

— Vodafone Ireland (@VodafoneIreland) August 13, 2019
Earlier today at the launch event, Vodafone Ireland's CEO, Anne O'Leary had this to say:
"5G is set to revolutionize how we use and adopt technology and will have a huge impact on businesses and society in Ireland. It will bring high speed, ultra-low latency and highly secure connectivity to a massive amount of devices; and is a technology that will unlock a vast array of new use cases through Vodafone's next-generation network."
Basics of 5G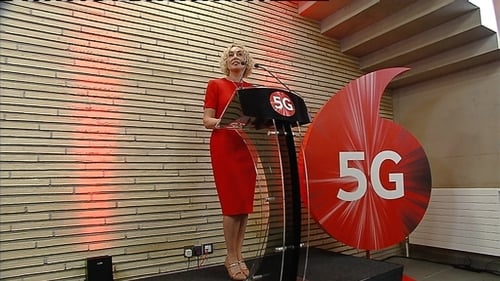 Essentially 5G is the next-gen of mobile data connectivity, much faster than existing 3G or 4G networks. It's capable of much much faster downloads and can manage even more data than ever before. Something which is important as more internet-connected devices hit the market.
While speed is obviously the main factor, 5G coverage will allow you to download or stream a high res movie or download large files almost instantly, without any lag or buffering.
How Can I Get it?
While Vodafone 5G has officially launched in Galway, Dublin, Cork, Waterford and Limerick you will still need 3 important things if you would like to get on the 5G bus, these are:
5G Ready mobile plan
5G Coverage in your area
5G Compatible smartphone
The first two won't be major issues in the right locations, however, there are only two phones on the market right now that Vodafone 5G will operate with. These are the Samsung Galaxy S10 5G and the Huawei Mate20 X. This will change in the coming months as most smartphone manufacturers plan ahead so this year's new releases should all be compatible.
That's all for now, I guess the only question to ask is, how long will it take for 5G to become the norm? My guess 2 years.