It's January and in the football world that means one thing. Transfer window. Unless your me of course. I have spent the last month or so fascinated by the new movement within the game and yes I'm talking VAR. After years of calls for video tech to be brought into the sport… something us Irish were calling for since "That French Incident", we are finally starting to see VAR.
Currently the video assistant referee is in use in both the Bundesliga and Serie A, while it has been tried in recent Carabao and FA cup games in England. The success to be fair has been varied but it's not going anywhere soon.
So what exactly is VAR? here is all you need to know about the big tech change coming in football.
What is Video Assistant Referee or VAR?
Ok, so let's start with the basics here. VAR is made up of a team of three who's job it is to work together to review decisions made by a match referee through video replays. Nice and simple really.
Each team is to be made up of a current/former referee, an assistant and a video operator. Rather than being touchside and the fourth official, these guys will be in the safety of a nice warm room full of video equipment for them to review any of the four following incidents:
Goals or violations in the play prior to the goal
Penalties
Red Cards
Mistaken identity when awarding a card
A referee will still have the overall power though as for a decision to be overturned it will have to be a "clear error". Something like this for example:
Still hurts every… single…time! Anyway the process for reviewing a decision can work in two ways; either the referee can request a review after making a decision or the VAR team can recommend one. This is where it get's a bit sticky for me, when reviewing an incident made by the VAR team, the ref will watch the incident themselves on the touchline. I personally think taking a leaf from other sports and using the big screens in the stadium would be a better idea. Fans can see the incident for themselves, the delay in play wouldn't feel the same as players and fans alike view the tape and everyone feels better about the referee decision, but hey what would I know.
Is VAR in use right now?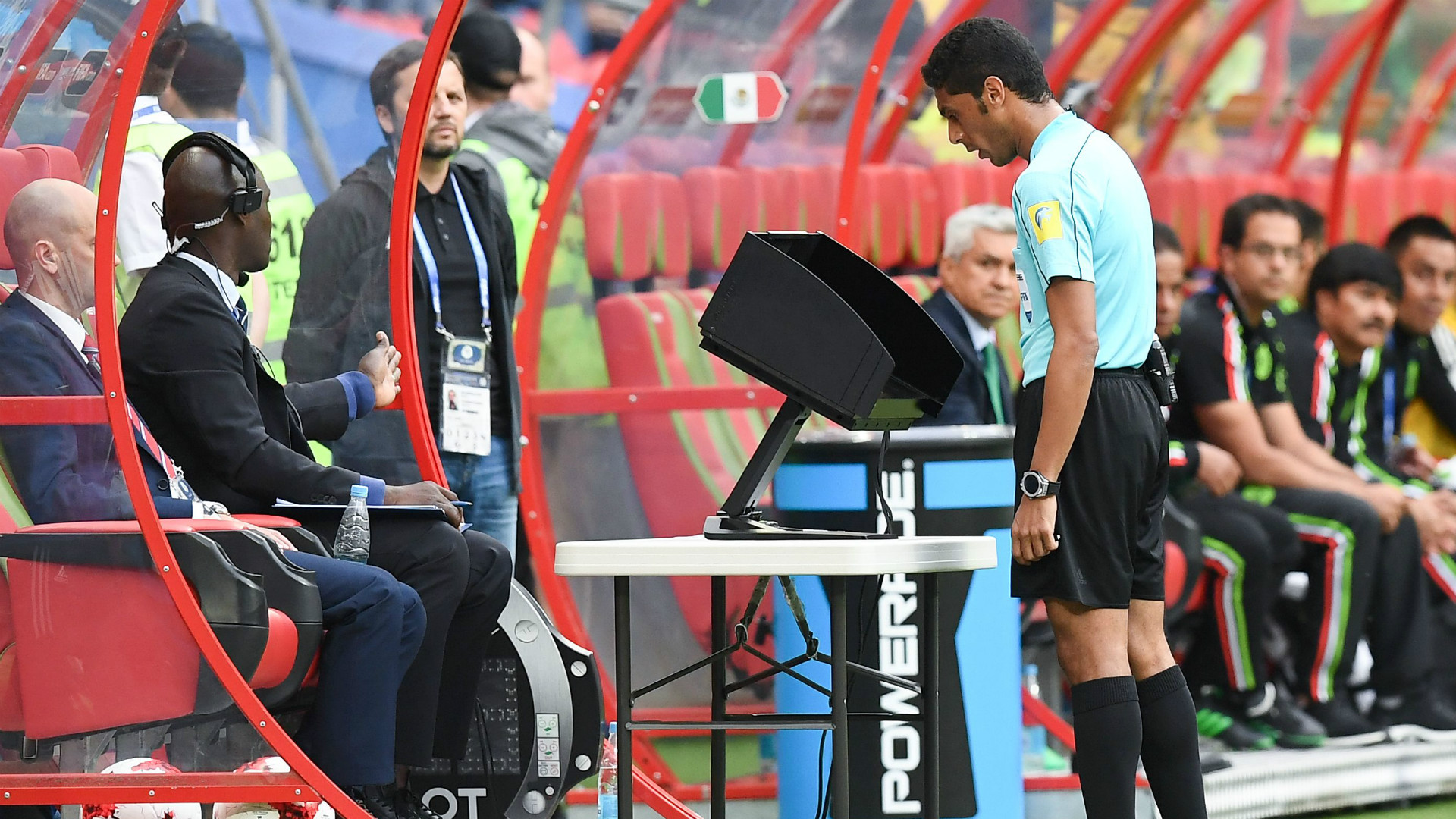 Yup, it sure is. Before the big wigs at FIFA write VAR into the rule book it needed to be tested. The first nations to adopt the tech were Australia (A- League) and the States (MLS) while the recent underage national tournaments all showcased the new technology.
The idea is to slowly but surely integrate it at the top level of football, working out all the bugs before this Summers World Cup. Currently the German Bundesliga and Italy's Serie A are using VAR and the English FA are using it in the Carabao and FA cups before the Premier League begins using the new age technology from next season.
After a bit of digging we found out that VAR is currently in use in the Premier League, well kind of. The head referee (not his official title) Mike Riley had this to say:
"We have trialled using video assistant referees for a number of Premier League games so far this season. This has been in a non-live environment, which means there has been no contact with the match officials at the games. We will continue with these trials throughout the season."
So does it work?
Right now, that depends on who you ask. During the Confederations Cup the system picked up 35 incidents, 6 of which would be deemed game changing. Basically without VAR results would have been determined through errors or false refereeing decisions and the outcome of the tournament as a whole could have been completely different.
However, it isn't all positive as there have been a number of players and coaches who have complained about the time taken to review decisions and the way that causes confusion and brings a halt to the play. Again as I said earlier delays wouldn't seem so bad if the stadiums big screens were used…..just saying.
It is early days for VAR and teething issues are always to be expected so rather than explaining this myself here's a quote by legendary Italian 'keeper Gianluigi Buffon:
"They are overusing it and making mistakes. I don't like it this way, it's not good, It's something which, if used sparingly, could give us excellent results and be a good thing for football."
Conclusion
The video assistant referee or VAR is here to stay, that much is a given. Having seen plenty of huge sporting occasions ruined by the human error, I for one think this the use of technology in football is well over due. Yes, there are bugs in the system that need to be fleshed out but at the end of the day Ireland would have been to another major competition if this tech had been in use sooner. I really need to let that one go but you get my point.