There are a number of phone grip products in the world, PopSockets, iRings, Kickstands and many more. The reason is simple, phones are getting bigger, possibly too big for many of our hands and nowadays we watch more content on our pocket-sized devices than ever before. That's why people want a better way to securely hold their phone or prop it up to watch a bit of Netflix. Until a phone manufacturer decides to incorporate a stand into their device we will continue to hunt for the best products on the market that will let you do just that. Recently we stumbled across a brand called Speck, they make cases and a few other phone accessories including their GrabTab a cheaper, flatter alternative to the PopSocket. If you like the idea of having a stand and convenient handle on your phone but don't like the bulk and still want something flat enough to work wireless charging, then the GrabTab might be just what the doctor ordered.
What is a GrabTab
The Speck GrabTab is a new style phone holder that takes a different approach to a PopSocket. Unlike the pop-out mushroom handle or the iRing metallic flip-up ring, this is a credit card-sized sticker you attach to the back of your smartphone. On the sticker, there is a slide-up tab you slip your finger through.
There are two locking points on the tag, one to keep it open and the other to keep it closed, which you can see in the image here: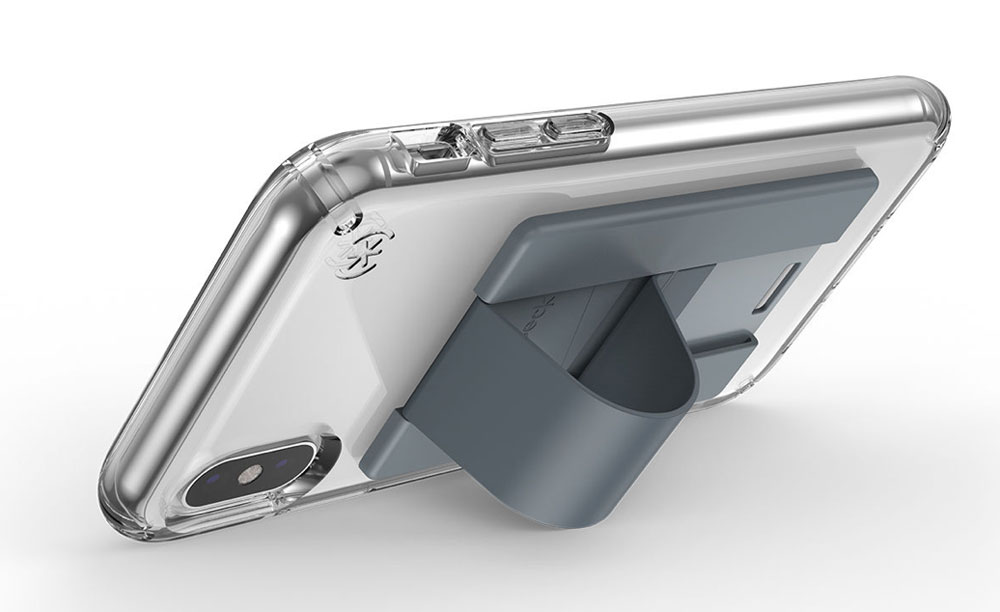 As I said it's a credit-card-sized sticker and about as thick as two credit cards stacked on top of each other and the back is a super sticky adhesive
Speck's GrabTab is roughly the height and width of a credit card, and about as thick as three credit cards. A strong adhesive on the back allows it to stick in place, no matter the case.
The centre panel of the GrabTab slides up and locks gently into place. This creates a loop you can slide your finger into for a comfortable and secure way to hold onto your phone. It looks flimsy but the material is strong enough to use as a sturdy stand for viewing videos. Just push the loop down when not in use, and your phone will slide easily into your pocket or bag.
The Good Stuff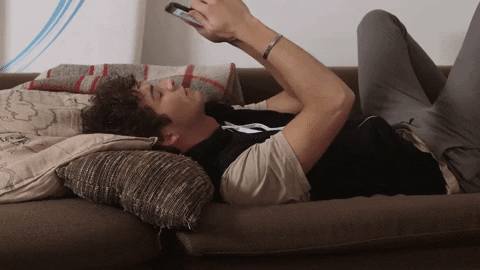 Sometimes I like to lay in bed and watch something easy and sometimes I'll be holding my phone above my head and splat, I've dropped in on my face, we've all done it lets be real here. Being the clumsy sort any help I can get to prevent myself dropping my phone is see as a win and to in fairness the GrabTab does just that.
It's comfortable to hold and when you open the loop there's a satisfying click that just lets you know your phone is secure. It's the little things. The GrabTab is compact and when you aren't using it doesn't add much bulk to your phone and best of all, considering I'm also rocking the Speck Presidio Otterbox style case, I can still wirelessly charge my phone, something that's not possible with most of the competitors on the market.
Also, they have some fairly funky designs, 90 in total which is cool because you can find something to suit your style and personality. Speck's website has the entire collection divided up into categories: Fine Art, Fun with Food, Cosmic, Neon Nights, Basics, Chakras, Animal Kingdom, and Camo.
The Not So Good Stuff
It's only a minor issue but with the GrabTab the wee tab doesn't always return to a perfectly flat position. Minor but an annoyance if you're an OCD head it may annoy you. Oddly enough if you normally keep your phone in your pocket the pressure alone seems to do that job for you but if you are the type to leave your smartphone on a desk or in a bag throughout the day it doesn't seem to have the same flattening effect.
Sure it's not a big deal really, it's just something cosmetic rather than functional but I know that will bother some folks. My main issue is that it takes up real estate on the back of your phone than a PopSocket does. Being around the same size of a credit card sticker means it takes up a decent chunk of space, even if this is offset by the slim design. Now if they ever make a narrower model we are onto a real winner but to be fair for under a tenner these are really small issues to moan about.
Vs the PopSocket
The most obvious question people will ask is, "are these better than a PopSocket". Well no but they aren't worse either, it's just a different solution to the same problem. If you want a holder that's totally customisable (including sticking your face on it), your not too bothered about wireless charging and you just need something simple and effective then a PopSocket is going to do the job just fine.
On the flip side, the GrabTab has 90 different colour and design options aren't bulky, offers a more secure stand and still allows wireless charging. So for me it comes down to what you are looking for, realistically it's just a stand for your phone but for me the PopSockets bulky nature meant I can't put my Google Pixel 3Xl in and out of my pocket without looking like a gowl (a Limerickism for those of you from outside the Treaty County).
The Goosed Verdict
Despite the minor flaws, I really like this product. The 90 different colourful options ad a more personal touch to that black or white box we do be carrying around all day. The slide to open-loop locks into place to create a secure kickstand to watch content without holding your smartphone, perfect for those upcoming Disney + binges in the near future. Costing around 10quid the GrabTab is definitely a sleeker alternative for anyone who would prefer to live without the bulk of a PopSocket or the protruding ring of the iRing. If you don't like it sure it's only a tenner but for me, the fact it's cheap and I can still wirelessly charge through it has me sold.