Anyone who knows me will know I'm a big personal fan of the Sony brand, namely their phones and games consoles but did you know they are one of the biggest names in audio? Well, they are. A couple of years ago, Sony released their critically acclaimed WH-1000XM2's headphones. Most critics and ourselves were left in awe of the sound quality and didn't want to leave the "warm and safe world of wearing the Sony WH-1000XM2". Well now fast forward a couple of years and Sony launched their new heavy hitters in the Sony WH-1000XM3 which I was lucky enough to test run over the last couple of weeks. Powered by serious tech these headphones pack a serious HD Noise Cancelling Processor and you can quickly tell the WH-1000XM3's are designed to pack a punch for €300.
Sony, Sony, Sony…these guys know how to build a product. The second I got my hands on these I felt like it was just an extension of the Sony range if that makes sense. Like it was PlayStation controller, slick, smooth and just built for purpose. They just know how to make stuff that feels good to hold, wear, and use. The WH-1000XM3 share a very similar style to their predecessor with some minor changes.
The headphones are available in Black and Champagne Gold and the black is perfect, now I used the black headphones and the fabric around the ear cups is so soft I feel the Champagne colour would be more sensitive to scuffs. But anyway they are genuinely gorgeous and very ergonomic.
The head strap is thin yet sturdy and lightweight, making wearing and carrying while the new swivel on the ear cups means you can hang them around your neck without chocking or looking like a knob. The playback and call controls are as ever designated to the touch panel on the right ear and thankfully they are also rocking a new USB-C charge both just beneath the control panel. It's the right ear where the action happens also housing the NFC chip, audio jack, power and all the good stuff.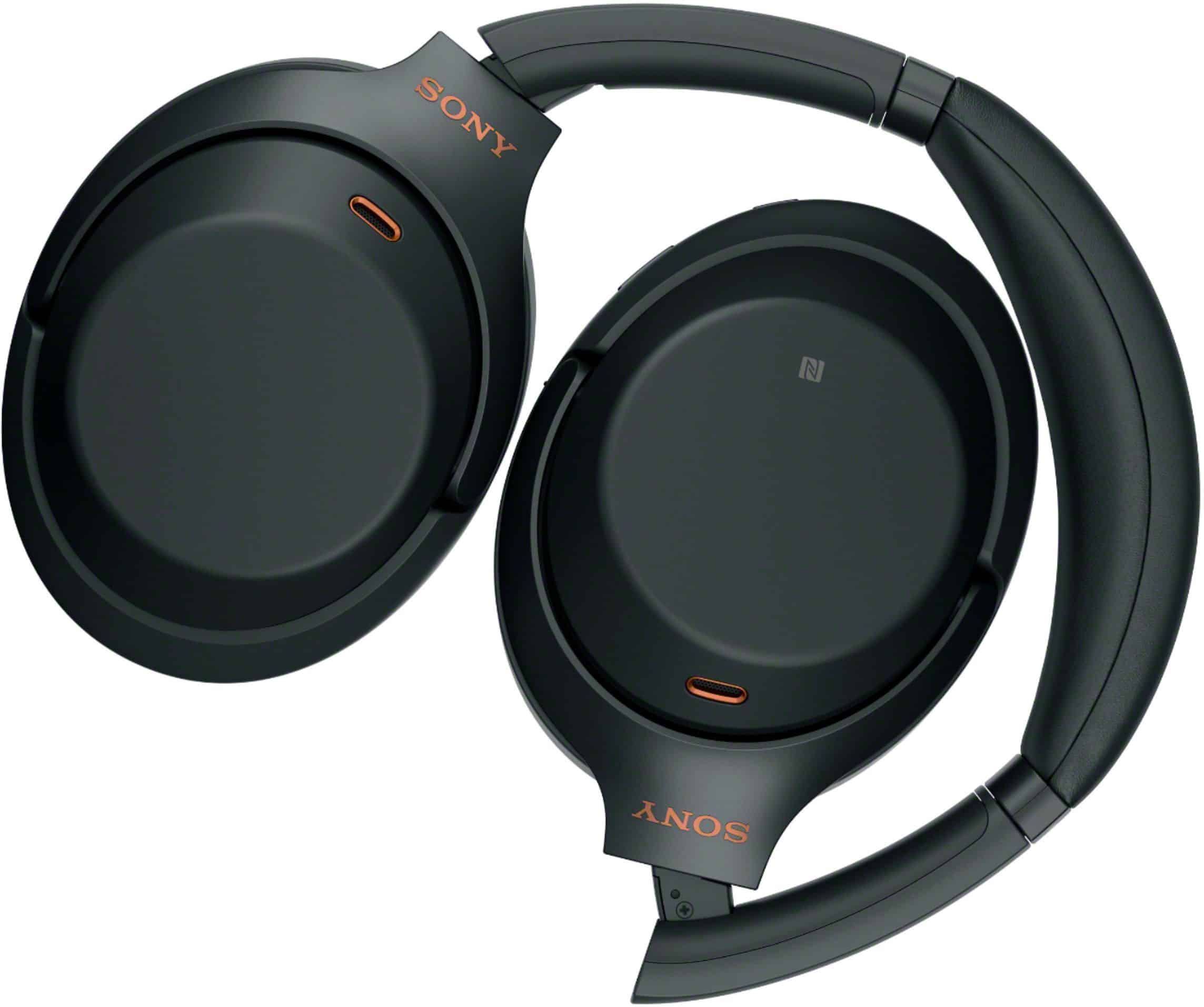 For me it's the little things that matter, see those embossed Sony logos and copper trip, it just screams style without losing class. The carry case is a nice touch too with plenty of storage space to place the headphones and all other bundled accessories: the auxiliary cable, airplane adapter and USB-C charging cable.
Comfort
The WH-1000XM3's weigh around 250 grams…nothing really. That makes them lighter than the previous models but slightly heavier than their Bose counterparts. Because of how they are designed these Sony headphones offer a cosy fit due to the breathable aesthetics incorporated into the design. The changes to the design are built for comfort, the padding is thicker and they just sit nicely on your head.
Essentially the WH-1000XM3's are built for long term listening, ideal for people like me who will sit in an office listening to podcasts for 8 hours a day. Inside the ear cups they have a new larger oval for bigger ears. I have a couple of ear piercings (tragus to be specific) and I've found down the year's certain headphones earcups will catch on this. Talk about 1st world problems.
Bluetooth & Setup
The WH-1000XM3's can be paired through NFC and Bluetooth and setup is so easy that with my Pixel 3XL I was connected in a couple of seconds and no lag! Winning.
The Bluetooth range is said to be 30 feet and it seems fairly accurate during my trials but I would recommend staying as close as possible for a reliable and steady connection. To pair takes no longer than a minute top, just enable pairing mode on your phone and hold down the power button for about 5 seconds and on your phone select WH-1000XM3 and boom done. Oh, and when your smartphone registers the headphones you can connect from the app too.
The App
Speaking of the app, the Connect App, available on both iOS and Android is totally free and gives you a rake of sound customisation options. If you're a bit of an audiophile you will love this as you can adjust the sound quality to just your liking.
Here's some cool tech for you, the Adaptive Sound Control works by analyzing your activity and the sounds of the world around you. That means you can go on a train or out for a run and these things will automatically adjust to your movement. So without taking off your headphones you can get a better sense of your surroundings and avoid getting a slap of Martin on his e-scooter.
Another cool feature is the NC Optimizer that will measure atmospheric pressure and other bits like glasses and hats to determine wearability and modify the noise cancellation accordingly. There's also a Sound Quality mode to prioritize sound or stable connectivity but I didn't need to play with this as I found both perfectly fine throughout my experience.
Noise Cancelling in Style
As we said earlier the WH-1000XM3 is rocking the new Sony QN1 processor which improves audio quality and noise cancelling. For most listeners, you won't tell the differences between the old model and these but real audiophiles and those with stellar hearing will pick up on the ever so subtle upgrades.
Most people buy big headphones for commuting and the gym so naturally, these were my testing grounds. Turning on the noise-cancelling mode was able to totally drown out the noises of a spin class that was going on just beyond my treadmill which was ideal because I could work out in my own world, with my own tunes without still hearing some of that super happy bouncy stuff they play during a spin class. I also gave it a shot on a train and no word of a lie I could have napped while listening to Martin nailing our latest podcast such was the lack of background noise (shameless plug but get it anywhere you get your pods – The Goosed Podcast).
I also found the Ambient Noise mode worked very well after trying this on the train I was able to hear the train audio with my stop, which is fair handy if you ask me. I found the WH-1000XM3 let in just enough audio to understand what was going on around me without disrupting the experience. Overall the quality is solid as you could as for and it's a step up for the series.
Audio Quality
In terms of sound quality at this price point, you can tell that Sony have been in the game a long time as the sound quality is so smooth it could rock you to sleep like a newborn baba. The companies upgraded bass profile and the stereo system really gives the WH-1000XM3 and edge over the competition.
Swap between the different sound modes wisely, it can go really good or really bad. The Noise Cancelling feature will boost bass whereas the Ambient boosts vocal clarity and both work perfectly on hi-res files so you know your music taste and choose accordingly. That or just stick to the standard profile.
The WH-1000XM3 also supports five codecs for music playback —aptX, aptX HD, AAC, LDAC and SBC — each engineered to maximize sound quality over Bluetooth.
Battery Life
Beasts!!! I could actually end this section on that note. 30 hours playback and not a single problem insight. Put it like this the Bose QC35 II only gives your 20 hours playback. Genuinely I was able to get through about 4 full workdays using them throughout the day before a charge was needed.
Also USB-C, it's taken forever and a day to see the new area charging port used in headphones and it's about time. It makes a huge difference for the WH-1000XM3's and with a 5-minute quick charge you will get just over 5 hours of playback. The automatic power-off feature is also clutch for neglectful listeners looking to save juice when the headphones are inactive.
The Goosed Verdict
Honestly, I loved these so much it nearly broke my heart to put them back in the box to send back to Sony. Remember we don't get paid for any of these articles so we can give you the open and honest review. But Sony has upped their game with the WH-1000XM3's.
The audio quality is on point and the sound optimising features in the Connect App open a world of opportunity with punchy bass sounds all the way to an ambient mode which really makes live recorded music pop. The new process as well just proves Sony is driven to be best in class when it comes to noise-cancelling and honestly, it's brilliant, just stick on the headphones and the world becomes just you and your tunes (even if there's a spin class going on less than five yards away). It's like being in a cocoon of music and I found that both the Ambient and Noise-Cancelling modes are better at reducing external noise than the previous models.
I think in the same price point you'll only find the Bose QCII's that are comparable, but for €300 they are comfortable, well build, have a brilliant battery, good call quality and touch control, the only real negative for me was giving them back. If you plan on buying flagship headphones give these serious considerations, you won't be disappointed.