Recently I wrote about another Lenovo laptop, the Yoga Slim, the under €1,000 work from home machine, this time around I've gotten my hands on what could be described as the business beast in the new Lenovo's ThinkPad X1 Carbon Gen 8 which retails around the €1,400 mark. This is as you might have guessed the 8th generation of their ThinkPad range, a series which has earned rave reviews down the years as one of the best performing business class laptops on the market. As a durable, lightweight and strong performing laptop, I guess the only question is how does this Core i5 rendition stack up?
Design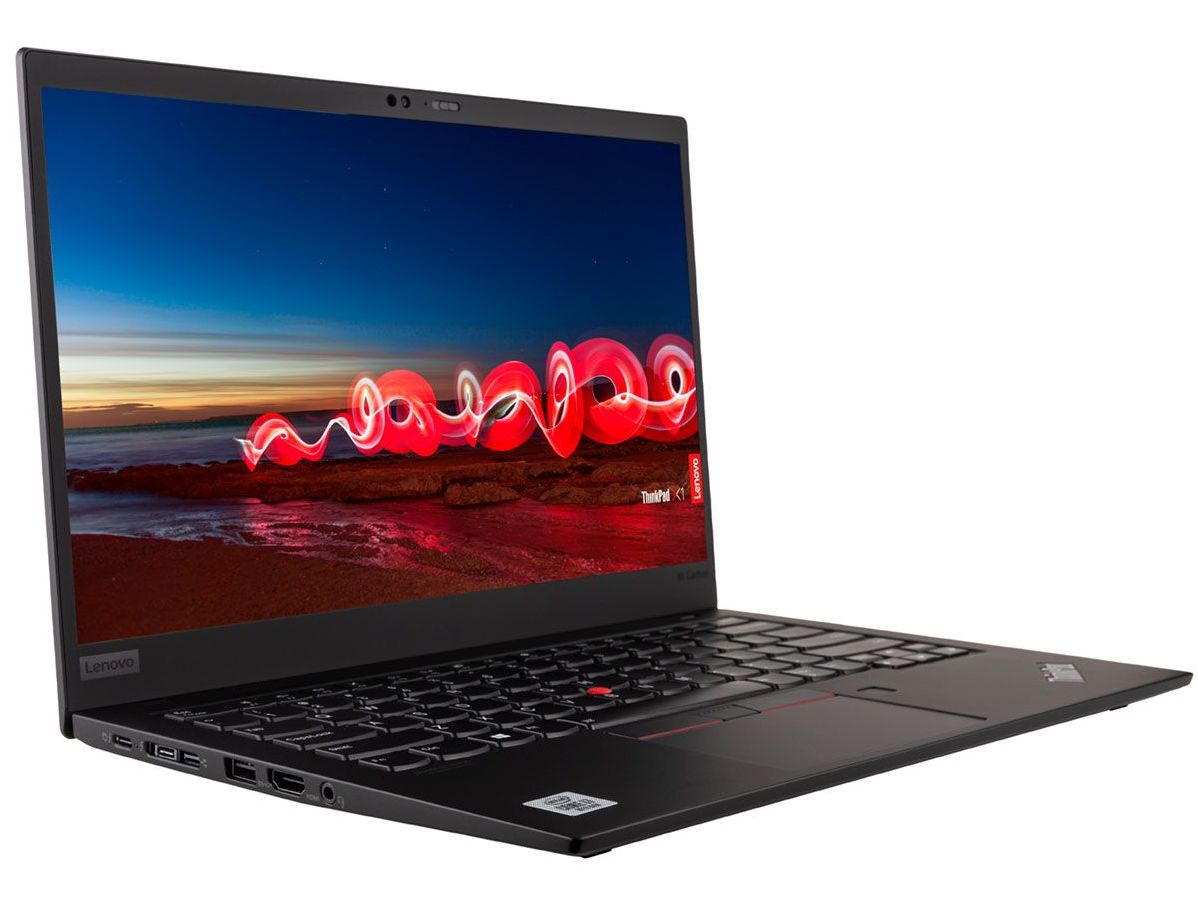 So I was testing the €1,400 Lenovo ThinkPad X1 Carbon Gen 8 a machine with a solid spec sheet, look at this:
1.7GHz Core i5-10310U processor
256GB NVMe solid-state drive
8GB of memory
HD (1,920-by-1,080-pixel) non-touch IPS display
You can go for 3 higher spec models which improve things like the screen, to a 1080p touchscreen to a 4K Dolby Vision HDR 400 display and increase memory to 16gb and storage to 1Tb so if it's the company paying of course that extra space is going to be handy, tbh I find 256GB a little light if you ask me.
Anywho, onto the design and if you've seen the ThinkPad range in the past you know what to expect. A stylish, super lightweight machine that is both visually appealing yet functional. It kind of looks 90% the same as last years machine with some minor changes. For example the hood now has a big ole X1 emblazoned beneath the ThinkPad logo. That's really the main difference in the visuals, but it was lovely in the first place so if it ain't broke don't fix it.
We get the now signature red accents around the tracking point, the left and right buttons and finger sensor with a couple of nice speakers around the hinge point. There are two finished you can get, the matte black or carbon, the carbon finish is really slick as the patterned effect really makes the device feel great, look great and makes the features surrounding stand out that bit more. It's a very sleek design, but that same surface gathers fingerprints galore so if you're like me you'll find yourself wiping the ThinkPad down every couple of hours.
There can be a problem with some of the "ultralight" laptops on the market, in that they don't feel very durable or can flex at the corners, but thankfully the carbon finish ads some real steel in making a machine that feels durable at 2.5 pounds. We also get a thin machine in the Lenovo ThinkPad X1 Carbon Gen 8 with just enough room to jam an array of ports down the sides:
2 Thunderbolt 3 ports
USB 3.2 Type-A port
HDMI video output
headphone/microphone jack
USB-A 3.2 port
Kensington cable-lockdown slot
Sim Tray
Performance 
I got my hands on the ThinkPad X1 Carbon with an Intel Core i5-10310U with vPro CPU and 8GB of RAM and it worked a charm. W
The Intel Core i5 processor is the perfect partner for your standard working tasks, this ain't no design specialist laptop let me be clear here, but for documents, Microsoft Office, Google Sheets, standard applications and the internet browsers, you will have enough horsepower to get through your day and then some. Interestingly, the new X1 Carbon notched almost identical scores as the previous 7th Gen model in most benchmarking tests. Thankfully there are some upgrades with the Gen 8 sporting much faster storage, with the 256GB SSD converting-a 5GB file in 6.5 seconds for a transfer rate of 783 megabytes per second!
There were some brief slowdowns but then again I really took the piss with nearly 60 tabs open at one point just to push the machine to it's limit, although I do average about 30-40 at go..I know right. Anyway, if you browse the web using the RAM-hungry Chrome browser, consider spending extra for 16GB of memory
Again this laptop at €1,400 is not trying to be a match for the MacBooks of the world nor should anyone expect that, what you get is a more than solid performer at the price point and one of the best business laptops on the market in this price point.
Graphics 
The graphics on the Lenovo ThinkPad X1 Carbon Gen 8 are more than acceptable, this is a machine relying on integrated UHD graphics and it delivers. Again this is not a dedicated gamers machine so don't expect miracles if you're trying to play heavy hitting titles through your laptop. Any day to day task, photoshop, standard games, Netflix and anything else there is more than enough bang for your buck here, but anyone who is looking at playing high end games maybe the X1 Extreme or a dedicated gamer laptop is more your end. I personally have a HP Omen 17 just for that but then again its nearly €2,000 so as per anything if you don't need the extra graphics why bother paying more when the Lenovo has more than enough to get the job done.
Pricing
In short, the Lenovo ThinkPad X1 Carbon Gen 8 is made to be easy, efficient and stylish. But its rugged as hell with all ThinkPad series laptops tested to 12 military-grade specifications and has undergone more than 200 quality tests to ensure it works in extreme conditions. So no matter what you do, you can take your computer with you, not bad for a machine that comes in at €1,400.
Battery 
Their are a couple of different models of the Thinkpad X1 Carbon Gen 8, with prices going up to €1,900 for better memory and battery but as it was the standard model we are testing, this machine was rocking a 51Wh battery with claims that you should get about 1.95 hours of usage. Again using the same testing as the Yoga Slim…which was basically handle my workday, meaning it had to handle all these or multiple at a go:
WI – FI Always on
Chrome – with a buttload of tabs including sheets, presentations, Google Ads, FB Business Manager, Video editor, Mailchimp Canva ( I work in digital marketing if anyone wonders why I have such a random array of tabs)
Spotify
Google Teams
At one point watched some lunchtime Netflix
Photoshop
Dreamweaver
After Effects
Basically I would be a heavy user so no you're not get 19 hours of usage in reality but I got about 10 so most users will get more juice out of their ThinkPad than I would. TBH I can't see it being a problem for most folks workdays or work flights or catching up on bits as you go. I can't see this being the laptop of the everyday user, but my god as a lightweight, portable design for business then this is ideal.
The Goosed Verdict
The latest Lenovo Thinkpad X1 Carbon Gen 8 is if i'm totally honest a minor upgrade on the previous machine which already pretty god dam good. Like if you have the Gen 7 model already or need to spend a few pennies less than go with the Gen 7 over the new model, the differences are rather minor. The Thinkpad certainly ain't cheap at €1,400 but to be honest it's well worth the money for what you get back. Something like this probably isn't for the standard user and I know myself I can hardly be called that but the Thinkpad X1 Carbon Gen 8 certainly had enough firepower in the tank to keep me working.
In terms of looks it will be hard to tell a Gen 7 and 8 model apart but the best recommendation I can give is this…if you're in the market for a new business laptop – especially if the company are paying then this is quite possibly the best business laptop on the market right now.