Today is one of them weird and random days in the tech world that just makes all of us take a step back and realise how far we have come in such a short space of time. Today quite possibly the most iconic phone of all time (sorry Nokia 3310) has turned an amazing ten years old and honestly without the blocky and ugly as hell first edition iPhone we wouldn't have smartphones as we know them. Your probably reading this on a smartphone, this wasn't possible only a few short years ago.
Just imagine what the world would be like if the humble brick phone was still the norm. We tried this not long ago and it was rough. A world without touchscreens, no App or PlayStore…. oh and we still had headphone ports buts let's just focus on the good stuff. Without the first iPhone, none of the flagship phones we know and love would exist, social media could still be Bebo and Snake could still have been the only game you would know. Personally I couldn't imagine how much public transport sucked 10 years ago.
Here's the man. The myth. The legend.  Steve Jobs making the announcement that changed the mobile game forever.
Having rewatched the unveiling and remembering how big this move was it is impossible to forget how influential Steve Jobs in Apple. Have they done anything relatively groundbreaking since his passing? Personally, I don't think so, but that's just this chaps humble opinion.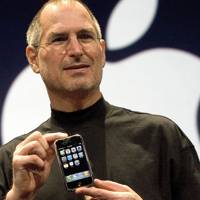 It really isn't hard to recognise the impact the iPhone has had on the telecommunications industry let alone the world. The word app didn't even exist back then and now Apple is seen as the benchmark for every single smartphone release in recent memory. Even Samsung the other big powerhouse have been guilty at times of trying to emulate the iconic nature of the iPhone- the five-year court case between the two for breaching copyright law was only finally put to bed in the last year.
The iPhone essentially created the smartphone and destroyed Nokia in one swift shot. This legacy still holds tough a decade later as in 2016 it was announced over one billion iPhones have been sold globally in the last 10 years. While poor old Nokia is once again still trying to claw their way back from the brink.
Admittedly over the last few years, sales have started to dwindle for a number of reasons, a more saturated market with the likes of OnePlus starting to take a slice coupled with the apparent lack of innovation from Apple. The public is ready for the next big thing and if Tim Cook is to be believed then the soon to be released iPhone 8 will apparently bring updates better than those seen in the phones since 2007.
So to the phone that is probably the only reason I have a job, Thank you. Really I mean that.