It's finally happening! Call of Duty: Modern Warfare Warzone has officially landed…..and it's totally free to play. Not going to lie, this is BIG! On Monday the COD official Twitter page confirmed that the brand spanking new PUBG & Fortniteesque, Battle Royale has arrived. It's available as both an add on to the existing game and as a full free download for those of us who aren't already avid COD fans. The download size will be between 15 and 22GB for those who already own the title, whereas the game will be about 80-100GB for those who don't. Check out the trailer:
This looks mad…According to Activision, COD: Modern Warfare Warzone will drop 150 players into a map to play one of two game modes. Plunder or Battle Royale. I Plunder, you'll have to collect the most cash by looting items on the map, stealing your enemies' money, and/or completing Contracts but we'll get to them later. Battle Royale is exactly the mode you think it is, but the shrinking "circle" will be in the form of encroaching gas AKA real war styling and wait for it……Warzone will support cross platform play and progression, allowing you to form a squad of three across PS4, Xbox One, and PC.
When does Warzone launch?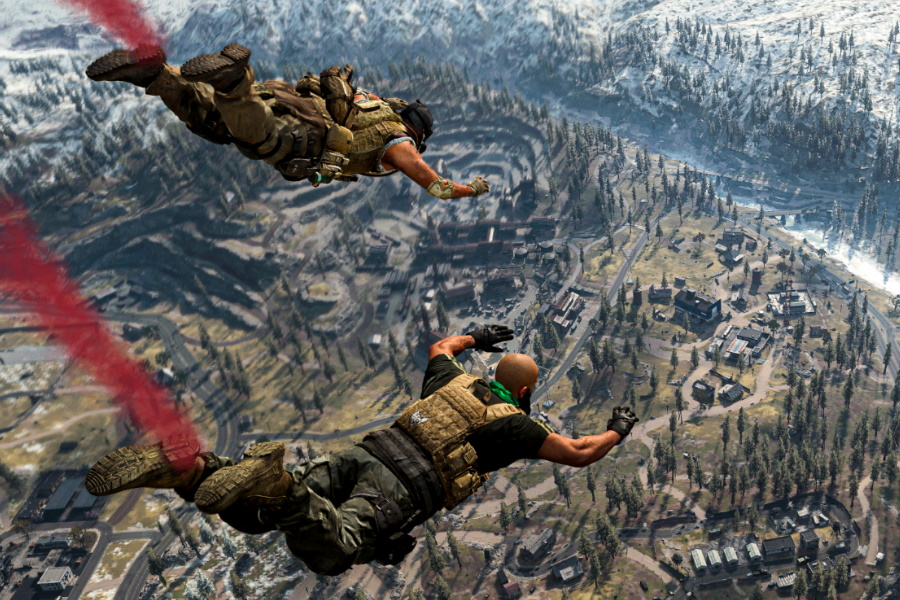 March 10th but the time you can play will differ depending on whether or not you already own the Modern Warfare title. Owners of the game can start playing from 8am, once they have completed the 15-22GB download and those with the Modern Warfare season pass can continue their progress in Warzone.
However those of us who wouldn't be the biggest COD fans and don't already own Modern Warfare will have to wait until 12 and after we complete the whopping 80-100GB download (better hope you've the space). There's also going to be a pile of content for these players that will transfer into the main title if you decide to buy in the future.
There's one more caveat to consider, PC gamers will need a Battle.Net account, Xboxers need an Xbox Live sub but PS4 gamers can play without a PS Plus sub.
Battle Royale
Not unlike PUBG or Fortnite, it's gonna be a blood free for all. 150 players will be dropped into a map in squads of three. Players will jump out of a plane and land on the map with only a handgun in the armoury. On hitting the ground, your squad must search for weapons while fighting the other players on the map. During the game, a gas begins to spread to close in the map,  a circle will appear on the map indicating the safe area within it, and it will shrink over time. The team that survives until the end wins. Simple!
Weapons and armor can be found all across the map. There are also five vehicles for traveling: ATVs, SUVs, cargo trucks, tactical rovers and helicopters. Each will vary on how many people they can carry, how fast they can travel and how much armor they're equipped with.
Gulags a potential gamechanger
In literally every single Battle Royale game, when a player is downed, they're eliminated from the game. But with Warzone that's not the case. Once you've been appropriately killed, you will enter a Gulag. This is a one v one versus another recently outed gamer to decide who gets a second shot at the battle. Otherwise you will have to wait on your team to purchase a redeployment to rejoin the game.
What are Contracts?
Contracts are another feature not commonly found in Battle Royale games but damn they look cool. These are team based tasks only available during the game where squads have one contract active at a time, and they'll vary from having the team open a certain number of Supply Boxes to defending a location. Once completed, the squad will receive money, loot and special abilities such as being able to see where the circle will move to next on the map.
Is this "money" useable?

As in life, money is going to be a key resource in COD: Modern Warfare Warzone. Players are going to be able to spend their hard earned cash money at these "Buy Stations", these are shown as a shopping cart icon and can be found in various points across the maps. This money can be used at these stations to buy Redeploy Tokens to revive dead squadmates. You can also get self-revive kits and kill streaks which are special actions to give you a temporary upgrade or weapon to eliminate multiple players. Right now we've no idea what exactly these kill streak weapons are but if the normal game is anything to go buy these are going to be very important.
At a guess they will be powered down from their Modern Warfare multiplayer versions for the sake of creating a more balanced battle royale mode.
What's Plunder?
Plunder is a second mode included in Warzone. Unlike battle royale, the objective in Plunder is to obtain the most money. Squads will have to work together to find the most cash whether it's done by completing Contracts or taking out other players. Buy Stations in Plunder will have additional items for purchase that will help secure some funds as the match progresses.
Worth Playing?
Ah yeah, even though I'm not a fan of COD or even the likes of Fornite, this is a huge move from Activision as they have seen their online game drop off with the amount of users moving to Battle Royale games. As a free game, you'd be mad to not at least give it a shot.