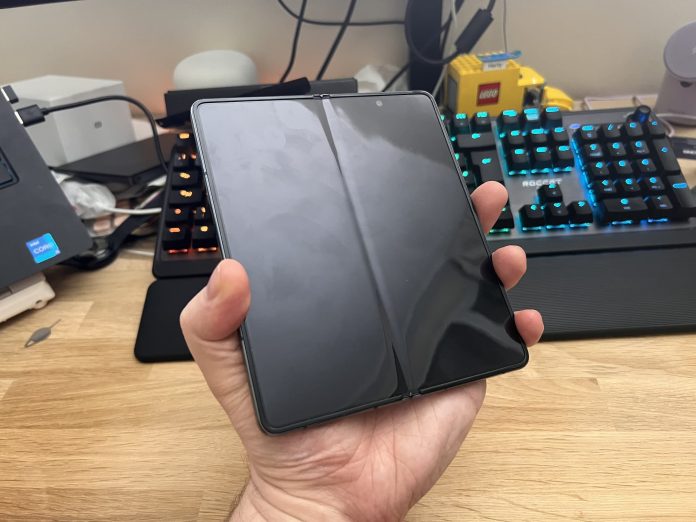 Disclaimer: Samsung sent me the Samsung Galaxy Fold 4 to review. I've had it for a few weeks and I'm just about to send it back. So no, I didn't get a really expensive phone and let it colour my review, thank you very much!
The Samsung Galaxy Fold 4 is a marvelous piece of technology. After using it for a few weeks I was shocked at how practical I is. The unique folding form factor does much more than put the equivalent of a small tablet in your pocket. I could wax lyrical about it all day long. So is it worth buying? No, it's not. Because it costs €1,909.
Samsung Galaxy Fold 4: Price
I never start with the price. So you might call this very unfair. But the article is all about whether or not this phone is worth your hard-earned cash. And it's just not.
As a tech reviewer, there are a few pitfalls you need to be wary of. Getting free stuff can colour your opinion if your not careful. Getting expensive stuff and giving it back, can, do the same thing. But the really big risk in my eyes is getting something expensive and not feeling the pain of paying for it.
The Samsung Galaxy Fold 4 costs €1,909. You can get a 5-pack of Freddo Bars in SuperValu for €1.50 (non-sale price). One Samsung Galaxy Fold 4 could get you 6,363 individual Freddo Bars.
Now, I hear you. It's a tablet and a phone rolled into one. So you'd be saving money by buying this, right?
Not really.
Let's look at this logic a little closer, through the lens of Apple products.
If you want a phone and tablet from Apple, the folding option isn't even nearly on the table. You need to buy an iPhone 14 and iPad. The iPad will set you back €599 and the iPhone is €1,029. But that's €1628 and not a million miles away from the price of a Samsung Galaxy Fold 4.
True. But after using the Galaxy Fold 4 and as much as I love it, it doesn't really replace either my phone or my tablet. It's a weird middle place. Let's break that down.
Samsung Galaxy Fold 4: Devil in the Design
I remember when I first saw folding screens at IFA a few years ago. My mind was blown. A company was doing wild things, putting screens on hats and handbags. They didn't really know what to do with them. Samsung did though. The Galaxy Fold 4 is just sublime to look at and use. While it's a bit on the heavy side at 263g, the slim form factor when closed means it fits really neatly in your hand.
Open it up and you've got a nice little tablet. While not the first to crack in-screen cameras sitting behind a display, Samsung has adopted that approach here for the Galaxy Fold 4. It's neatly done. I felt the quality of that camera was a little lacking, but it doesn't matter.
Because of the way the phone is designed, you can use the primary camera for selfies while seeing a preview on the smaller external screen. A very nice feature of the phone.
Oddly, Samsung still hasn't worked out that gap. Is that really a problem? Well no, but I don't like it. Other folding phones have managed without this weird gap and I'm shocked Samsung hasn't gotten there yet.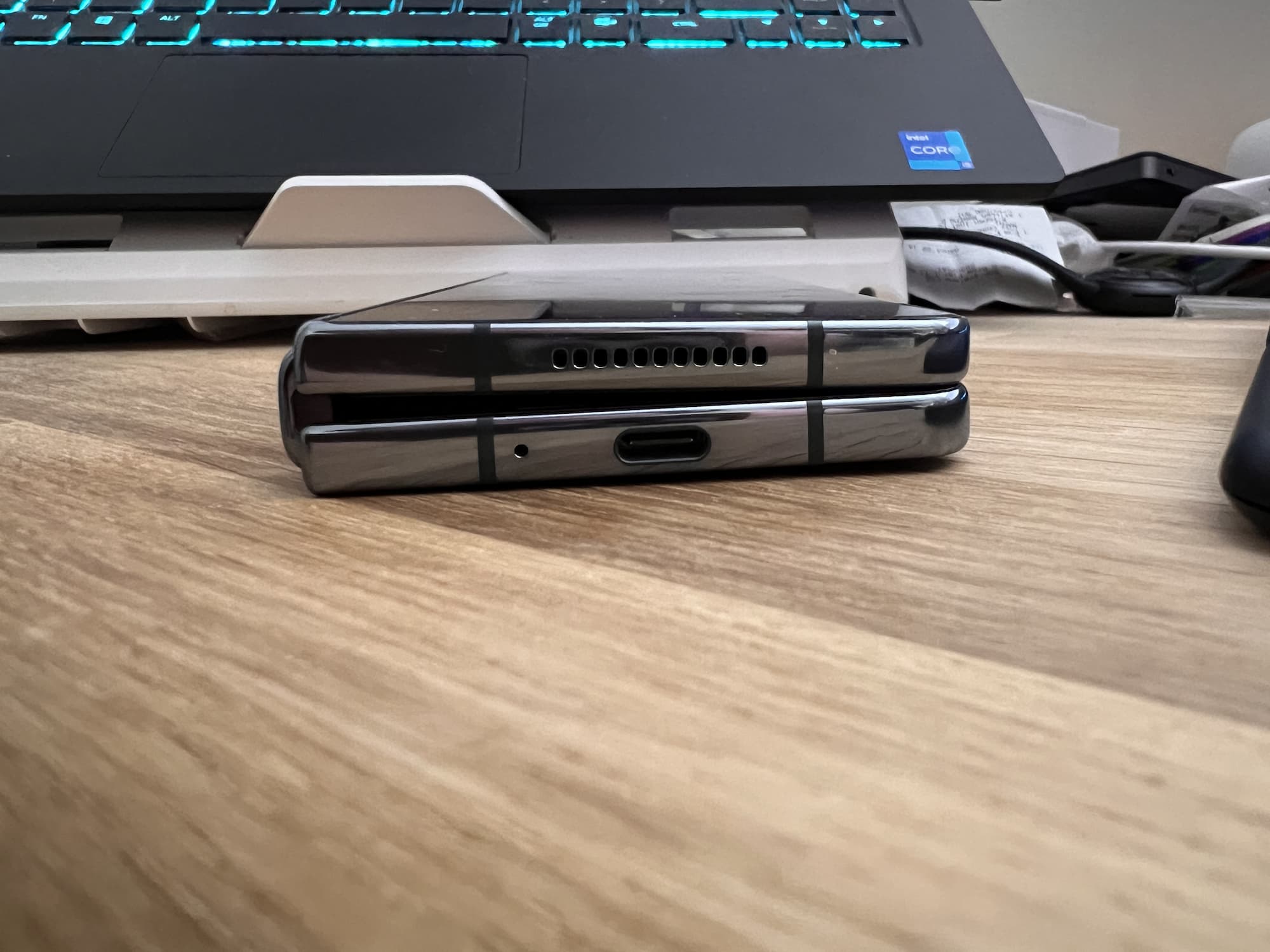 However, if I'm honest, I have to admit I didn't even notice it while I was using the phone for a few weeks. While that gap is odd, the trade off is the folding design. And that folding design offers so many benefits.
Take this example of me watching Dahlmer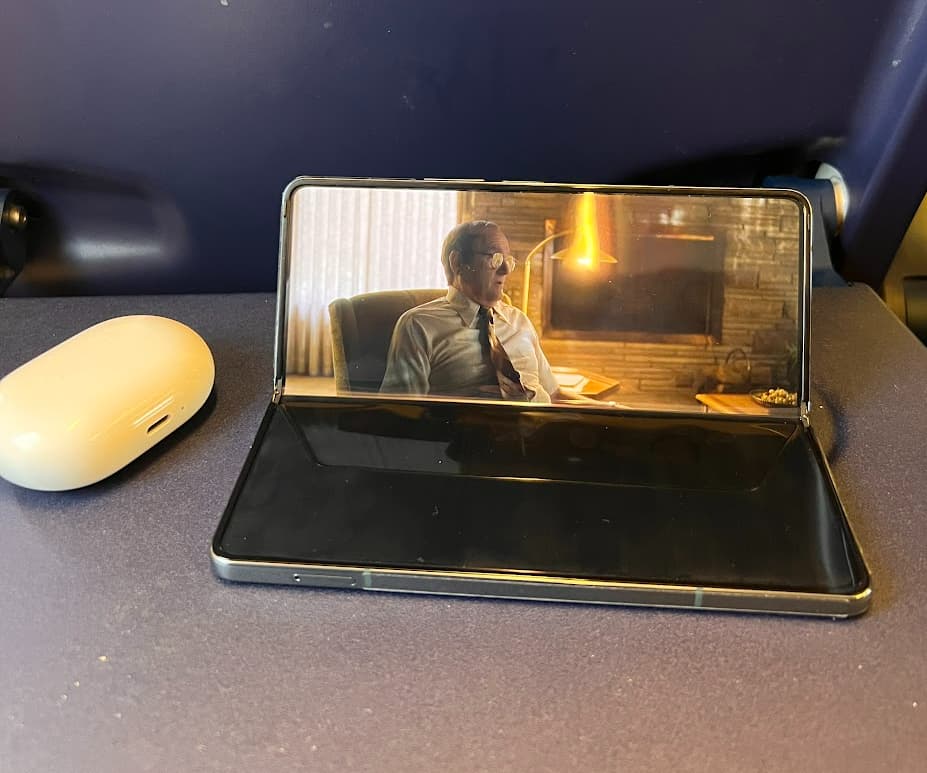 I guess that doesn't matter. What does matter is how perfect the Samsung Galaxy Fold 4 is for watching shows like this on the go. The display is beautiful and practical. You can even watch full-screen square style if you want. You just run the risk of missing things as it does heavily crop when watching full-screen.
If, like me, you just fold the screen slightly and watch on half of it, you get the full shot.
Now, the opened Samsung Galaxy Fold 4 isn't big enough to replace a tablet in my life. It's still just a bit on the small side.
What really surprised me was that the phone when closed, was also too small.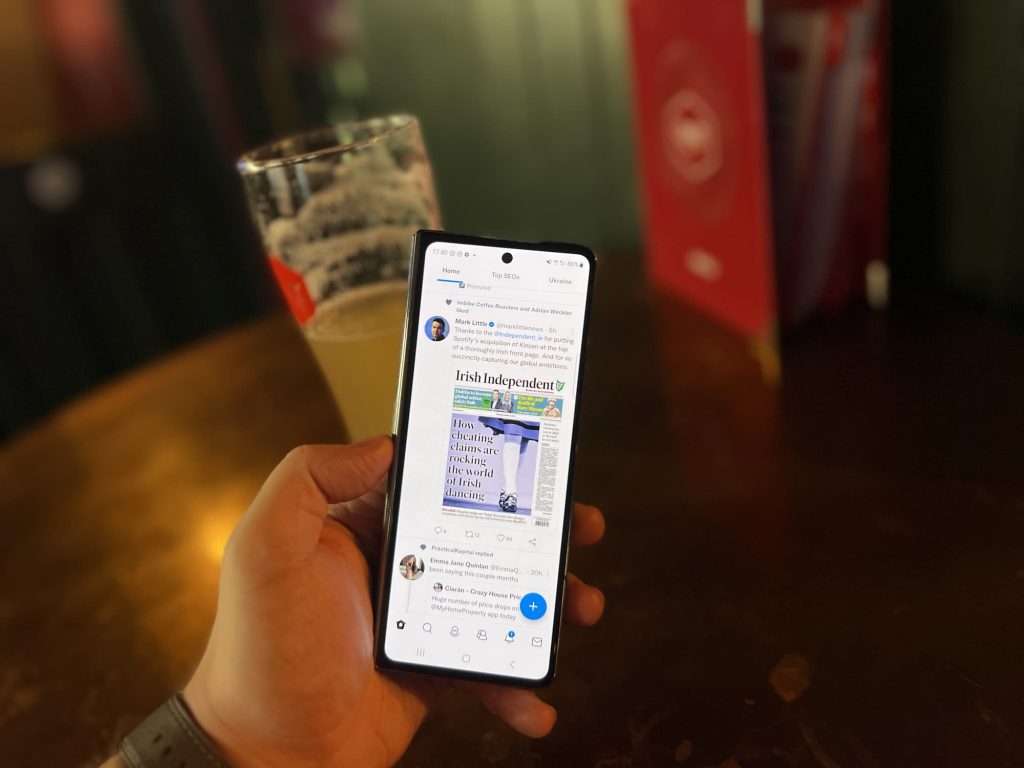 It's significantly narrower than most phones. This means a nice fit in the hand, sure. But it's a tight squeeze to type on. I've got clumsy thumbs at the best of times. This left the phone closes almost unusable for me. I could browse through apps and find news I wanted to read before opening read in phablet mode, but still. It just left me wondering if would I pay for this phone knowing the best things it has to offer aren't essential to me? One look on the Samsung website was the death nail. Nearly €2,000 for a compromised phone and tablet that doesn't really tick either box.
Samsung Galaxy Fold 4: The Verdict
This was never meant to be an in-depth review. This was, instead, meant to quickly get to the most important point about the Samsung Galaxy Fold 4; can it justify that price tag? It just can't. And that eureka moment came for me in the UK.
You see, you won't find many of these phones "in the wild" in Ireland. That means in the hands of a genuine customer that paid for it. You're a little more likely to see them in the UK. It's just a bigger market. I was in some fancy pants place for breakfast. That's an important detail because I was paying over the top for breakfast at the time and was a little annoyed by that.
As I was eating the one damn sausage that came with my breakfast, another customer across from me pulled out her Samsung Galaxy Fold 4. She had the case, the S-Pen – the works. I overheard her saying she'd just bought it and loved it.
I'm sure she does love it. But my first reaction was, in my head of course, "I cannot believe you paid that for that phone". And just like that, I had my verdict.
It's a marvel of technology. It's a great piece of kit. But in no world is the Samsung Galaxy Fold 4 worth €1,909.
But it is cool to show off, I guess?