There's nothing worse than when you go abroad and have to pay through the nose for internet access. Sure the change in the EU regulations around roaming has made a huge difference. But what if your job means that you need more and what's the craic when you have to go a bit further abroad? That's where the Skyroam Solis and the Solis WiFi App comes in. It's a simple premise. When you're abroad, pay a single flat fee for 24 hours access and get WiFi in 100+ countries.
WiFi on the go?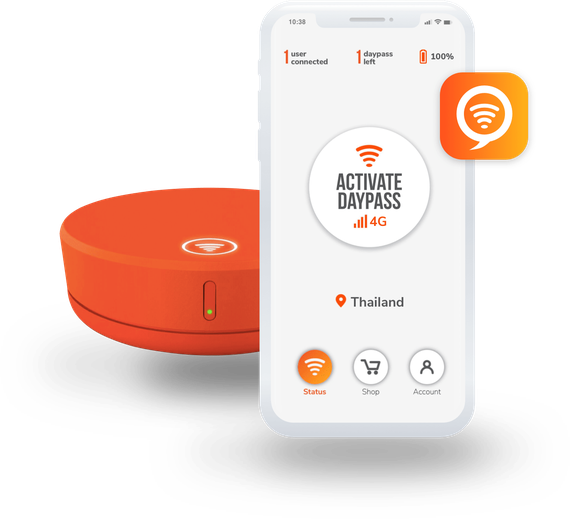 Ah yes, the tinternet, one thing we can't live without in the modern world, and yet surprisingly it can be such a hassle wherever you go. If you're like me and you work remotely or travel pretty much all the time, then searching for quality internet access gets old fast.
Sure you can roam but good luck with that. If you end up outside of the EU, you can also buy a local prepaid sim. If your phone isn't unlocked or you not sure how much data you use, then neither of these are great, to be honest.
Having worked in a phone shop for more years than I would care to admit, this time of the year was always rife with holidaymakers coming back from far-flung destination with outrageous bills. I can't stress this enough, do not roam outside of the EU it will cost you your first born. Between myself, Martin and Dean we could tell you some horror stories, who knows we might even chat about it in an upcoming podcast.
As we said you can also buy a local sim but before you do, make sure your phone is either sim-free or unlocked. Another problem you are likely to bump into is the fact that data limits in a lot of countries are very low when it comes to pre-paid solutions (believe it or not in the US the vast majority of people are bill pay, wonder why). Then again if you are travelling with a family or just use a load of data yourself again, good luck with that. A lot of countries don't legally allow visitors to purchase a local sim and, though there are ways around this, researching them is a huge hassle.
We could just say use your holiday to switch off completely, enjoy your break from the day to day and reset. But sure then how else would you post that perfect Insta beach shot.
This is where a product like the Skyroam Solis comes into its own. It's a 4G LTE mobile WiFi gadget that automatically works off local mobile towers, with no SIM needed. Up to five devices can share WiFi on one Skyroam Solis. Good idea or a family holiday or the business person on the go.
The Design
The Skyroam Solis will fit in the palm of your hand and the orange puck-like design is very minimalistic with a total of three buttons. The main Wi-fi button, battery indicator and the power button. The only other thing is the LED that flashes to let you know that it's on or charging.
On the back, there is the USB-C port to charge the box and or charge your stuff using the inbuilt power bank. Charging the Solis takes about 8 hours but you do get 14-20 hours of use which is quite decent. I like that the Skyroam is so simple, once you have it on you can drop it back in your bag and do the rest on your phone. Whether that's registering, activating your plan or just checking things like battery life and usage, it's all done through the app so you won't have to pull the thing out every 20 mins.
The user interface has its share of glitches and quirks. It's optimized for smartphones, so if you open the page on a laptop it'll give you a mobile-shaped screen in the middle of your browser tab. The main Status dashboard is simple enough. The centre of the screen displays either how much time is left on your current day pass, or a button to activate your next session. Below that is your location, how strong your current signal is, how many devices are connected to the hotspot, and your battery life.
How does it work?
Without getting too techical it uses virtual Sim tech to connect you to a nearby service tower. Doesn't matter the networks as it will connect with over 300 providers. So basically as long as there is a mobile signal in the area you're good, it won't work on a plane or boat but then again that would be pushing our luck for now.
Also because of this, technically, Skyroam gives you unlimited data. Pick your package, pay the money and off you pop.
How the battery life?
According to the team they say 14-20 hours, which by my tests are pretty close. My travel bag consists of my Samsung Galaxy Watch, or the Armani smartwatch, the Mac, Bluetooth headphones, a phone or 3 and to be fair whatever I'm mucking around with at the time, so trust me the poor box got put through its paces.
The power bank within the device itself is 6000mAh and comes as standard with the USB-C to charge most of the latest device, of course until Apple drops the lightning and move over themselves. Heads up though, the Skyroam Solis used the same battery as the charger so you will reduce the battery life if you're running the Wi-Fi and charging simultaneously.
How do you use it?
The Skyroam Solis is honestly super easy to get up and running. I love opening new toys and I love it even more when set up is stupidly easy. Who needs the instruction manual when the Skyroam itself it literally covered in its own instructions! Watch:
Once you've it unboxed, and played with it's easy to get your package sorted:
To get WiFi, press and hold Power On (the side button).
Connect your Skyroam Solis
On your phone or connected device visit the Skyroam site, register and pick your package.
Press the WiFi button on the top of the unit to start using WiFi.
How much does this orange disk cost?
There are a few ways to use Skyroam. A daily pass, their new monthly data subscription, or the new 1 GB GoData plan.
The box itself costs €150. If you don't want a plan you can also pay-as-you-go plans with daily 24-hour WiFi access for occasional connectivity for €8 per day or you can get a monthly plan for frequent fliers for €80 per month.
Alternatively, you can also do daily rental of the product for €7.95 per day, so you get the device and the data. Which is grand if you only need it on a once off basis. This can be ordered online or if you are going Stateside, some of the top airports will have kiosks.
The app
This is only a recent addition, the Solis Wi-Fi app. With this users can connect their hotspot and WiFi account, just by scanning the QR code on the bottom of their Skyroam hotspot device. They can also monitor their data usage, check on connection speeds, and buy more data with just a tap. I gave it a shot just to check how much data I was using watching Netflix and it was pretty much exactly what I expected.
This isn't the first Solis and as with any product, the first generation isn't always perfect. I've been told from themselves that this app was created directly as a result of customer feedback. They have tried to simplify registration and streamline WiFi start-up each time a customer powers on their hotspot, so they can connect faster. Inside the app itself, users can do the following:
Manage their service and package
View status of things like battery, signal strength etc
Offline access to troubleshooting and coverage lists
Step-by-step guide
Who would the Skyroam be useful for?
To be honest, having played around with it for a few weeks now, it's a very niche market.
Ok so here's the list:
People going out of the EU with a locked phone
Regular travellers who need something better than crap hotel Wi-Fi
Families going abroad so a parent isn't trying to hotspot their phone for the small people
Business travellers who need Wi-Fi to work
Prepay customers who only have limited amounts of data
Anyone still afraid of being charged mad money by going over roaming limits
That's really it if you fall in any of those categories the Skyroam Solis could be just what you need. Otherwise, your phone will do just fine.
The Goosed Verdict
The Skyroam Solis is a pretty cool little device. The battery life is good, it's well built and it's reliable. I may have dropped the thing in a stream and low and behold it still works! I honestly can't say much bad about it. It's also significantly cheaper than racking up a huge roaming bill. For those that travel a lot, I can see the value. So on that basis, I would recommend it.
Realistically it depends on what you do and where you go. Right now if you travel mainly in Europe you already get free roaming, within reason. For most this is enough, there's no need to purchase another device and pay a daily charge for internet.
It won't be long until mobile providers start offering inclusive international roaming as part of their plans as standard. Put simply this will mean the offer of unlimited international data won't be as enticing as it used to be. Until then we have the Skyroam Solis.