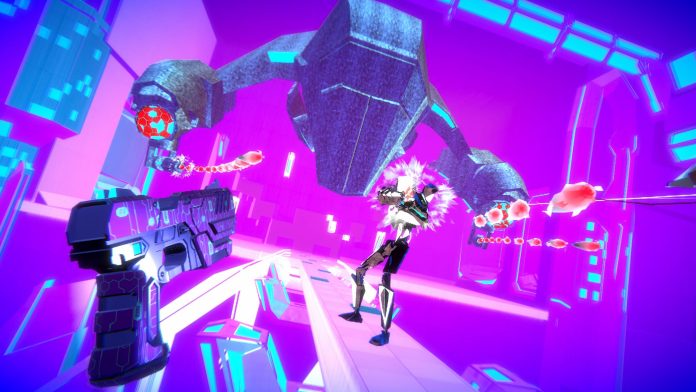 I got my hands on PSVR 2 recently. I'm a good man for excuses and I've already started to say things like, "sure why go to the gym, I've got the PSVR 2" and "I need the TV to work out". It's a perfect bridge between my love for tech and hatred for exercise, coming together to help me live longer. So, I thought I'd put together a list of the best PSVR 2 games that'll raise your heart rate enough to be classed as a workout.
Pistol Whip
Pistol Whip is by no means a PSVR 2 exclusive. The game first launched in 2019 and is available across most VR platforms, including the Oculus Quest 2. It is, however, one of the launch titles for PSVR 2 and also the first game that made me realise just how much of a workout virtual reality can be. I was out of breath, sweating and left with a sore core for a few days after my first time playing.
Pistol Whip is a simple shooter concept, not too unlike Time Crisis for those of you who remember the days of the G-Con Gun. You take centre stage, moving through a world where you have to both shoot the bad guys and dodge their bullets. All the time you're focusing on this, you'll also have to dodge walls and duck under obstacles to stay alive.
While the shooting can vary from easy to tough based on your settings, dodging will always require a fair level of physical exercise. This is where the bulk of the workout can be found. You score points based on the accuracy of your shooting, but also the rhythm of your kills. The result is a shooting game giving you a workout while remaining really fun. I found myself bopping to a beat while blasting the baddies, not even realising I was out of breath until the end of a level.
There are a lot of settings in Pistol Whip for you to customise your difficulty levels. This is good because you can focus on getting more of a workout versus it just being a game. I love dual wielding while disabling barrier collisions, but you'll find the settings that suit you best. You can even turn the targets into non-human shapes if you're not into the killing.
I love this game so much that when my controller died, I had to go watch John Wick to scratch the gun-toting itch.
Beat Sabre
Unfortunately, Beat Sabre isn't ready yet for PSVR 2, but it absolutely will be launching soon. It's such a good inclusion on this list, I decided to get it in already despite not being available yet.
Beat Sabre, puts two "Star Wars-esque" light sabres into your hands. Your mission then becomes to slash your way through boxes in the correct orientation while side-stepping walls to keep your level flowing. Similar to Pistol Whip, your score in Beat Sabre benefits from your rhythm.
You can play along to the rhythm of the included games or invest in some of your favourite artists.
I've not played this on PSVR 2 yet, but I have played it on my Oculus Quest 2. It's one of the must-have VR titles, especially if you're looking for a game that combines fun and exercise. Some day you'll be as good as Naysy…maybe.
Les Mills Bodycombat
A bit more on the nose, this one. Les Mills is a four-time Olympian from New Zealand. He started out by opening a gym back in 1968. Flash forward to 2023 and at the ripe age of 88 his name leads the only dedicated fitness titles for the PSVR 2 launch.
Bodycombat is a great title for beginners or more advanced, fitter, people, looking to break a big sweat. There's lots of boxing and moving, but now thanks to PSVR 2, there are also knee strikes to encourage more movement. It gives you 50 different workouts taking place in 9 different locations and is probably one of the best Beat Sabre alternatives to keep you sweating until that gets ported over to PSVR 2. The focus in Bodycombat is closer to combining traditional workouts like boxercise and real on-screen coaches with one of the most addictive things in virtual workouts; gamification.
As you compete, your score is going up against other real-world people working out. That's enough to motivate a lot of people like me who don't normally like working out, but can be quite competitive.
I'm not going to give you a price here because they change the whole time, but here's one other great thing to note. The game is a once-off payment, not a stupid monthly subscription.
Creed: Rise to Glory
If Bodycombat is a bit too much like going to the gym, Creed: Rise to Glory might be more of a game with a workout than working out in a game. A long time ago, I took up kickboxing. I was a lot younger and a lot fitter. I really learned the meaning of "fighting fit" when sparring. If you're fit enough to throw and block a punch, you're pretty dam
Creed: Rise to Glore lets you step into the shoes of Adonis Creed from the Rocky franchise. Naturally, you'll fight against opponents in the ring and that's going to take some energy. Firstly, this is a boxing game that requires you to use your entire body to throw punches, block, and dodge attacks.
The game's training mode allows you to practice your moves and get a better understanding of the game's mechanics. This can be a great way to warm up before jumping into the main game or to focus on specific skills you want to improve.