The Smartphone was the first piece of advanced technology that appealed to the masses. Thanks to this, everyone is inviting tech into their lives. The "smart home" has fast become a reality with the following gizmos and gadgets are either being sold on large scale, or awaiting crowd funding glory! Have a read and let us know if you like or would use these bits of tech.
Roost Smart Battery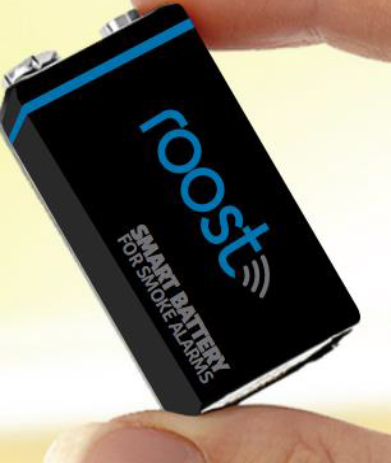 Both by the laws of Ireland and under instructions of Mammy, every single home must have both Holy Water and a smoke alarm with a new smoke alarm battery. We can't make smart Holy Water just yet, but the smoke alarm is covered. Thanks to a tiny WiFi chip in the Smart Roost Battery, any alarm powered by the battery will send a notification to the owner's phone when something is not right. From fires to carbon monoxide to a low battery warning. It is obvious why such a thing would be popular. No more annoying low battery beeping at 3AM. What a time to be alive. You can follow Roost's progress on Kickstarter.
Cocoon If the idea of keeping an eye on your home when you're away appeals to you, then Cocoon is definitely a piece of tech for you. While remaining as inconspicuous as a high end Speaker Dock, the tennis ball sized device uses various detection methods including High Definition video to detect if there are intruders in the home. It decides if it is you or an intruder by using your mobile phone location and by learning your "at home" patterns. Security is on everyone's mind, until a high price is mentioned.  Cocoon uses relatively inexpensive tech and doesn't require a massive installation,  keeping  it a frugal but better home security option versus traditional expensive  monitored alarms.
Nest
Nest is the hot "must have" gadget for the modern Irish home. Unfortunately, some homes are not compatible (this is decided upon by your existing setup). For those who are compatible, this is a great money saver. Nest learns when you like the house heated, when you are away from the house and can also be controlled via the mobile app. So no more getting home to an ice box, as a simple tap on your screen can have everything sorted before you even leave the office. A visit to the Nest website will also show how this is promoted, surprisingly, as a self install device. Pop over to see how simply it is.
Philips Hue Light Bulbs
Bias Alert. There were perhaps the first piece of tech we ever got excited about. It's simple. No more firing a Nerf gun at the light switch. Instead you grab your phone and set the light to on, off or whatever dimmer setting you fancy. These bulbs then react via a signal sent through WiFi. The bulbs are also energy efficient meaning they can save you cash!
This is just some of the tech that can improve your home and make your life easier. If you think we missed something or would like some more info, as always, don't hesitate to tweet or comment on our social media sites.