Improving your home environment is more important than ever. Sometimes, it's about tidying up that corner that got a bit out of hand. Other times, you might be seeking out a new gadget to make the home more homely. After testing out a few new items to make my home office that bit neater, including a nifty work desk I can put away, I started thinking about lighting and got my hands on the Dyson Lightcycle Morph desk lamp. Considering the clocks go forward today, our body clocks will be scrambling to work everything out so tech like this can give it a helping hand.
The Importance Of Lighting
One thing has really struck me during the past 12 months and that's the importance of lighting. Spending so much time indoors and quite a bit of that being during dull dreary days, you quickly learn that lightening can impact a lot of things, including your mood.
Where I've noticed this most to date is in the bedroom. I hate waking up and I don't mean that in the "I'm lazy way". I mean it purely in terms of how, as humanity, we've decided a loud alarm at a preset time is how we're supposed to wake up. It's awful. So I got myself some LIFX lights, a LIFX Beam to be more precise. I've got this beside the bed where it can simulate sunrise, even with the curtains closed. The result is my alarm going off either after I wake or just as I'm waking. It's a much better experience, trust me. And that sets the tone for your entire day. This is the importance of lightning in your day.
Features Of The Dyson Lightcycle Morph
That's why I was so excited to try out the Dyson Lightcycle Morph. If I could introduce a piece of light tech into my sleep and wake routine, where else could I do this? My work desk was the answer.
Design
The Lightcycle Morph comes in two models; a floor standing model and a desk model. I got the desk model to test out. The Lightcycle Morph is made from an aluminum-polycarbonate. As you might imagine from a company like Dyson, the product is ultra-premium in it's design. The upright of the lamp isn't very tall. For example, I'm unable to swing the lamp over my monitor because it sits on a riser. However, that's really just because you need to challenge how you position desk lamps at all.
The Lightcycle Morph can glide back and forth and when combined with a rotating head, you can position the lamp in a never-ending combination of positions to find the perfect lighting angle for your own setup. If your working at a desk, a light directly shining down might be helpful. If you want ambient, rotate the head and aim it at the wall.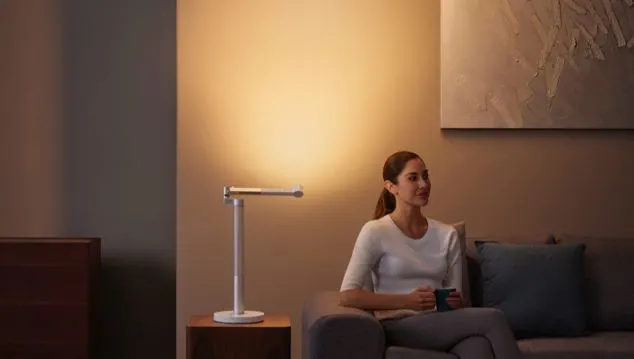 Perhaps one of my favourite things about the lamp is how it looks when it's closed. With the lamp on, you can glide the head back to the upright where it will illuminate the stem and set some mood lighting. I live in a small apartment and have my workspace in the living room. This means in the evening when I clock off, the lamp goes into this position and acts as a gorgeous ambient light while I catch up on some Netflix or Disney+.
Tracking Natural Daylight
I'm just going to get to the absolute best thing about the Dyson Lightcycle Morph. Earlier, I spoke about natural daylight cycles and how that helped my waking routine. The lamp does the very same for me throughout the day. My desk is a bit away from the window which means I don't get all the natural daylight I would light to. Now, because of the lamp I can simulate natural light. One evening, I kicked back with a coffee for a few minutes and looked at my desk compared to the table by the window. The similarity of the light was simply stunning. As the evening went on, the lamp simulated somewhat of a sunset. It doesn't turn off with the dark, but instead slowly dims.
On top of the natural daylight tracking, you can set the lamp to different modes for different needs. "Study" boosts the white light, "Relax" is warmer and "Precision" for task that might need some hyper focus on your desk, like drawing for example.
Finally, you can program a light setting to your own personal preference too. I've found myself using the light to achieve better lighting on conference calls, taking product photos, lighting the room or just providing a little light boost during the day. The flexible build of the lamp along with wide range or light settings mean you can always make the perfect atmosphere whether it be focus or chill.
While I just got the desk lamp, I immediately looked at the €6 lamp from IKEA with distain relalising how much that space would benefit from a standing lamp.
Additional Features
One particular feature made me say "aw, that's neat". There's a USB-C port in the stem which means you can pop your phone on charge. Another feature that bounces from the same reaction to mild annoyance if I'm locked in still thought for a few minutes is motion sensors which turn the lamp off to conserve energy. If, like me, you sometimes just don't move, you can disable this.
There's also connection to the Dyson Link app which means you can control the lamp remotely (handy security feature). The app also shines a light (sorry) on the lighting you're experiencing. For example, I'm writing this article with a light rating of 2700K on the Kelvin scale. This is a measurement of warmth of the light. You'll also get "lm" or Lumens info.
What you get with Dyson is, as always, the best design in the business and the box the Lightcycle Morph comes in confirms that again. The box, cleverly holds everything for shipping, but then goes further and holds everything as you put the light together. I love stuff like that. But this is par for the course from Dyson. They have the world's best designers challenging what an air purifier should do, what a hair straightener should look like or now how your desk lamp should work.
Dyson Lightcycle Morph: The Verdict
There's no denying this is probably one of the best lamps on the market. It immediately boosts your work space to feel better than ever. I have, 100%, felt my mood improve while working under a light like this. I'd go a sad step further and say I'm nearly enjoying work a little bit more because of it. Right now, I'm sitting in a dark room with just the lamp on and I feel energised. If you think I'm being a bit over the top, to be fair, for the price you would want some fairly seriously life impact.
The Dyson Lightcycle Morph (desk edition) will set you back €550. A big price tag for a lamp, but given how much time many of us spend at desks these days, your mood might thank you.