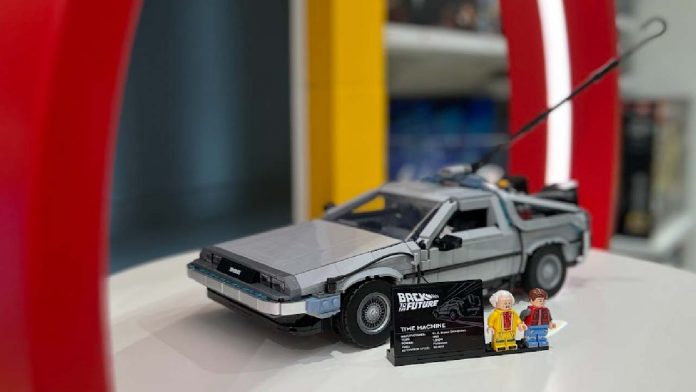 Disclaimer: I was invited to the LEGO Store in Dublin a day before it opened to check it out. On arrival, I was given a €50 voucher to spend, two small LEGO sets and was allowed to build a mini figure. I ended up buying a set worth a €170 and getting €50 off because I truly loved the shop and have always loved LEGO.
Check out our TikTok to see Marty's first trip to the Dublin LEGO Store
Did anyone grow up without that bucket of LEGO at home? The one that parents probably dreaded hearing being tipped out. In my house, as a kid, there was loads of LEGO. One day a massive LEGO Nasa Space Shuttle appeared. Years later, long after the shuttle was dismantled for parts, those parts were used in my new LEGO projects. I'm not sure there's any "toy" quite like LEGO. These memories are why I turned into a child at a sneak peek of Dublin's brand new LEGO Store. It's on Grafton Street and here's what you need to know.
Where is the Dublin LEGO Store?
The brand new Dublin LEGO Store is on Grafton Street. It's right across the road from the Disney Store. The two shops share some kind of unofficial spiritual bond. The difference is that I want to speak with the LEGO store staff while I just want to tell the Disney team my favourite Disney character is Jafar.
The new Grafton Street LEGO Store is open from 9 am to 7 pm every day. The only exception is Sundays when they open an hour later at 10 am.
During the first few weeks, there will be a 30-minute browsing limit in the store. This is to ensure all visitors get ample time to take a look around.
Why is the Dublin LEGO Store So Special?
I'm studying consumer psychology at the moment. It's all about how big brands make you buy more. It's pretty scary stuff at times. So naturally, I did have this in the back of my mind in the shop. But there are very few techniques being deployed. It's largely just bricks in boxes; take it or leave it.
That's what makes the LEGO Store so special. It's a portal back into your childhood. The difference is you now control the finances and no one can say no to you except your bank manager.
But my first experience was defined by the new team in-house. The staff are amazing, friendly and enthusiastic. You can tell it's not just the launch day excitement either.
I was guided around the store by Evan, Neil and Serena. They already know LEGO inside out. During the interview process for the job, they're asked what's the first kit they'd buy and what previous sets they've built. But you can tell they really care about LEGO. They care about what you leave the store with and that you come back to get more. When the call came to say they got it, they couldn't contain themselves.
Weeks later, they're standing in the new shop and the excitement levels are as high as ever. They will make your visit amazing, I promise you that.
What's in the Dublin LEGO Store?
The most important thing is that the store has a lot of LEGO sets. I mean, nearly everything imaginable. From the more modern take on NASA sets to LEGO sets designed to be a floral arrangement in your bathroom. There are simple kids sets and massive licensed products from Nintendo to Star Wars.
There is no other company in the world like LEGO
LEGO spans such an incredible range of brands, marrying they together in creative glory along the way. There is no other company in the world like LEGO. It's just pure wholesome.
Beyond the kits, there's a lot more to see that'll make your trip to the LEGO Store in Dublin a worthwhile stop.
Print Your Own Minifigure
Upstairs, you can build your own Minifigure. Now, this wasn't news to me. I always new you could pick the legs, body, head, hair and accessories of your liking to make a LEGO figure. What's unique to the LEGO Store is its massive torso printer.
Just like ordering on a screen in McDonalds, you design your torso. You can add text, images, change colours and even draw designs if you're handy enough. While that's printing, you just pick out the other bits you need and build them once finished. Here's my customer Goosed.ie figure.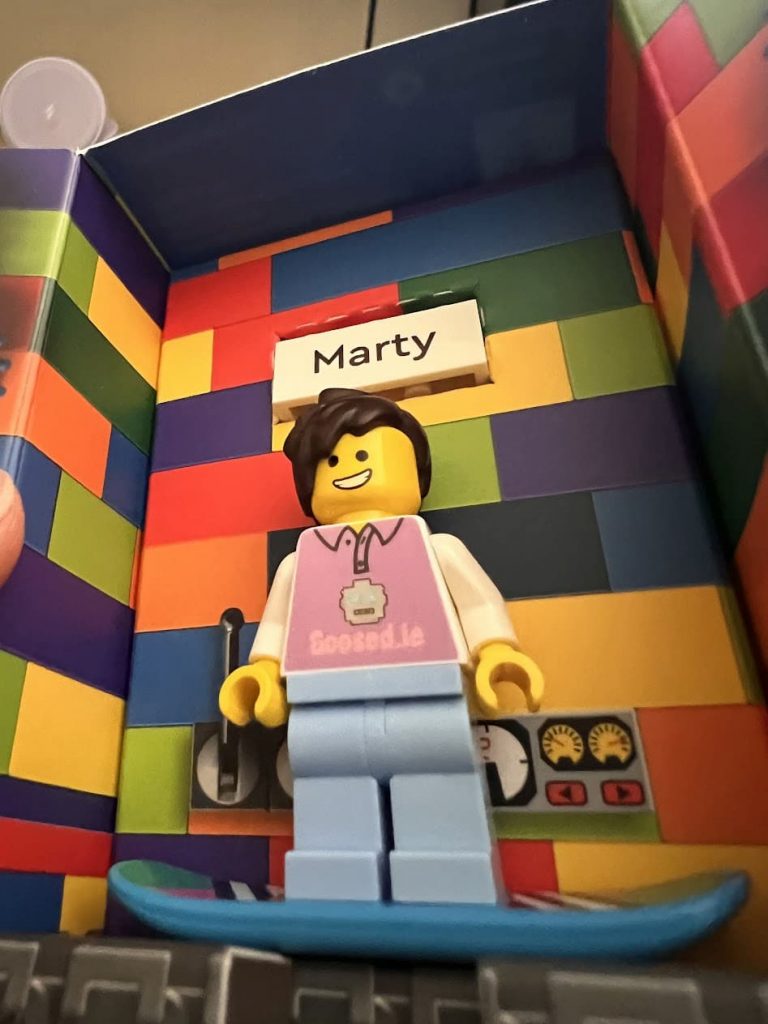 You can tell the team are friendly because they even laughed at my terrible Meany-figure pun.
To celebrate the launch, I got this for free. But typically, this fully customised LEGO Minifigure would cost you €12 and takes about ten minutes to print. There are also special Irish graphics if visiting from abroad seeking a unique souvenir.
Brick 'n' Mix
LEGO doesn't actually call it Brick 'n' Mix which I think is the only slip-up! Instead, the official name is Pick a Brick. Again upstairs, is the wall of seemingly random bricks. Here, you get a plastic cup and fill it with as many bricks as you can. When you come back a second time, you'll get a small discount for returning the same cup.
It's largely simple traditional bricks that are available here, but there are some newer and quirkier ones too.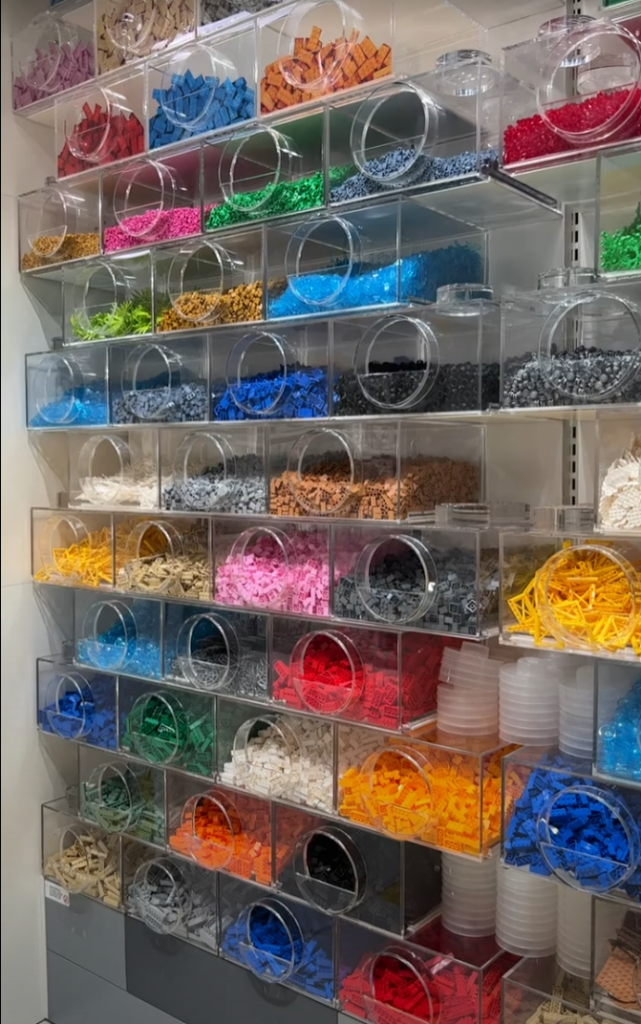 Interactive AR Points
While LEGO is a bit of a trip down memory lane, there are modern attractions too. Neil, the LEGO Store's new manager, demoed this to me with the McLaren F1 LEGO set. You hold your LEGO set of choice up to the camera and it's built in mere seconds on the screen in front of you. What impressed me most was Neil telling me nearly every set in the store will work with Digibox.
Upstairs, there's a massive screen that turns you into a LEGO Minifigure. You can trigger special animations based on your movements too. Tip – put both hands in the air!
The Verdict
It's a genuinely magical place on Grafton Street. Sure, I got to see the new LEGO Store a day early, got some free sets and a €50 voucher, so you could argue I'm biased. But instead of writing this article immediately, I built two LEGO sets. Whoops.
I adore LEGO and the new Grafton Street store just feels like a portal to wholesome. Whether you're a big kid or just have kids, you'll not be able to skip a visit here.
Now, what did I buy with my voucher you ask? Well, I quickly asked the team do I have €50 to spend, or can it be €50 off while I add my own money. My eyes lit up as it was the latter. I was torn between the McLaren LEGO set and the Delorean from Back to the Future. In the end, there could only be one.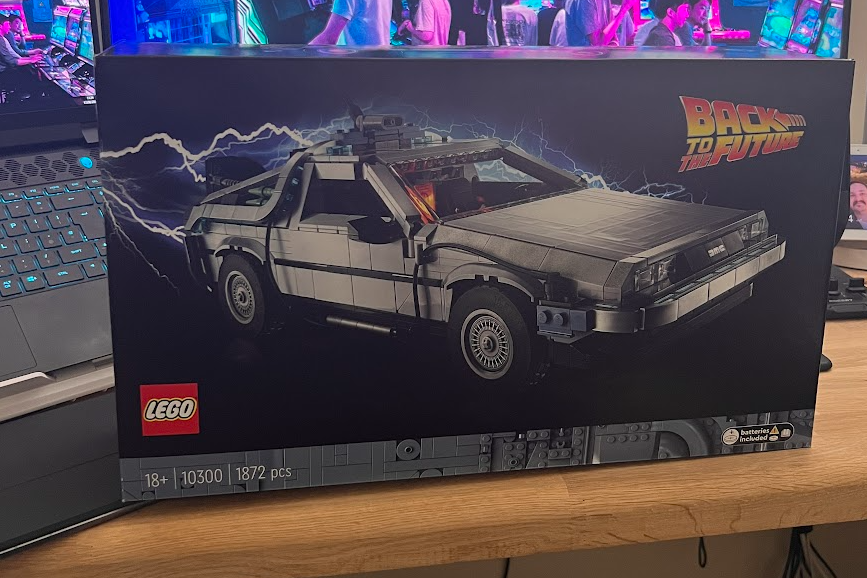 I'll likely review this kit so throw me a follow on TikTok to keep up with the latest news and reviews.