Oh yes it's that time of year once more! The time to forget your family, your job and responsibilities because Football Manager 20 is here. As a huge fan of the cult classic, I've been lucky enough to have gotten a spin off the Football Manager 2020 (FM20) Beta. Not going to lie I'm already the one more game at 2 am kind of person but to be fair Sports Interactive's football sim has long been considered the ultimate immersive experience for armchair pundits and managers alike. With that in mind we cover everything you need to know before you take your beloved club to the big-time.
FM 20 Release Date & Price
Being a proud advocate of the series for nearly 15 years now, you bet I was excited that my pre-order came with early access because the full game isn't landing until November 19th. That includes the full PC Steam version as well as FM20 Touch & Mobile (both smaller mobile friendly variation). The only release dates we are waiting on are for the Google Stadia which we should get when the when the cloud-based gaming platform launches in November & the Nintendo Switch. This year the title will cost 54.99 on Steam but you get 10% off when you pre-order.
New Enviro-friendly Packaging
There are two type of gamers, the downloader and the box collector. Personally I'm a big fan of collecting the hard copy versions of my favourite series. I know downloading is much easier but we all know there's something about that disc in your hands. Anyway Sports Interactive have been on a mission to be better and those old school plastic boxes have been replaced.
FM 20 will be packaged in 100% recycled board and will come with a manual printed on 100% recycled paper, shrink-wrapped in fully recyclable low-density polyethylene (LDPE). They claim this move could save up to 20 tonnes of plastic and the aim to to kick start a movement in the gaming industry to become more environmentally responsible.
For those who are fans of previous games you will know Sports Interactive are active in the world of social responsibility. Using the in game hoarding advertising to promote Movember and War Child with options to donate. It may only be a small gesture but fair play Football Manager.
Graphics – Games Finally Worth Watching
FM 20 has made huge strides to improve the player and manager modeling this year. I mean if we are being realistic this is probably the least important part of the game as a whole but it's nice being able to scan a picture of your head into the game to become the gaffer. Every year Football Manager makes some improvements and this year is no different.
FM 20 sports a brand new redesigned UI and it's made some changes to various elements of the overall infrastructure, minimal but enough to make a nice change. I've thoroughly enjoyed the ability to get detailed match day selection advice, especially handy if your thinking of new formations and styles with your assistant suggesting players based on a variety of factors like moral, form, suitability to the task and fitness.
The in match graphics have got a real nice overall. For a starters when you load your first game you get asked about advertising, whether they can use your online data to advertise relevant or generic information on the surrounding match day hoardings. Then we get to the game where the pitches have gotten a field that will now react more obviously to weather.
The match engine which is probably the best and worst feature of the games gone by, has come a long way from the circle spots of years gone by. The detail while nowhere near console titles is good enough that when you see your player swing a first time volley from 30 yards you'll be hard pressed not to react. Genuinely I was showing the housemates and I highly regret not recording the scenes when my real life favourite player, Aleksandar Mitrović struck a thunderbolt to get us into the Carabao Cup Final. Now there are still some minor defensive AI bloopers which are a tad frustrating, but maybe that adds to the whole game?
Tactical advice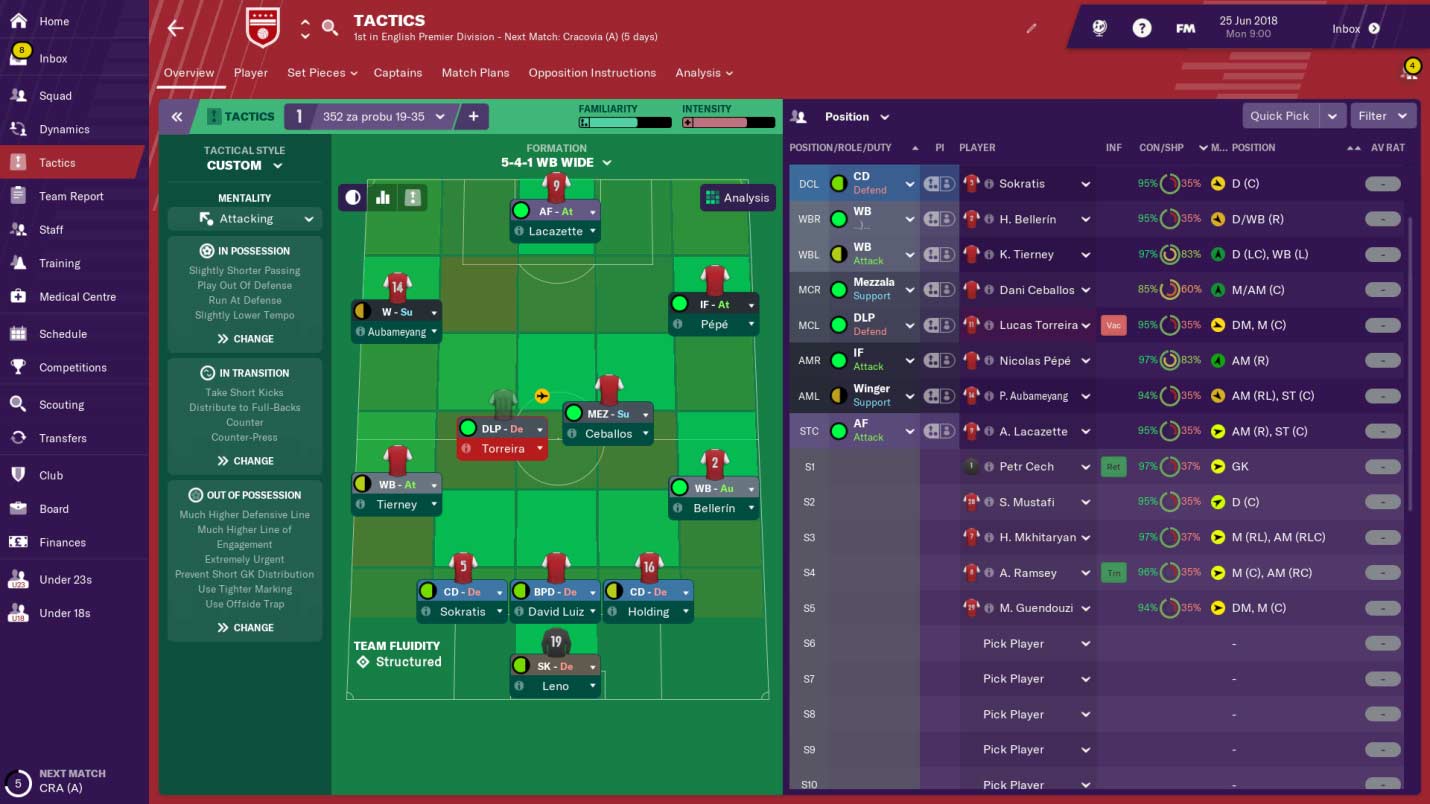 Last year saw the introduction of a completely overhauled tactical set up which was both intuitive and exciting but also super easy to make a balls of if you didn't understand what kind of details are needed to make each tactic work. With styles like Tiki-Taka, Vertical Tiki-Taka, Direct, Counterpress and the Gegenpress all coming to the fore in recent years it's so easy to get lost in the this arena.
What do you want your team to do in transition, how do your full backs react and then what happens both in and out of possession in terms of positioning, pressing, passing, marking and whatever else, the possibilities are endless. Buuut this has to suit the players at your disposal, not unlike real football management, who would have guessed. Think about it if your team isn't fit enough to last 90 mins at a high press that will come in to play, if your defenders can't pass don't play out from the back and if your forwards are big and lumpy then there's no point trying to play off the shoulder.
Whether you take any of that into consideration or not is totally up to yourself, forge your own path or listen to your team of staff. They will now show you how are moving away from your typical tactical set up, things which are easily overlooked if you're not the most detail oriented player. Anyway before you end up with a medley of styles hotchpotched together your assistant will pick out a few systems that will suit the players you actually have. Vital information before you waste months trying to play a style that hasn't a hope of working.
Pre-Planned Punishments
Previous players of the genre will know that fining players for misconduct has always been a shit show. But no more. No longer will we be at the mercy of a players personality (every single player has their very own personality traits) when you want to put your foot down for bad behavior.
In FM 20 we are given the new Code Of Conduct, where your team captain will suggest the punishments based on the squads input for you to consider. You can tailor this yourself and this small little thing takes away so much pain. Your ideas and expectations are clearly laid out so the team will respect your authority, but if you fail to stick by it the backlash could be epic.
What Else Is New?
The best bit of Football Manager? Building a proper dynasty, planning for the long term rather and getting so deep that Kylian Mbappe retires. FM 20 is focused on the long term players and this brings about a whole new boardroom experience.
From the get-go, your club will give you a three – five year plan tailored to your club, broken down season by season. There is also expectations regarding club culture and this may even extend into deeper requirements when it comes to the transfer market and on-field style or even budget restrictions that you will face for years to come.
Again seasoned players know all about the wonderkids, these are the chaps who are touted to go on to great things in the future who need to be treated with time, care and patience. Not always something that was afforded in games gone by. All that panic dropping a chunk of your budget on a seventeen year old who you've promised the world and aren't ready to play is made easier. In FM 20 you can do what you would actually do with a young player in reality, tell them where they're at now and promise to give them more time and prominence in a year or two when they aren't children, and when your veterans have left. Sounds logical doens't it?
There are also extra contractual options in regards to playing time expectations that link up with player dressing room influence and squad harmony, for instance in contract negotiations make it easier to designate someone as a Cup Goalkeeper or Fringe Player, helping keep player expectations in check in FM20. Much better than when you've a fellow who's your third choice keeper causing ructions in your squad for no reason.
It's been mentioned earlier but your backroom stafff gets also gets a major upgrade in FM 20. You'll get much more detailed pre-match analysis including heat and touch maps alongside ideal matchday squads. There's also better match to match tactical analysis of your opponents including recommendations from your team to help you pick the best tactic to win the match at hand.
Oh and sure it wouldn't be modern day football management without the backroom positions of Technical Director, Head of Player Development and Loan Manager that have been added to better replicate the behind-the-scenes aspects of managing a football club.
As ever with Football Manager, I was only really able to scratch the surface over the last week or so…solely because the game is just that god dam big! You know these guys make a serious product when their database, scouting system and player analysis are used in both punditry and by real professional clubs scouting networks. I felt maybe last year the longevity factor somewhat dropped but FM 20 brings that back with a bang as longevity is key. The Club Vision in itself is a wonderful addition that affects the entire structure of the game, increasing both the challenge and realism of club management. For new players getting involved in the series for the first time, the layout is simple, everything works as it should and the tutorial is beautifully unobtrusive. Then if you're like me and you're already a a fan of the game with the biggest cult following in football (yes i'm looking at you FIFA), then FM 20 should prove to be the most immersive title of Football Manager for some time. Now I'm off to sort out my suit, blast some Champions League tunes and manage my beloved Fulham to the title.