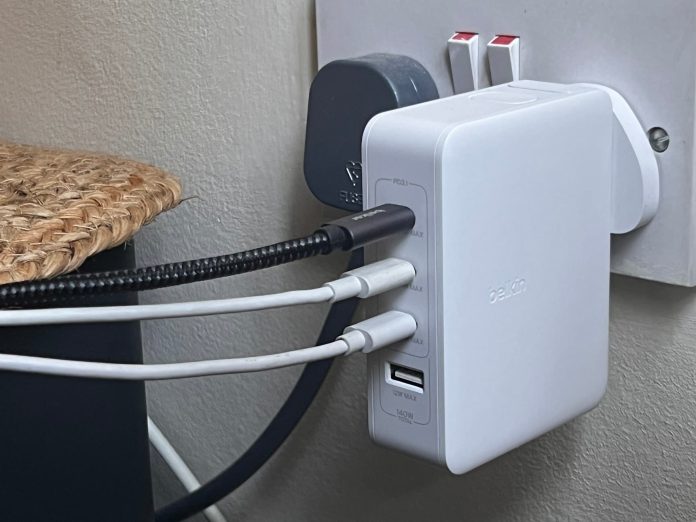 Being a tech reviewer is a funny old job. I struggled to get excited about phone launches any more because they're all a bit samey. Instead, I now find things like chargers fascinating. My annual pilgrimage to IFA in Berlin this year brought the Belkin BoostCharge Pro 140W 4-Port GaN Wall Charger onto my desk and I'm absolutely in love with it. It's ideal for anyone who has a MacBook (or any USB-C charged laptop) and travels regularly with lots of different gadgets. While a bit on the pricey side, it will justify that price tag to many.
Why I Love Belkin's 140w 4-in-1 Charger
I travel with way too much tech. I'm just back from a trek around Norway and I was regularly carrying my MacBook, phone, two powerbanks, the charger for my Whoop Band, earbuds and even a charger for my sunglasses – I know, ridiculous. The funny thing is, I'd even argue I was travelling light on this trip with no phones for testing and no iPad. Normally, this would mean I bring several chargers and EU adapters too.
Just before setting off, Belkin sent over the brand new 140w charger they had just launched at IFA. I was immensely excited because in the box you get a UK plug, along with EU and US plugs too. With the press of a button, I could plug this in in Norway, just like I had in Ireland hours previously. The real win comes with the number of ports Belkin has squashed onto this charger.
Here it is in action while I waited for a flight from Bergen to Oslo.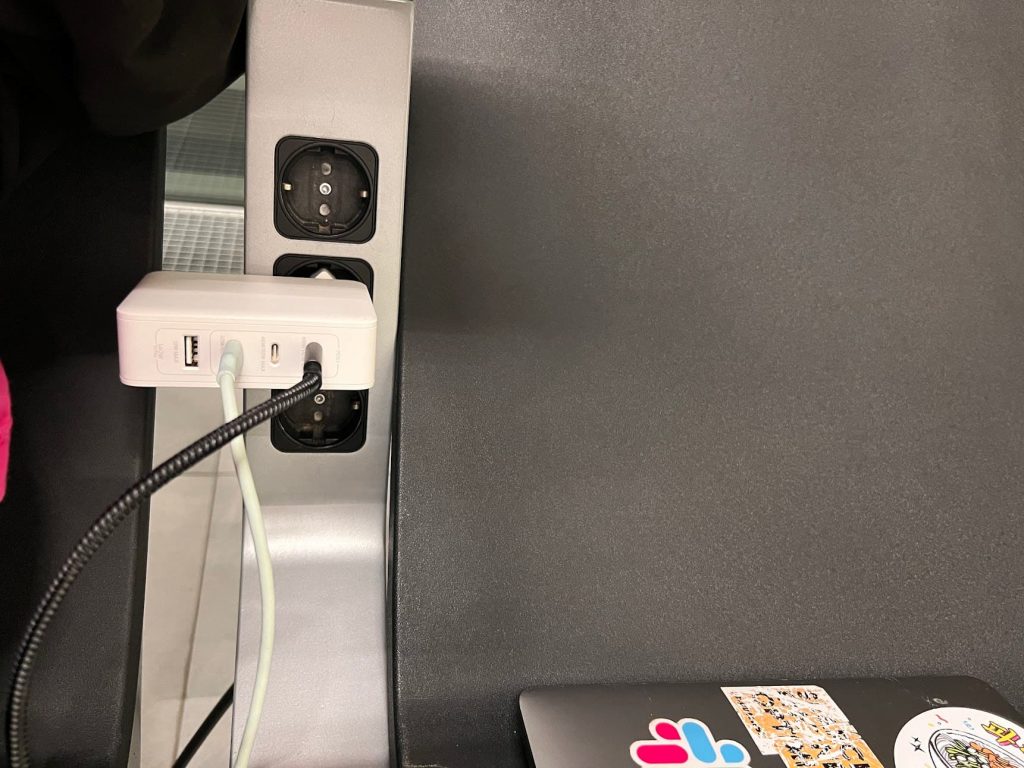 The BoostCharge Pro 140W 4-Port GaN Charger, as the name suggests, has four ports; 3 x USB-C and 1 good old-fashioned USB-A. They can all be used at the same time because the charger, despite its relatively slim profile, is massively powerful. MacBook owners will scratching their heads right now. The standard MacBook charger is about the same size and offers just one USB-C port. This is down to Belkin's GaN technology and Apple only recently released its own GaN chargers.
Gallium nitride (GaN) is a semiconductor material that is being used in the development of new types of chargers. The science aside, GaN chargers are smaller, lighter, and more efficient than traditional silicon chargers. They are also able to charge devices faster.
Belkin is uses this technology to bring this one charger to beat them all across 4-ports.
BoostCharge Pro 140W: The 4-Ports
The 4 ports on Belkin's charger behave differently depending on how many devices you are charging. Thanks to the combination of GaN and USB-C Power Delivery, each USB-C port has guaranteed power transfer rates. Basically, that means that no matter how many devices you plug in, each port will do at least what it says on the tin.
For example. The top, most powerful, USB-C port on the plug is the one I use for my MacBook because it can deliver up to 140w of power. My MacBook tops out at 87w so that's plenty of power, while newer MacBooks and laptops can charge faster, using up to the full 140w. That is assuming you are only charging your MacBook, but if you are you could be getting from 0% to 50% battery in just 30 minutes in the right conditions.
But you can have several devices plugged in at once and this changes how power is distributed by the charger. This diagram makes it much clearer than my words: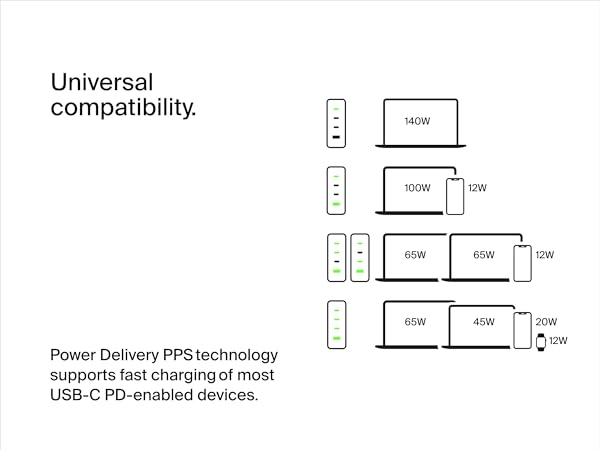 Here, you can see that if you plug your MacBook into the top port, and it supports it, you'll get 140w fast charging. Plug your phone into the fourth port and the laptop rate of charging will drop slightly to 100w to distribute the charge rates evenly but fairly across devices that need more power; thank you USB-C Power Delivery (PD).
Travelling with a partner? They could charge their MacBook while you charge yours. Both will run at 65w, the top two ports' minimum rates. All the while you could still charge a phone on the fourth port at 12w. Naturally, you could also plug your phone into a USB-C port for more power too.
Ultimately, this one charger with interchangeable plug fittings, was the only charger I used while travelling. It charged my MacBook, phone and everything else I carried, on trains, in airports and in hotel rooms for a week. It takes a bit of getting used to know my laptop charger is also my phone and wearable charger, but trust and you shall be rewarded.
What I Didn't Like About Belkin's 140w 4-in-1 Charger
I'm lucky enough to have been sent this to test out, but I can't lose sight of the fact that most will need convincing on the price. This will set you back €165 from Amazon. That's no small price for a charger. Realistically, you probably already have these chargers, so that's really €165 for the nice-to-have consolidation of all those chargers into one device.
While it's a technical marvel thanks to GaN and PD technology, it's still a sizeable piece of kit. EU sockets never feel fully secure when holding in heavy chargers. I didn't actually have any issues with this, but can't help but feel someone will, or someone will have a socket somewhere this thing simply won't fit into because of other plug layouts.
The only other thing I can think of is that while it's environmentally friendly, I feel Belkin could have included more reading material in the box. The general market needs some more education on chargers. Companies just started dropping this from boxes and hoped everyone knew what they'd need to buy. Most people don't really think about wattage and ports when charging. Understanding all of that is really what makes the pricetag on Belkin's 4-port so justified.
Belikin BoostCharge Pro 140W Charger: The Verdict
This is a contender for one of my favourite pieces of tech in 2023. I travel quite a bit and have lots of different tech. This one charger frees up a lot of space in my bag. Not only that, Belkin makes good reliable products and is officially supported by Apple along with other manufacturers too.
I appreciate that it's not cheap. But I also know some people out there will read this review, look at the features I've highlighted and think that price is a steal for the convenience this charger offers. It's also not a bad gift idea for someone who travels a lot!
One other scenario is if you just need to buy a new USB-C laptop charger in general. Apple's own charger is €105 so for a bit more you could get the only charger you'll ever need.
Power Delivery technology is somewhat future-proofed too, so this will be your charger for many years to come.
The Belkin BoostCharge Pro 140W 4-port charger is available on Amazon.co.uk.