The humble smartwatch, the most inherently contradictory piece of tech on the market. We expect them to do so much, to look sexy and yet at the same stage be simple to use. They need to look and act like a watch but also have a battery life to do all the extras we expect without an issues. The power to run apps, take calls, track health and fitness, monitor location and all the rest requires power that we barely expect from a phone but in a watch we want it all. That's what Samsung are hoping to achieve in their brand spanking new Galaxy Watch. Branded as the Samsung flagship smartwatch, this is by far the most feature packed wearable Samsung have ever made. So let's have a look and see what it's all about.
Pricing
If you are a fan of the Galaxy Watch series you will be pleased to hear that despite this being the best and best looking watch they have launched to date, this new model actually comes in cheaper than the Gear S3. Well at launch anyway. I've been using the larger model over the last couple of weeks and as a self professed watch fan (grow up in a family of jewellers and try not be) I have to say that the price of the new Galaxy Watch is very fair considering what you would get for spending the same money on a standard watch.
To put this in perspective the Gear S3 came it around £350 when it hit the market, whereas the best price I have seen on the Galaxy Watches was €310 for the 42mm and €320 for the 46mm. Now these prices are from Amazon.co.uk
But if you are concerned your snazzy watch won't come in time for Christmas you can order from Samsung Ireland or Carphone Warehouse.
| | | | |
| --- | --- | --- | --- |
| Galaxy Watch Pricing | Amazon.co.uk | Samsung Ireland | Carphone Warehouse |
| 42mm | €310 | €320 | €320 |
| 46mm | €320 | €340 | €340 |
To be fair the prices aren't that different and you might be cool with plumping the extra couple of quid to get your hands on one straight away rather than waiting, totally up to you. Also these prices are for the Bluetooth variants of these sizes, with LTE / 4G variants costing more and coming a little later in the year. Plus let's face facts here, who actually buys the 4G model? Literally no-one as we always have our smartphones on us and Bluetooth does exactly what we need.
The Galaxy Watch is available to buy now.
Design
As I mentioned in the previous section the Galaxy Watch is available in a 42mm or 46mm model, you also get three colour options in Rose Gold, Midnight Black and Silver. Now personally I couldn't be wearing Rose Gold so I got the Midnight Black model and as you can see from the picture above, it's a really nice looking bit of kit.
Anyone that has been unfortunate enough to hear my rants down the years about smartwatches will know I want my watch to look like a watch that just happens to be smart and on first glance the Galaxy Watch looks just like a watch. A big win in my books. I think its the nicely rounded face, bexel detail and steel framing… and while fans of the Apple watch won't agree with me, this is how I want my watch to look.
One slight issue comes from this approach though, while the Apple watch has a design that sets it aside as a smartwatch you are more inclined to forgive a weak battery, however here you either get used to charging the Galaxy Watch so you can use the always on display or risk looking at a black circle more often than not. I plumped with the charging option and it's been lasting me three days at a time easily. So it kind of comes down to style preferences and asking yourself the question, how much do you want people to know your wearing a smartwatch? if like me you prefer the subtle styles of a cleanly designed watch, then you will like the Galaxy Watch.
Hardware
Sorry now that little style rant is out of the way we can talk hardware. How you interact with the Galaxy Watch is a thing of clever beauty. Genuinely rarely am I this impressed by a smartwatches usability and ergonomics, that's why when buying my own smartwatch I went for the Emporio Armani Connected, but Samsung may have just beaten it here.
The spinning bezel and two side buttons not only add a "watchy" style to the Galaxy Watch but they also double up as a brilliant way of navigating though the UI. Basically spin the bezel to go through your menus, hit the top button to go back and and bottom button for recent apps. Simple and that's a big positive. Funnily enough the bezel makes this satisfying click noise when you turn it and it's worth noting that this is so tactile that after a couple of minutes a three year old was able to navigate the Galaxy Watch with ease.
We said that there is two version of the watch which means there will be slight differences in terms of the base specs of the variants so here they are:
| | | |
| --- | --- | --- |
| Specs | 42mm | 46mm |
| Display | 1.2 inch | 1.3 inch |
| Strap size | 20mm |  20mm |
| Weight | 42g | 63g |
| Battery | 270mAh | 472mAh |
So as you can see the differences are marginal, basically my recommendation here is go for the model that fits you better, no point going for the bigger model if you have tiny wrists just for a slightly larger display.
Finally in terms of what else is going on under the hood both models sport a Bluetooth and 4G version with a dual-core 1.15GHz chipset and 4GB of internal storage space. The only difference between the Bluetooth and 4G model is that the latter has 1.5GB of RAM vs 768MB but that's just for the extra power needed to maintain a mobile connection.
In terms of the OS, we once again get Tizen 4.0. This means the Galazy Watch is compatible with all Android phone running Android 5.0 and beyond and it will even work with any iPhone running iOS 9 or above. Sure you won't get calls or texts but the fact it works with Apple is another plus point for those Apple folks who want their watch to look like a watch.
It's a bit of a love and hate relationship with the Tizen OS, on one side it puts Wear OS and watchOS to shame in terms of how simple and fast it is to navigate. However as a result we can only use Samsung's own apps as third party support is non existent. Now the third party thing isn't a deal breaker, it just would have helped make the Galaxy Watch better again.
Features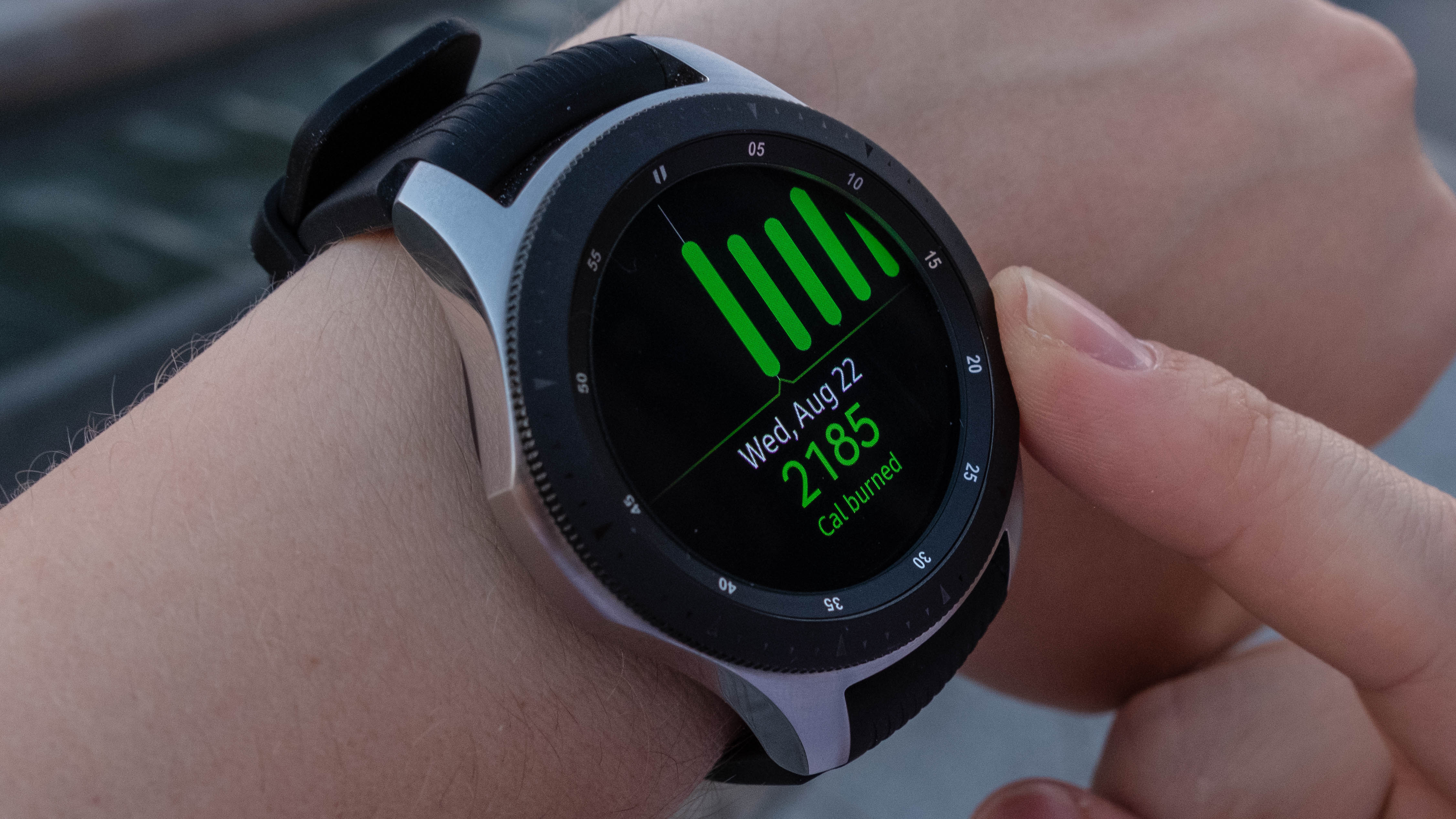 Samsung Health is the big focus on the Galaxy Watch with a hole host of new features such as stress management,breathing features and activity reminders for all of us who spend their days in an office chair.
We also get a collection of 21 indoor workouts and 39 tracked workouts, which is cool and intuitive. Walking the dog? The watch will know your walking and start tracking for you, busting out some time on an elliptical machine? again the watch knows and will track things like your activity, heart rate, steps and calories burnt live. Through this simple tracking I've lost a couple pounds so woo big win, look the watch doesn't do the workout for you (which would be great) but the ability to monitor and track yourself in real-time can help you push out that little bit extra.
Anyway here's the full list of tracked workouts:
Running
Walking
Cycling
Swimming
Other workout
Treadmill
Exercise Bike
Weight machine
Circuit training
Arm curls
Arm extensions
Back extensions
Bench press
Burpee test
Crunches
Deadlifts
Elliptical trainer
Front raises
Hiking
Lat pulldowns
Lateral raises
Legs curls
Leg extensions
Leg press
Leg raises
Lunges
Mountain climbers
Pilates
Plank
Pull-ups
Push-ups
Rowing machine
Shoulder presses
Sit-ups
Squats
Star jumps
Step machine
Stretching
Yoga
A very impressive list and if that's not enough you can easily switch between the various tracking functions and modes by rotating the Galaxy Watch's bezel. For the standard user the Galaxy Watch is on another level when it comes to health and fitness.
Outside of the fitness stuff the Galaxy Watch also has the ability to measure stress (which is hilariously stressful in itself if you have never monitored it before), it will also remind you to take a couple deep breaths and of course it will monitor sleep. For research purposes I wore the watch once while sleeping and it tracks perfectly but who actually sleeps wearing a watch?
The final feature to mention is Bixby and in all honesty while it's an improvement on S Voice it's no Google Assistant. That's all I have to say on that.
The Goosed Verdict
The Samsung Galaxy Watch is by far the best smartwatch Samsung have ever made, fact! I personally have been very impressed with the style and the range of straps available which makes this one of the few smartwatches that is viable in a suit or shorts. The Galaxy watch is a lovely looking bit of kit that comes stacked with a couple new fitness tracking abilities which is cool for the gym bunnies out there.
The fact that you can by the watch is 2 sizes also adds to the appeal, while a decent battery life, Tizen Os and the funky bezel used for scrolling makes this a very intriguing bit of kit.
But and I hate that there is one but as good as the Galaxy Watch is I think it could be better. Bixby need to be replaced by the Google Assistant and there could be some support in terms of third party apps. While I appreciate the little pack on the back the watch gives you for simply getting up some might find it annoying but that's no reason to not buy the Galaxy Watch.
You know what it's a great watch but there wasn't anything that made me jump out of my seat and go "Oooooh" because in the era where flagship is once again standing for innovation this is sadly just lacking in that area. Final thought, want a good smartwatch with that will monitor your life and all that jazz? Go for this it's pretty, functional and easy to get your head around, but if you want to use Google pay maybe look elsewhere.
Summary
Pros
Great Design

Battery Life

Software

R

otating bezel – really slick
Screen – Options of size to suit you best
Cons
Style won't be to everyone's taste

Bixby
Charge time – not a major issue but some might find it a turn off

Lack of "Wow" feature

3rd party app support