Crowdsourcing has become the first port of call for young technology companies to fund their new devices and to test the waters to see if there new product will be popular amongst the masses. We're rounding up the biggest tech projects from November on Kickstarter and Indiegogo.
Kickstarter
Starforce PI Electronic Tabletop Mini-Arcade
Okay, off the bat, they really need to work on that name, but the product is solid. The French company utilises the power of the Raspberry Pi, something along the lines of the MINI EMU that we showed you a few months back.
The key development with the Starforce PI is the fact it's an all in one device. Not only does the device come with authentic arcade gaming controls, but held inside is a battery pack which provides up to 5 hours untethered gaming.  The on-board power coupled with magnified screen and arcade controls, mean this is the perfect all-in-one retro gaming solution, currently supporting the likes SNES, NES and Genesis ROMS with a view to expanding the range in the future.
The €199 price tag means this is, in the words of the creators, "by no means a cheap system". Considering the gamepads and emulators can be got for next to nothing, this one is really for hardcore gamers.
Monkey
Monkey is really a niche device as it only caters to the needs of those who live in an apartment block with intercoms.
Monkey is a fine example of disruptive technology, that is technology that challenges how we perceive the adoption of connecting our world. Rather than change all the locks to be smart locks, Monkey provides a much more cost effective way; a simple chip your fit to your intercom.
Once this is fitted, you can open the door controlled by your intercom as if you were pushing the button yourself. This can be triggered by an app on your smartphone, time windows or by your location – imagine the door that opens just when you approach. A handy little idea that shows how the world of smart tech is constantly adapting and improvising.
Cast
We've already shown you how tech like Showbox can create a nice little grey area in the law. A whole different shade of grey now comes in the hemispherical shape of Cast, the home entertainment hub.
If you've ever had friends around to watch some sport at your place, you know the craic that's to be had, but what if you couldn't make it over? Well Cast aims to provide you with a digital couch so to speak. Basically, if your friend has a Cast device and Sky Sports, they can share what they are watching with you, hence legal grey area. Cast claims that it's the same as inviting friends around, but we're not convinced. We're even less convinced by the eventual RRP of €299, as it's hard to imagine who would pay that to do other people favours? Maybe that's us being cynical.
Indiegogo
Silent Partner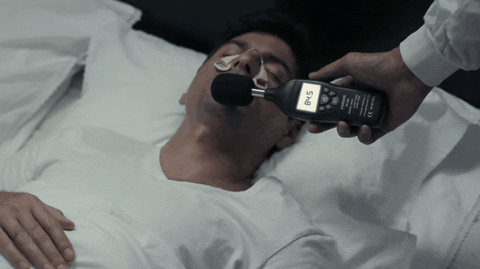 Quiet month on the "relevant tech" front over on Indiegogo, but quiet nights are also a priority! If you've ever been in the same room with someone snoring, you'll agree this is the best €60 you've ever spent.
The Silent Partner is rather genius really. Rather than going down the traditional path of trying to stop snoring outright, Silent Partner utilises Active Noise Cancellation technology to detect and counter irritating snoring noises, creating a silent zone around the snorer's head! Bonkers idea, but apparently it works