So that's it the World Cup is done and dusted. While France took home the trophy it was another team who stole our hearts. Little Croatia with a population similar to ourselves managed to reach the final. Imagine if that was Ireland? We still wouldn't have gone back to work. Now fair enough they have some of the best players on the planet in Modric and co but with a population and a small supply of players they knew something else was required to reach those lofty heights. The solution you ask? Embrace technology.
France are World Cup champions and we look back on what was a great tournament. Thanks for being there with us. #worldcup #rtesoccer pic.twitter.com/IjNf1e3bGO

— RTÉ Soccer (@RTEsoccer) July 15, 2018
All about them STATS
Sure enough technology in sports is nothing new. Nowadays it might be common for teams to have video analysts but only Croatia used STATS to give them the competitive edge.
STATS are a Chicago based company who recently opened a new office in the countries sports capital – Yes, Limerick
.
Anyway, this lot have been tracking football data since the turn of the century
similar to
OPTA or any other name you might see on SkySports News
.
The difference between STATS and the rest is this, back in June they launched a new platform that uses artificial intelligence to analyse a team's performance
. This allows a team compare playing styles and conduct a game-changing set-play analysis.
With this information, you can even predict how a team should react to a particular scenario based on their previous actions
.
I will say it now, with a new shiny Irish office they should be giving the FAI a nice deal so we aren't forced to watch anything like the Danish Demolition all over again
.
The Tool
Ok, so what we have found out is that an analyst will usually take 5 hours to comb through the game. Not something you want with your local Junior B team. Thanks to the new AI, the computer will do all the hard work. Looking at this from a Croatian perspective that's 5 fewer hours of watching Harry Maguire's head doing what it does. These stats are so detailed and comprehensive that things like "expected goals" are taken into consideration as a way of showing chances where the forward has a better chance of scoring than the 'keeper has of making the save.
Dr. Patrick Lucey, vice president of AI at STATS, explained to Bleacher Report.
"If you look at the broadcasts, the statistics that they show are useless. They don't tell the full story and are not predictive of a team winning. I normally use the example of the World Cup semi-final in 2014. Germany won 7-1, but if you look at the statistics, Brazil had more shots, more dangerous chances. Yet Germany won 7-1."
Sending England Home
We all got a good chuckle with
all of
the "it's coming home' memes.
While this year's England team are a bit more palatable than teams of the past, weren't we all glad when Croatia put them on their hole
?
Well for anyone who watched the game people think England bottled it in the first half and couldn't regain their composure
.
However
, thanks to STATS and the insights Croatia had available to them it is far more likely that they found a way to nullify the English threat and make them vulnerable
.
"And what they were really effective on was the high press. They did a lot of that and maintained the ball a lot. They weren't much into direct play or crossing. That tended to be their style across the Cup. However, if you look at the game against Croatia, they had less possession, and in terms of their playing style, they went direct a hell of a lot of times.
England's use of possession football and a high press in the tournament pre-Croatia.STATS Edge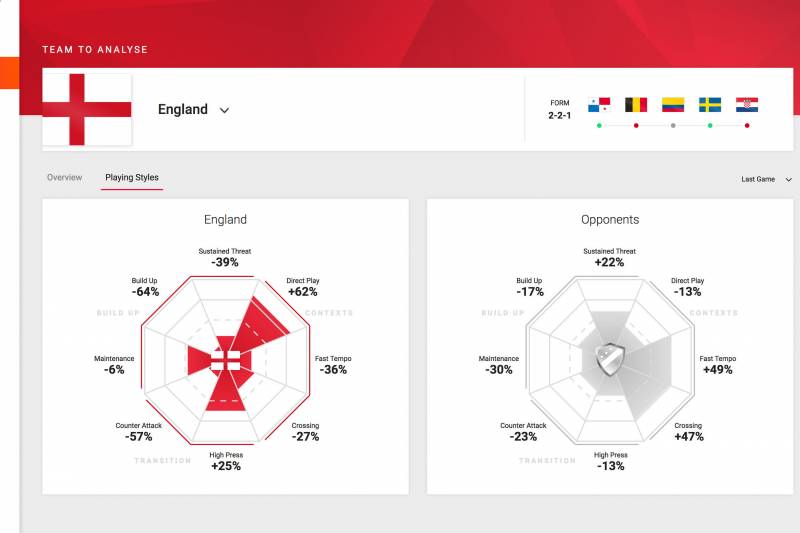 England's switch to a more direct game against Croatia.STATS Edge
This is the kind of data has
been used
for American sports such as basketball or American Rounders (I know it has a real name and I don't care, it's rounders)
. While American sports have used data
heavily
for years, this is something new to the soccer arena.
While some might argue that preparation to the fine details might ruin the romance of sports, this is not the case as the players still need to
implement
the results
. In a World Cup preparation is key.
With traveling, resting, media work and the rest the reality is that there is only so much time people have to tinker
. This is where a dynamic tool like STATS can come into its own.
Technology in football is not here to replace humans, it merely facilitates us to make better decisions based on the information given to us by the platform.
Is this the future of footy?
Quite possibly yes. The company as we mentioned earlier are expanding and with a new office based in Ireland. Their goal will be to get working with more European clubs and athletes in the near future. The STATS Edge interface looks so clean and simple with each piece of data linked back to a video for human observation.
Literally take the surprise out of the game, that's a Martin O'Niell philosophy if we ever saw one. While Croatia may have been underdogs throughout the competition, drive, passion, some talent and a little help from technology helped them punch well above their weight. Now if only Ireland could start doing the same, that would be great.